Zeref
Talk

65
2,753pages on
this wiki
"I had no reason to come to this age. I'm not an ally to anyone. I'm not an enemy to anyone. But still, if an age is about to end right now... I might awaken once again"

—
Zeref
in "
Acnologia
"
Zeref
Kanji

ゼレフ

Rōmaji

Zerefu

Alias

The Black Wizard
The Killing Mage

Characteristics

Race

Human

Gender

Male

Age

400+

Hair Color

Black

Eye Color

Black

Professional Status

Previous Occupation

Dark Mage

Base of Operations

Tenrou Island (former)

Personal Status

Status

Active

Magic

Magic

Debuts

Manga Debut
Anime Debut
Game Debut

Portrayal

Japanese Voice
Image Gallery
Zeref (ゼレフ Zerefu) is considered the strongest and most evil Mage in all history, who possesses very dangerous and very powerful Magic. He currently appears as a self-hating and reclusive man who cannot control his powers.[1][2]
Appearance
Edit
Zeref takes the appearance of a young man despite being hundreds of years old. He wears red (black in the anime) and tan robes with gold trimmings and an open collar, along with a large, flowing white toga draped around his main body and across his chest. He has black hair that sticks upwards at the top, dark eyes and abnormally sharp canines. He also wears a circle-shaped necklace.[3][4]
When angered his eyes change to a reddish color,[5] with a black ring around his pupils, giving him a much more menacing appearance.[6]
Personality
Edit
Zeref was said to have been the darkest, most evil Mage in the history of the Magic World. He lived up to this reputation by mastering the Black Arts of Magic and creating demons, which continue to wreak havoc.[7]
In the modern era, Zeref isolated himself and seems to have a gentler, melancholic personality. He is often seen behaving calmly in extreme situations.[8] He wishes to die as an atonement for all the sins he has committed, and may commit in the future, and when he realizes that Natsu isn't ready to kill him yet, he breaks down in tears.[9] He commits incidents without his own knowledge or out of his own control, as seen when he kills Zancrow.[10]
However, he is still shown to be extremely intimidating when angry, and will not hesitate to punish those he believes to be evil, such as Grimoire Heart.[11][12]

At some point in history, stated to be around 400 years ago, Zeref witnessed many people dying in war. He also became cursed and helplessly started to take the souls of others, without his own intention.[13] Also, Zeref was stated to have been alighted on an ancient land, mastered Black Magic, given birth to tens of thousands of demons and thrown the world into chaos.[14]
Because of this, Zeref was sealed away for centuries. However, one day he apparently managed to set himself free despite the fact that Grimoire Heart did not collect all the keys to his prison, although the darkness inside him remains sealed.[15] At some point in the past, Zeref learned about Natsu and realized that the Fire Dragon Slayer could someday kill him.[16] Zeref eventually found himself on the secluded Tenrou Island, hoping to completely isolate himself from humanity.[17]
Ultear manipulated the young Jellal Fernandes, making him believe he was possessed by the Dark Mage, in order to get closer to her goal concerning the keys to Zeref's resurrection.[15]
Tenrou Island arc
Edit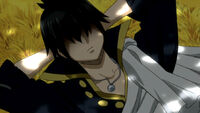 Zeref was initially seen lying in a forest.[3] At night time, he was attacked by a pack of wolves. Their efforts proved futile as Zeref's Death Magic killed them all instantly, along with many plants, trees and birds around him. Zeref then apologizes and wallows in misery, wishing that he may meet Natsu soon.[18] Later, Carla has a vision, and sees that Zeref will be involved in the S-Class Mage Promotion Trial.[19]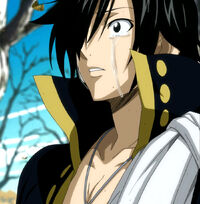 During the trial, he runs into Elfman and Evergreen and warns them to stay away from him as his Magic starts to activate involuntarily, but Natsu saves the two of them.[20] Zeref was shocked to see Natsu and says that he has "really grown", but Natsu didn't recognize him. When he tells the Fairy Tail wizards that he has been expecting Natsu's arrival, Natsu misinterprets this as a form of challenge and rushes towards him, landing a fierce blow to Zeref's face.[21]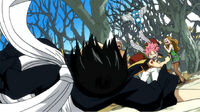 Although Natsu punched him, Zeref is unaffected and just stands up again, disappointed. The others are surprised when they realize he is crying. Just then his Magic activates again, but no one is killed, due to Natsu's scarf absorbing it. After this Zeref escapes. However, due to using his powers, Grimoire Heart is now able to locate him. He is next seen leaning against a tree, claiming that the world continues to reject him, and begins to cry again.[22]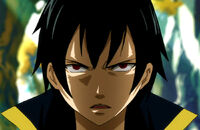 Later, it is revealed that Zeref is still in a "slumbering state". As fighting begins on Tenrou Island between Fairy Tail and Grimoire Heart, Zeref wonders if another war is going to begin.[23]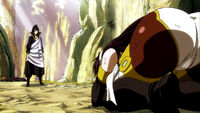 He then crosses paths with Ultear, and comments how sad it is for Grimoire Heart to have managed to anger him.[24] After Zeref asks Ultear if it is power they want, Ultear claims that she wants his entire existence, but Zeref states that he has no intention of assisting them or doing anything during this period, and that he doesn't want to see any wars or people dying. Zeref then tells Ultear to stop the attack and leave the island at once, repeating that he is angry, his power visibly terrifying her.[25] Rustyrose states to Elfman and Evergreen that when they acquire Zeref the current Magic world will end and a new one will begin, an Ultimate Magic World where those that don't possess Magic will suffer and die; the other Grimoire Heart members say similar things.[26] Zeref is then shown to have been beaten by Ultear who states that Zeref is powerless in his sleeping state and that he should not underestimate her as the eldest of the Seven Kin. Ultear then says that they have the key which will awaken him; Zeref begs Ultear to stop, but she ignores him and revels in her victory.[27] As Zeref lies unconscious, Ultear holds onto him tightly, stating that he now belongs to her and that he will become the king of the Ultimate Magic World.[28][29]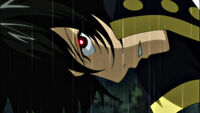 While he is still unconscious, he is seen being dragged around by Ultear, and later by Meredy, who ends up heading to the "escape point". While on their way there, they are chased by a persistent Juvia, who received orders from Gray to keep track of Zeref.[30] The trio are later confronted by Zancrow, who invokes a spell that knocks both girls out, and proceeds to try and take Zeref from them. But at that point Zeref speaks one word, Acnologia, and wakes up. Catching Zancrow's eye, he releases a wave of Death Magic at point-blank range, killing him instantly.[31]
After Zeref casts his attack, he reverts to his mild state and apologizes to Zancrow, shutting the corpse's eyes. He expresses his relief that both Meredy and Juvia survived and then walks away. As he walks he states that he had no reason to come to this age, and that he is neither an ally nor an enemy to anyone. He adds that if an age is about to end he may awaken again, and that he wishes to be broken by Natsu before that time.[32]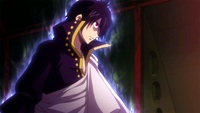 At the end of the war, an enraged Zeref sneaks aboard the Grimore Heart ship and confronts the remainder of the Seven Kin of Purgatory and Hades about the apocalypse they have brought forth upon the world.[33] He reveals that he has already awakened, nor was he ever in a sleeping state in the first place. He also reveals that when he understands the weight of human life, his cursed body will eliminate his surroundings; but when he forgets about it, he is able to fully control his Death Magic. He blames Grimoire Heart for the summoning of Acnologia, claiming it will now end the current era. He then tells the group to repent for their unforgivable sins and casts a spell on Hades.[34] The power of the spell causes huge damage to the airship and slays Hades, sending him plummeting to the sea. Zeref then senses something and wonders if it's Acnologia.[12] While looking down at Tenrou Island, he ponders if it is time for the island's destruction as an enormous winged beast emerges from the clouds.[35]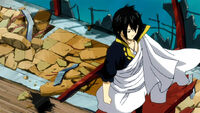 After Acnologia, "The Black Dragon of the Apocalypse", starts destroying Tenrou Island and attacking the Fairy Tail members, Zeref is somehow able to know that Wendy was trying to communicate with it. Zeref then says that Acnologia doesn't respond because it sees humans as insects, and no dominant creature would bother taking insects seriously. He realizes mankind will be "embarking on a long journey again", and says farewell to Natsu.[36] Zeref watches Tenrou Island's demise, and at last shuts his eyes, coming to realize that it was over for Natsu as the damaged airship keeps flying along.[37]
Grand Magic Games arc
Edit
It is later revealed that Zeref is still at large, with the council trying to track him down.[38] He is later mentioned by Arcadios, who claims that Zeref was the one who turned Acnologia into a Dragon. Arcadios says he is preparing something called the Eclipse Plan, which apparently requires Lucy Heartfilia. Arcadios intends to use Lucy and Yukino's Magic to travel back in time and kill Zeref before he can transform Acnologia into a Dragon or become immortal.[39]
Magic and Abilities
Edit
Black Arts (黒い魔法 Kuroi Mahō): He was able to master all forms of Dark Magic at a very early age, and brought countless demons to life.[14] His Magical strength is so enormous; in fact, that he cannot consciously control his own Magic, though whether this was always the case is unknown.[40] Zeref's lack of control over his black arts seems to come from his emotional state. He has stated himself that his kind heart that cares about lives causes his powers to run out of control and randomly kill, but when he hardens his heart and becomes the cold, ruthless Zeref of legend, he has complete control of his Magic.[41] According to Arcadios, Zeref was the one who managed to transform a human, one of the original Dragon Slayers, into a Dragon itself by having him bathe in the blood of all the Dragons he killed and an unspecified spell, thus creating the fearful and immensely powerful Dragon known as Acnologia who would later become the Dragon King.[39]
Death Magic (死の魔法 Shi no Mahō): Death Magic is a Black Art that allows Zeref to kill any living thing he desires in an instant.[42] This Magic seems to be uncontrollable at times, causing it to burst out randomly, killing anything within a certain radius around him.[43] However, when Zeref forgets the value of, and no longer cares about, a human life, he can fully control their Death Magic.[44] Certain Magic Items can protect people from Death Magic, such as Natsu Dragneel's scarf.[45]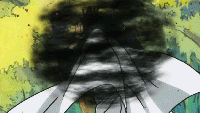 Death Pillar: Zeref swipes both of his arms in a circular motion until the bottom of his hands meet. The hand on top has the index and middle fingers pointing upwards, while the other hand has the little and index fingers pointing downwards. While doing this, he is surrounded by a dark aura.[48] This spell created a huge vertical explosion, and it's blast radius is seemingly controllable. It was used to kill Hades.[49] (Unnamed)
Living Magic (生活魔法 Seikatsu Mahō): Apparently a very ancient, long-forgotten form of Magic that brings things to life under the master's control. Some creations of Zeref have minds of their own and continue his unknown evil quest. Most of his creations are giant demons.[50]
Deliora (デリオラ Deriora): One of Zeref's many creations,[51] Deliora was a monstrous demon that attacked the icy villages in the North.[52] Deliora was imprisoned in a block of ice by Ur.[53] Lyon Vastia tried to unfreeze it so he could kill the demon, however, after years of being imprisoned in Ur's ice, the demon's life force was drained so much that it died before Lyon could attack it.[54]
Lullaby (ララバイ Rarabai): A flute that can transform into a giant demon. Whoever hears Lullaby's song (aside from the caster) will die. Erigor hoped to use this to kill the Guild Masters at their meeting. As Kageyama failed to carry out the mission due to being changed, Lullaby transformed into its demon form to feast on souls. However, Natsu, Gray Fullbuster, and Erza Scarlet were able to defeat the demon flute. It currently is in the Council's hands.[55]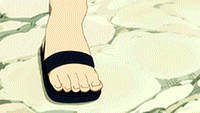 Enhanced Durability: Zeref seems to be physically powerful as well. When Natsu Dragneel punched him in the face, Zeref just took the hit and somersaulted back onto his feet in midair, while thinking that it seems Natsu isn't ready to destroy him yet. The punch seemed to have no effect on him, leaving no marks on his face afterwards.[57]
Expert Sensor: He was able to sense Acnologia's approach from a good distance away.[58]
Immortality: At some point in history he was able to gain immortality and has been able to live for more than 400 years.[59]
Battles & Events
Edit
Appearances in Other Media
Edit
Video Games
Edit
Fairy Tail: Zeref's Awakening
Edit
Zeref appears as the final boss of the Tenrou Island arc in the PSP game, Fairy Tail: Zeref's Awakening. He can later be unlocked as a playable character by completing the game's exclusive arc.[60]
(To his surrounding) "I'm sorry. It's not as though I want to steal anyone's life... but the world rejects me. I want to see you soon, Natsu."[61]
(To Ultear Milkovich) "I see... so you people are the Apple of Discord here. It's sad, how you've managed to anger me."[62]
(To himself) "I had no reason to come to this age. I'm not an ally to anyone. I'm not an enemy to anyone. But still, if an age is about to end right now... I might awaken once again."[63]
(To Hades, Kain Hikaru and Rustyrose) "It is people like you who carved me into existence. It is wicked thoughts like yours that summoned Acnologia, heralding the end of this age. No one can stop it now. The world will be finished here." [64]
References
Edit