Wendy Marvell & Panther Lily vs. Coco (Earth Land)
Talk

0
Share
Ad blocker interference detected!
Wikia is a free-to-use site that makes money from advertising. We have a modified experience for viewers using ad blockers

Wikia is not accessible if you've made further modifications. Remove the custom ad blocker rule(s) and the page will load as expected.
Wendy Marvell & Panther Lily vs. Coco (Earth Land) is a fight fought between Fairy Tail Mages Wendy Marvell and Panther Lily, and Legion Corps member Coco.
After fighting with Sugarboy and Mary Hughes, Natsu and Happy along with Panther Lily, Wendy, and Carla try to find Lucy and Michelle. Panther Lily, Wendy and Carla try to search for them from the air when suddenly Coco tells them to stop and attacks the trio. Wendy falls from the hands of Carla and dives down to retrieve her back with Panther Lily. Coco shouts the scores of her recent performance as this is usually is her habit. After getting Wendy back safely, Coco tells them that she has lost sight of Lucy and Michelle and states to her their location. She also mentions that she hates cats and the fact that they talk to her like they knew each other for a long time. This makes Panther Lily heartbroken because of what he had just heard from a girl who resembles her friend, Coco.[1]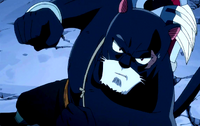 Using her Athletic Magic, Coco manages to immobilize the three, running around the canyon with her Free Run Unlock. Wendy asks her companions on what they should do, to which Carla replies that there's nothing they can do. Panther Lily shifts into his battle form stating that even if she looks like her friend Coco from Edolas, he must gain the courage to defeat her. Coco proceeds to attack Panther Lily, he punches Coco but dodges it with ease.[2]
Carla shouts to Panther Lily about what he is doing noticing Panther Lily can't seem to focus to attack her thoroughly. Wendy decides to attack Coco using her Sky Dragon's Roar which covers the area but fails to hit Coco as she is always on the move.[2]
Aftermath
Edit
Mary Hughes retrieves the clock arm from Lucy and throws a green light signal in the air as a beacon for his team that their mission has been accomplished. As Coco sees the signal she immediately abandons the fight.[2]
References
Edit
↑

Fairy Tail Anime: Episode 130
Key of the Starry Sky arc Fights

Pre-Arc Fights

Gray Fullbuster vs. Unnamed Ice-Make Mage • Erza Scarlet & Natsu Dragneel vs. Velveno • Natsu Dragneel vs. Jiggle Butt Gang • Team Natsu vs. Bandits • Gray Fullbuster vs. Vanish Brothers

Encounter Against

Legion Fights

Fairy Tail vs. Sugarboy (Earth Land), Mary Hughes & Coco (Earth Land) • Natsu Dragneel & Gray Fullbuster vs. Sugarboy (Earth Land) & Byro Cracy • Gildarts Clive & Erza Scarlet vs. Byro Cracy • Lucy Heartfilia vs. Mary Hughes • Wendy Marvell & Panther Lily vs. Coco (Earth Land) • Lahar & the Custody Enforcement Unit vs. Jackpot • Team Natsu & Wendy Marvell vs. Dan Straight & Samuel

Clock Part

Retrieval Fights

Gray Fullbuster, Lyon Vastia & Juvia Lockser vs. Labyrinth Guardian • Gray Fullbuster, Juvia Lockser & Lyon Vastia vs. Sugarboy (Earth Land) • Natsu Dragneel, Lucy Heartfilia & Romeo Conbolt vs. Dan Straight & Coco (Earth Land) • Natsu Dragneel & Romeo Conbolt vs. Dan Straight • Erza Scarlet vs. Jiggle Butt Gang • Panther Lily vs. Samuel • Gajeel Redfox & Shadow Gear vs. Clock Part Guardian • Mirajane Strauss, Elfman Strauss & Lisanna Strauss vs. Mary Hughes • Erza Scarlet vs. Jiggle Jugs Gang • Natsu Dragneel, Lucy Heartfilia & Romeo Conbolt vs. Byro Cracy & Kanaloa • Fairy Tail & Lyon Vastia vs. Byro Cracy

Assault For The

Clock Fights

Fairy Tail, Lyon Vastia, Byro Cracy & Dan Straight vs. Reborn Oración Seis • Reborn Oración Seis vs. Kingdom of Fiore's Guards • Natsu Dragneel, Lucy Heartfilia, Elfman Strauss & Byro Cracy vs. Jackpot • Bickslow & Wendy Marvell vs. Erigor • Gajeel Redfox & Juvia Lockser vs. Guttman Kubrick • Gray Fullbuster, Freed Justine & Dan Straight vs. Angel • Erza Scarlet, Evergreen & Max Alors vs. Cobra • Doranbolt & Katja vs. Racer • Panther Lily vs. Samuel: Rematch • Alzack Connell & Bisca Connell vs. Midnight • Imitatia vs. Natsu Dragneel

The End At Its

Fullest Fights

Mirajane Strauss vs. Racer • Natsu Dragneel, Mary Hughes & Coco (Earth Land) vs. Guttman Kubrick • Gildarts Clive & Byro Cracy vs. Lapointe • Gildarts Clive vs. Byro Cracy • Gajeel Redfox vs. Midnight • Natsu Dragneel, Elfman Strauss, Coco (Earth Land) & Romeo Conbolt vs. Imitatia • Erza Scarlet vs. Cobra • Gray Fullbuster & Dan Straight vs. Angel • Natsu Dragneel vs. Midnight