Wendy Marvell
Talk

38
3,281pages on
this wiki
"It's not about whether or not you're a human or an Exceed. We're all living beings and we have to do what is right. I'll be right beside you. There's nothing to be afraid of."

—
Wendy Marvell
to
Carla
in "
Full Out Attack of the Edolas Forces
"
Wendy Marvell
Kanji

ウェンディ・マーベル

Rōmaji

Wendi Māberu

Alias

Sky Sorceress (天空の巫女 Tenkū no Miko)
Goddess by Jiggle Butt Gang

Characteristics

Race

Human

Gender

Female

Age

12[1]

Birthday

X772

Hair Color

Dark Blue
Pink (Dragon Force Mode)[2]

Eye Color

Brown
Pink (Dragon Force Mode)[2]

Blood Type

B

Professional Status

Affiliation

Fairy Tail

Previous Affiliation

Cait Shelter

Guild Mark Location

Right Shoulder

Occupation
Previous Team
Partner(s)
Previous Partner(s)
Base of Operations

First Fairy Tail Building
Second Fairy Tail Building (former)

Personal Status

Status

Active

Relative(s)

Grandeeney (Foster Mother)

Counterpart

Magic

Magic
Weapons

Debuts

Manga Debut
Anime Debut
Game Debut

Portrayal

Japanese Voice
English Voice
Image Gallery
Wendy Marvell (ウェンディ・マーベル Wendi Māberu) is a young female Sky Dragon Slayer, formerly belonging to the Cait Shelter Guild. After the events surrounding Nirvana unfold, she officially joins the Fairy Tail Guild. She learned her Dragon Slayer abilities from her foster mother, Grandeeney.
Appearance
Edit
Wendy is a petite girl with fair skin. When she is first introduced in the series, she has long, dark blue hair that reaches down to her waist, with two bangs framing her face which reach down to her chest alongside her brown eyes.[3] She later cuts her hair down to a bob cut during her battle with Tartarus.[4] Like all Dragon Slayers, she has elongated canine teeth.[5] At first, she wears a simple dress with two wavy stripes running across the dress and ending in small pointed edges at the bottom. Around her arms and legs she wears wing like attachments. Wendy's Cait Shelter Guild stamp was located on her right shoulder, but after the Guild disbanded and she joined Fairy Tail, the stamp was replaced by Fairy Tail's Guild stamp.[3]
During her time in Edolas, Wendy wears her hair up in pigtails held together by two animal ear like attachments. Two strands of hair hang down on each side of her face. She wears a long sleeved top with two buttons in the center and an ascot around her neck. The top is adorned with a small pattern around the shoulders and a small trim around the upturned cuffs. She wears a frilled skirt with a small trim running around right above the end. She also wears thigh high socks.[6]
While on Tenrou Island, Wendy wears several different outfits. At first, she wears a flowing dress with a triangular pattern near the top and crossing pattern around the rest of the dress. She wears a thick band around each of her arms and ankle tied sandals on her feet.[7] Later, Wendy receives new clothing from the Celestial Spirit World. It is a simple kimono with a black waistband and small tie over it. She wears thigh high socks and wing like attachments in her hair to keep it up in pigtails.[8] After being saved from Hades' attack, Horologium gives Wendy new clothes. They are a suit like top with a light trim and large cuffs and dress shirt with tie. She wears a small skirt with a large sash holding the top and skirt together. Her hair is let down and she wears dark stockings.[9]
During the Grand Magic Games, Wendy wears her team colors in a long sleeved dress with a flower pattern adorning the sleeves. She has a small tie with ribbons holding her hair in pigtails and stockings.[10]
Personality
Edit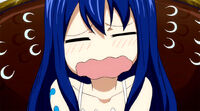 Wendy is a very shy and polite girl.[11] She is always accompanied by her Exceed companion, Carla, as they have a very close relationship.[12] She is very eager to try and make friends.[13] Wendy also cares greatly for her guild members, and even suggested going to the home-town of the Exceed to try and get them to evacuate when they were under threat.[14] Wendy is becoming more confident and brave as time goes on, and she always tries to be of help wherever she can.[15] She is intelligent and has a very honest personality, is "direct and open with her emotions", and is easily swayed by the people around her. However, this also causes her to be "very romantic". She can be spontaneous and "very ditzy".[16] Unlike the other Dragon Slayers, Wendy doesn't enjoy fighting, preferring to avoid it as much as possible. If, however, it's for the sake of her guild or friends, Wendy will fight without hesitation. However, after Doranbolt saved her and Carla from dying, with the destruction on one Face, Wendy cut her hair, deciding she would no longer cry and whine, and would continue to fight as long as her friends are fighting as well.[17]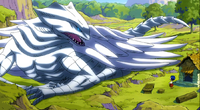 Wendy was raised by the female Dragon Grandeeney for some time. However, one day, along with other Dragons, Grandeeney suddenly disappeared and left Wendy alone. After wandering around trying to locate her lost mother, Wendy ran into Mystogan, who introduced himself to her as Jellal. Mystogan allowed her to travel with him, though he was also hopelessly lost on the road. One day, Wendy heard Mystogan utter something by the name of "Anima", and shortly after deemed it too dangerous for Wendy to travel with him further.[18] He left her in the care of a close guild by the name of Cait Shelter, where she stayed until she was chosen by her guild to aid the Allied Forces in their mission against the Oración Seis.
Tower of Heaven arc
Edit
When the two Dragons Igneel and Grandeeney meet, they discuss both Wendy and Natsu, and state, that the next time the two meet, a more "friendly relationship" could be established.[19]
Oración Seis arc
Edit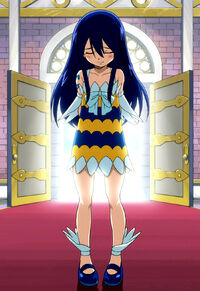 Wendy is chosen as Cait Shelter's delegate sent to the alliance meeting of the Fairy Tail Guild, the Lamia Scale Guild and the Blue Pegasus Guild along with the Exceed Carla; much to the shock of all the delegates, she is only a child.[13] She explains to the delegates that although she has no particular combat prowess, she is quite adept in support and healing Magic.[20] Though still seemingly uncomfortable with her age, the alliance are briefed about their targets and set off to find them, quickly locating the very people they were talking about not long before -or moreover, their enemy finds them after the Blue Pegasus' airship is destroyed.[21][22] Wendy quickly hides herself behind a rock and stays there for the duration of the battle as she watches the others get overpowered by the Oración Seis.[23] Just as the Oración Seis' leader Brain is about to finish the Allied Forces off, he spots Wendy and halts his attack, surprised at the very sight of her. Declaring that Wendy is the very person he needs for his plans, Wendy and Happy, who was grabbed by mistake, are kidnapped by Brain.[24] After an argument between the members of the Allied Forces over an ill Erza; who was poisoned during the fight by Cobra's snake Cubellios, Carla states that Wendy is the Dragon Slayer of the Sky, and has the ability to heal injuries, with the Allied Forces deciding that recovering Wendy is their biggest priority.[25]
Meanwhile, at the Oración Seis' hideout, Brain reveals Wendy's unique healing abilities to his comrades and has Racer bring a large coffin to their location.[26] Brain states that he plans to use Wendy's healing abilities to revive whoever is inside the coffin, but Wendy refuses to help anyone that is "bad". The person in the coffin turns out to be none other than Jellal Fernandes, who knows the location of Nirvana, but is in an comatose state.[27] Believing Jellal to be Mystogan and hearing his crimes, Wendy has internal conflicts as to whether or not to heal him, because while she remembers Jellal as being kind and caring, she has heard of the crimes he committed after their separation. To stop Wendy from postponing the healing and allowing the Allied Forces enough time to find her, Brain declares that Wendy only has five minutes to think over her answer, but also states that he will harm Jellal if Wendy refuses.[28] Natsu arrives at the scene with Carla a little while later, but it is too late, as Wendy has revived Jellal. Wendy proclaims that she is sorry for what she did, and collapses soon after from the exhaustion of having healed Jellal.[29] Using Jellal's revival and turn against the Oración Seis as a distraction, Natsu takes the unconscious Wendy along with Carla to heal Erza.[30] However, they are intercepted by Racer, who is held off and distracted by Gray Fullbuster.[31]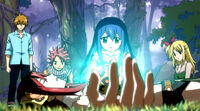 Eventually Natsu rendezvous with Lucy Heartfilia and Hibiki Lates. Natsu wakes Wendy up then pleads with her to save Erza. She gladly agrees and does so, though she is still a little remorseful having over revived Jellal.[32] She, along with everyone else, suddenly notices a pillar of light erupt from the ground and realizes that Nirvana has been activated.[33] After Nirvana is triggered, she is knocked out by Hibiki in order to prevent her from changing allegiances.[34]
Hibiki carries Wendy as Lucy, Carla, and Happy follow Natsu and Erza, who are heading for Nirvana.[35] However, they're stopped by Angel, who attacks them. Hibiki is wounded and Lucy orders Carla to take Wendy away, for fear of her getting recaptured, with Carla instantly obeying.[36] It is later shown that Wendy and Carla have hidden themselves on a mountainside, away from Nirvana's evil influence. Wendy, having regained consciousness, still feels remorse for not being more useful. As she and Carla talk, Wendy reveals her acquaintance with Jellal and the rumors she heard about his Siegrain half. She however, still believes Jellal is the kind young man she once knew, and questions whether or not Jellal will remember her after such a long time.[37]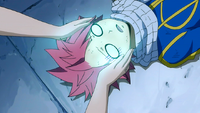 When Nirvana's second stage is activated, she and Carla are caught up when its legs appear from out of the ground. Carla quickly carries Wendy away, and Wendy states they should head for Nirvana and check things out.[38][39] As they land on Nirvana to take a rest, Wendy suddenly realizes that Nirvana might be heading towards her guild, Cait Shelter.[40] With this, she goes to find and help the members of the Allied Forces, finding Natsu soon after and curing him of poison, as well as casting a spell to temporarily relieve him of his motion sickness.[41] Wendy still believes that it's her fault that Nirvana was activated, and thinks that Jellal might know something on how to stop it. She tells the others that she has to go check up on something and runs off.[42] Both Wendy and Carla begin looking for Jellal, and Wendy reassures herself of Nirvana's destination being Cait Shelter. When Carla is too exhausted to fly any further, the two continue on foot.[43] They soon locate Erza and Jellal, and are relieved at finding the two, while Zero is introduced as Brain's second persona, and easily defeats Natsu, Gray and Lucy.[44]
Zero activates Nirvana to fire on the Cait Shelter guild, and when it seems like all hope is lost for Cait Shelter, the rest of the allied Mages manage to temporarily stop Nirvana from firing through the use of the Magic Bomber - Christina. With that, Hibiki reveals a way to destroy Nirvana: a plan that requires 6 Mages to perform destructive Magic. The Mages need to destroy the Lacrima crystals located in each of Nirvana's legs, something which will cause Nirvana to stop functioning. Though at first they lack enough people; Natsu, Gray and Lucy rise up once again in order to save Cait Shelter.[45] Along with Erza, Jellal and Ichiya Vandalay Kotobuki, they total the 6 Mages that will be needed.[46]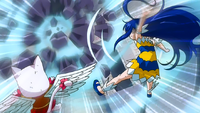 After hearing that Natsu will be intercepted by Zero and being determined to destroy the Lacrima crystals in each leg, Jellal asks Wendy if she can heal Natsu at any point in time during Natsu's fight with Zero. Wendy cannot use her power so excessively, so Jellal secretly goes to where Natsu and Zero are fighting to give Natsu the Flame of Rebuke.[47][48][49][50] Because of this, Wendy goes in Jellal's place to Lacrima 6.[51] All 6 Mages manage to destroy their crystals and finally become victorious in stopping Nirvana from destroying Cait Shelter and the rest of the world.[52]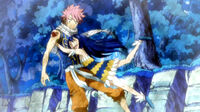 As Nirvana begins to collapse, Wendy and Carla are found by Jura, who brings them outside to safety. Wendy is happy to find both Natsu and Jellal safe, thanks to Hoteye, and rushes over to hug Natsu and thank him for keeping his promise to her.[53] Unfortunately, the celebration doesn't last long as the new Magic Council shows up, taking both Hoteye and Jellal under arrest, while Natsu and Wendy can only protest at Lahar's cruelty.[54][55]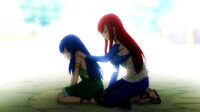 Later, after some rest and recovery, Roubaul personally thanks the Allied Forces for stopping Nirvana, to which Natsu and the Trimens try to celebrate with a party. However, Cait Shelter doesn't join in and Roubaul reveals a shocking truth: the Cait Shelter guild is not real, rather, the guild is made up of the original Nirvit people, who now reside in the area as spirits to protect Nirvana from being activated again. Horrified, Wendy tries to stop Roubaul's spirit from disappearing, but to no avail, as her "Cait Shelter" mark disappears. Erza however, comforts Wendy and tells her to come with everyone to Fairy Tail.[56]
On the boat ride to Fairy Tail, Wendy watches Natsu enjoying the benefits of transportation. She tells him that the effects wear off quickly and that repeated usage of the spell will weaken the results it grants. She also expresses her excitement of coming to join the Fairy Tail Guild.[57] Upon arriving at Fairy Tail, she quickly becomes popular due to her cute appearance and her abilities as a Dragon Slayer. The guild happily welcomes her and throw her and Carla a party.[58]

Daphne arc
Edit
Note: Events in this arc occur only in the anime and do not constitute canon material.
Click "show" to read the arc plot.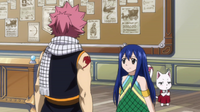 As Wendy examines the request board, she is approached by Lucy and Levy, who both want Wendy to go on her first mission with their respective groups. Wendy soon overhears Gray telling Natsu about a rumor that somebody has spotted a Dragon. Convinced it could be Grandeeney, Wendy and Carla accompany Natsu to go investigate.[59]
When they arrive at the location Gray specified, it is completely empty. After searching around, they find a door leading to a room, where they meet Daphne. She comes out, greeting them very enthusiastically, as she tries to sell her diet product, Metamo. When she finally quiets down, and is told why Wendy and Natsu are there, she confesses she made up a lie about seeing a Dragon to help her sales. Angered, the gang tries to leave, but is trapped in the room by Daphne's Concealment Magic. Gray soon shows up soon after, revealing he was conspiring with Daphne. He then challenges Natsu to a battle to settle everything once and for all.[59]
As they watch the fight, Carla brings up the question of whether the man before them is the real Gray, but after he strips, their doubts are cleared. As Natsu and Gray fight around the inn, Happy, Wendy and Carla try to keep track of them. Daphne also follows them, and explains that the inn they are trapped inside of is merely an illusion and doesn't actually exist. From the windows, Daphne shows the group Erza and Lucy, who came upon the inn whilst searching for them. The group inside watch as Erza and Lucy struggle in their fights against Daphne's artificial lifeforms,
Lizardmen
.
[60]
After the battle between Natsu and Gray ends, Gray traps Natsu by his feet, allowing Daphne to trap him in her spell, Hidden Darkness. From there, she uses Natsu's Magic Power to fuel another one of her inventions, the Dragonoid. Wendy, Carla and Happy are able to fly out of the inn after its rise, and explain the situation to Erza and Lucy, including Gray's betrayal.[60]
After Daphne reveals her lifelong ambition of creating an artificial Dragon, Wakaba, Macao and Elfman soon arrive. Elfman is able to knock out Gray, but the situation worsens when the Dragonoid takes flight to Magnolia. Erza says she will stop the Dragonoid, and that everyone else should mobilize at the guild.[61]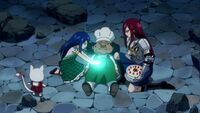 Wendy and co. eventually arrive back at the guild. Wendy sees to a wounded Elfman, and uses Healing Magic. She later arrives in the streets of Magnolia Town to help stop the Dragonoid.[61] Wendy then finds the cake shop owner injured on the ground. She heals him, but faints shortly after. Wendy watches as the rest of the guild is successful in defeating the Dragonoid and Lizardmen. She celebrates with the guild after.[62]
Wendy and Team Natsu take a job at Mt. Hakobe, where they have to collect special herbs and end up confronting a Blizzardvern. After the job is accomplished, they participate in the Hanami Festival.[63]
Edolas arc
Edit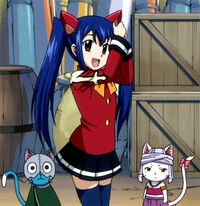 A few days later, after settling into Fairy Hills, Wendy and the rest of the guild learn about Gildarts Clive and his return.[64] As she and Lucy talk about the Dragons' disappearance, Wendy scolds Carla for being mean towards Happy[65] and as she goes to walk with Carla to talk about the situation, she runs into Mystogan, who reveals that he is the "Jellal" that traveled with her 7 years ago. Their reunion is short-lived though, as Mystogan warns her about Anima and its plot to kill all of Magnolia Town. Wendy declares that she will warn Fairy Tail of their apparent doom, but as she runs back to the guild, the buildings around her begin to get sucked upward into the sky.[66][67][68]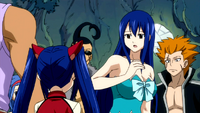 As she is too late in warning guild, only she and Natsu are left behind because of their Dragon Slayer powers. Carla then explains about Edolas, a parallel world.[69] Wendy then agrees with Natsu's plans to go to Edolas to save the guild. As she travels there, she becomes amazed at seeing how different everything is, and is especially awed upon seeing the Fairy Tail guild in Edolas. She is then shocked to see the Edolas version of Lucy.[70] She quickly realizes that everyone in the Edolas Fairy Tail is still nice despite being different, and even discovers that she has her own parallel counterpart.[71] The Edolas version of Wendy explains that the Kingdom in Edolas is after the Edolas Fairy Tail, as they're considered a Dark Guild.[72]
Later, after stating to the Edolas Fairy Tail that they want to find their friends, Wendy is both shocked and happy that Lucy Ashley agrees to show them the way to the capital.[73] While on their journey, Wendy and company purchase Magical weapons from a black market, as Wendy is unable to use her Dragon Slayer Magic in Edolas.[74] As the group is about to be arrested by Royal Soldiers, Wendy opens up her new Magic item and unleashes a giant tornado, carrying the group away and enabling them to hide from the soldiers. She is then stunned when the group spots the Earth Land Lucy being arrested in place of Lucy Ashley, but they all manage to escape, thanks to Lucy being able to use her keys.[75]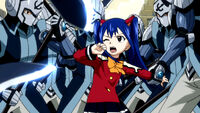 Arriving at the town of Sycca, the group decides to stay the night. The next day, after Edolas Lucy leaves, she comments on how Earth Land Lucy quickly recovers from the flight of her counterpart, leaving with a book about Edolas' history.[76] As they hear the Royal Army will extract the Giant Lacrima -which they believe to be the people of Magnolia- in two days, Natsu decides to steal an airship, so that they can quickly reach the capital. That idea, however, is then rejected by the same person when Wendy reminds him that she cannot perform Troia in Edolas. After watching Lucy fail to summon Loke, Wendy and Natsu decides to fight the Royal Army themselves with their weapons fully recharged. They are defeated in matter of moments, however. Almost captured, a four wheeler suddenly shows up and helps the group to escape. The man at the wheel then introduces himself to the group as the Edolas Natsu, Natsu the Fireball, and takes them to the capital.[77]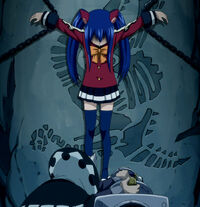 Later, Wendy is captured by Erza Knightwalker along with Natsu and Lucy, as they try and sneak into the royal palace.[78] She is imprisoned, and is shocked to hear that Lucy is to be executed, also refusing to believe that Carla and Happy have betrayed them.[79][80] After that, she and Natsu are hooked up to a stone with a Dragon carved onto it, apparently to extract their Dragon Slayer Magic properties.[81] She is then rescued by Gray and Lucy, and tearfully tells them that the Dragon Slayer Magic that has been taken is supposed to be used to power a giant cannon; one that will move the giant Lacrima containing their friends and crash it into Extalia, causing both to be destroyed. By the fusing of the Exceed's Magic and the Lacrima, endless Magic will rain down on Edolas.[82]
When Natsu shows up, the group decides to split into two. Wendy tells Carla that the two of them are going to stop the Lacrima from hitting Extalia, or at least warn the Exceed living there to evacuate. Carla does not agree with Wendy's plan, stating that she doesn't care about the Exceed. Wendy replies that it doesn't matter who they, as they are still living creatures.[14]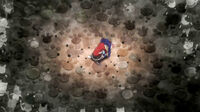 Wendy and Carla soon arrive at Extalia, and try to persuade everyone to evacuate. However, the Exceed display their stubbornness and self-centered superiority by saying that the Queen will protect them, and that they don't need the protection of the lower class. However, when Wendy mentions Nichiya being turned into a Lacrima, everyone gets angry and starts throwing rocks at her and Carla, who is now considered "Fallen". However, Wendy still tries to protect Carla and tells everyone that Carla is still an Exceed, despite being one of the Fallen.[83]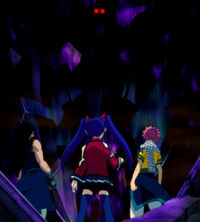 When the
Dragon Chain Cannon
is fired and the Lacrima approaches Extalia, Wendy does her best to try to push back the Lacrima bomb along with the other Mages and all of the Exceed. They managed to hold off the projectile until Mystogan reveals himself and sends all the trapped Mages home via reverse Anima.
[84]
When the King reveals his
Dorma Anim
armored Dragon; she, Natsu and Gajeel launch a unified assault that knocks the Dragon off it's feet.
[85]
They then proclaim that they will handle the fake Dragon while the others protect the Exceed and deal with Knightwalker.
[86]
Wendy casts a spell on Natsu and Gajeel while they fight with the Dorma Anim, one to make them faster and another to make them stronger. The King tries to take her out, but fails due to Natsu intercepting and destroying the missiles he launches at her. When the King is about to shoot again, Gajeel hits the missiles before they launch, but gets hit by the tail of the Dragon Knight. A group of missiles is fired again, but these ones explode before Natsu can hit them. The King is surprised when Natsu eats the fire of the explosions while Gajeel starts eating the tail of the Dorma. Suddenly, the Dorma changes color and the King states that he is going to "drain all of their fighting spirits".
[87]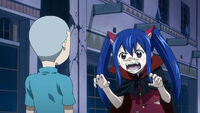 The new form of the Dorma Anim grants it a huge increase in power, turning the tide in the King's favor.[88] Gajeel decides to try some different tactics, revealing they haven't been using full power because they didn't know what could happen. All three of them then attack at once with their respective roars, but it has almost no effect. The King proclaims victory, saying that although they have infinite Magic, once it runs out it takes a while to recharge. Natsu gets up saying that he'll use "tomorrow's Magic" if necessary. Gajeel gets up too and pins the Dorma Anim's leg down to the ground, telling Natsu to attack, and that he is the only one who can do it. Natsu tells Wendy to aim a roar at him to boost his speed and succeeds in piercing through the Dorma Anim, ending the trios battle.[89]
With Nadi telling Natsu, Gajeel, and Wendy about Mystogan and Pantherlily's conversation, the three decide to take the blame and be the evil force that Mystogan initially planned to be. Showing up in the streets of Edolas, the demonic servant 'Marvell' tries to scare off a young child. The child, however, doesn't budge, until servant 'Redfox' helps behind Wendy's back, sending the child fleeing.[90] When the reverse Anima is triggered, Wendy and the rest of the Guild are transported back to Earth Land.[91]
Tenrou Island arc
Edit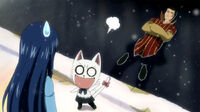 Later on, during the welcoming party the guild is having for Lisanna, Wendy notices the change in Juvia's hairstyle, commenting on how depressed she looks.[92] Days later, she praises Carla for being able to control her foresight ability.[93] As she is walking outside the guild after the briefing on the S-Class Mage Promotion Trial, Carla comments that she has a bad feeling about the exam and explains that she "absolutely cannot get involved". Wendy, sadly answers that nobody would want her to be their partner.[94] However, to her surprise, Mest shows up and requests that Wendy be his partner and lend him her power, much to Carla's chagrin.[95] Mest then explains that he wants to know more of the world of S-Class Mages, while Carla tells Wendy not to trust such a weirdo, with Wendy replying that she thinks he's a nice guy. The disagreement between the two leads to a week of Wendy not speaking to Carla.[96]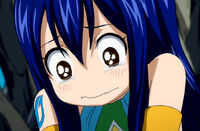 As the participants head towards the island, the master arrives to explain the rules of the first trial. When the first trial is started, Wendy and Mest are forced to wait on the boat, as Freed has applied runes to the boat to prevent everyone from leaving it for 5 minutes. As soon as the rune is dispelled, despite believing to be at a disadvantage, she and Mest disappear from the boat and arrive on the island before Lucy and Cana.[97][98]
Encountering the team of Gray and Loke, Wendy and Mest commence their battle, with Wendy sending forth a roar that equally matches Loke's counterattack in force, only to be disrupted by Gray freezing the floor, causing Wendy to slip. After Gray and Loke defeat Mest, they eliminate Wendy from battle by terrifying her with pickled plums.[99] Later, Wendy stands over Mest as he awakens to find out that they lost to Gray and Loke in the first trial, with Wendy starting to cry, thinking she wasn't strong enough to help.[100] She is comforted by Mest however, who asks her if she knows why the island is Fairy Tail's holy land, and suggests they have look around.[101]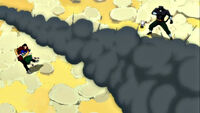 Eventually Carla and Pantherlily arrive and immediately begin interrogating Mest, who they believe to be a suspicious individual. Wendy pleads with them to leave Mest alone, but is told to stay out of it. After Pantherlily states his reasons for Mest not being a Fairy Tail member, Mest teleports away and saves Wendy from an attack from one or the Seven Kin of Purgatory, Azuma. Mest gets excited and finally admits that he isn't part of Fairy Tail, but the Magic Council, who smuggled himself into Fairy Tail to find out all of its secrets. Mest states there is a Magic Council ship stationed just off the island to end Fairy Tail, but Azuma destroys it easily and prepares to battle Mest, Wendy, Pantherlily and Carla.[102]
As Pantherlily and Azuma battle, Wendy uses her Magic to boost Pantherlily's speed and fighting strength before persuading Mest to help them out. Though reluctant, Mest agrees and teleports them both directly behind Azuma while he is distracted. As Wendy prepares to launch a point-blank range Sky Dragon attack at Azuma, Azuma notes their attack as pathetic and defeats them all by summoning a massive tower of flame.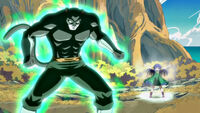 Wendy lands on the ground, unconscious.
[103]
Natsu later arrives, shaking Wendy awake and angrily confronting Mest, Mest's memory control has worn off; but Wendy informs Natsu that Mest was from the Magic Council. Then, the group sees
Caprico
in the sky releasing numerous bubbles, which Grimoire Heart members emerge from to battle them.
[104]
As Natsu easily dispatches most of the members, Wendy notes that Mest has disappeared. Pantherlily then asks her if she can heal herself, to which she says she can't. She then looks on as
Zancrow
arrives and launches black flames at Natsu. As Natsu prepares to eat the flames, she warns him to watch out, as the flames give her bad vibes, but to no avail, as it turns out that he cannot consume them.
[105]
She later gets burned by Zancrow's attacks.
[106]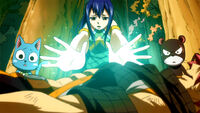 Later on, after Natsu and Zancrow have finished battling, a tired Wendy is seen healing Natsu and Makarov, with the worried cats watching over. She is confused as to why her healing isn't working on Natsu, and Makarov tells her that Natsu's muffler has been tainted with evil Magic by Zeref, and that she needs to revert it to heal him.[107]
Some time later, Natsu wakes up, much to Wendy and the cats' delight. As he thanks her for fixing his muffler and clothes, she replies that it's fine. Natsu then smells a familiar person whom he encountered on Galuna Island and asks Wendy if she can smell the person too, to which Wendy replies that there are too many different smells for her to tell. Natsu says that the person is close and runs off, despite Wendy's protests.[108]
Wendy is later seen greeting Natsu and Lucy when they arrive back at her location. When Doranbolt -revealed to be Mest's true name- appears, he tells her not to worry, as he will help all of Fairy Tail get off of Tenrou Island. Much to his surprise though, Wendy -like all the others present- refuses and states that the island is the sacred land of Fairy Tail and Master Mavis's resting place, and they can't let it be attacked. She then notices massive clouds forming in the distance, and comments that the air makes it feel like the sky is coming down.[109]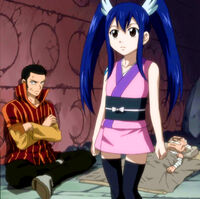 Wendy is then seen when she, along with Lucy and Natsu, try to convince Doranbolt to stall the Councils plan to fire Etherion while they defeat Grimoire Heart.[110] As Wendy and the others take cover, she watches Virgo give Lucy new clothes and asks if she could have some as well. Later, when Carla returns, she, Lucy and Natsu try to head towards their camp, but are intercepted by Grimoire Heart member Bluenote Stinger.[111]
Wendy is then lying on the ground and is shocked at the sheer strength of Bluenote.[112] Wendy is surprised when Cana Alberona arrives and prepares to fight Bluenote to save them.[113] She watches Natsu using his Fire Dragon's Roar on the ground to attack Bluenote and give Cana an opening for her to cast Fairy Glitter. However, the spell fails, and she watches in horror as Cana is overpowered by Bluenote. She is extremely relieved and happy when Gildarts then arrives to stop Bluenote from attacking them further.[114] After Azuma destroys the Great Tenrou Tree, Wendy is seen collapsing along with the other members of Fairy Tail.[115]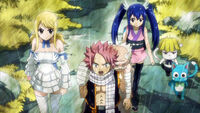 After Erza defeats Azuma, Wendy and the others return to the camp and discover their injured friends. Wendy tries to heal them using her Magic, but Carla and Happy disagree with the idea, as she has already exhausted her Magic Power and should rest for a while.[116]
As the rain continues to fall, Lucy and Levy comment on it, while Pantherlily begins to tremble, causing his fellow Exceeds to conclude that he is afraid of lightning. Natsu then stands up and tells Lucy and Happy that they will go and defeat Hades. While Happy is enthusiastic, Lucy is more than surprised. Happy tells her that it's because they are on the same team, and while Lucy agrees, she points out that Freed would be better in the fight than her. Freed replies that he has to cast defensive Jutsu Shiki around the area, and Bickslow agrees, telling the others to leave the defenses to them. Wendy states that she will go as well. Lily also agrees to go with them despite his fear of the weather, while Levy and Lisanna decide to stay at the camp to help with the Jutsu Shiki and to protect the unconscious Fairy Tail members. Wendy later arrives at Hades' ship with Team Natsu, ready to fight.[117]
Hades beckons Team Natsu to confront him when they're ready. Despite knowing Hades defeated Marakov, the group proceed. Natsu tells Happy, Carla and Pantherlily to sneak into the airship, find the power source and smash it to prevent the ship from taking off. The Exceed agree and head for the bilge of the ship while Gray creates stairs using his Ice-Make Magic, allowing the group access to the deck of the ship. Everyone agrees to fight at full strength from the start. Natsu starts things off by firing a fireball at Hades, but the evil Mage easily dodges it. However it turns out to be cover for Gray and Erza to get close and ready their attacks while Lucy summons Taurus, and all three strike him at once. Wendy hangs back enchanting their attack, defense and speed power. Erza and Gray press the attack, but Hades counters by summoning a chain and snagging Erza with it, slamming her into Gray. Natsu takes the opportunity to attack and hits Hades with his Wing Attack. Hades recovers and catches him with a chain, but Erza cuts him free. Gray makes an Ice Hammer and hits Natsu, shooting him toward Hades. Lucy summons Scorpio, who does a sand attack while Wendy executes a Sky Dragon's Roar, and the two attacks surround Natsu in a Unison Raid, boosting the Dragon Slayer towards Hades until he hits him with the Sword Horn attack. Hades goes flying into a wall and it seems like the group is victorious.[118]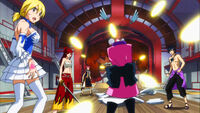 Hades soon recovers and is barely affected, telling the group that they made a true mistake in making him their opponent. He then asks if they're done with their "warm up", much to the group's shock. Hades then shouts "Katsu", which appears to target Wendy; who suddenly disappears leaving only her clothing behind, much to the group's horror.[119]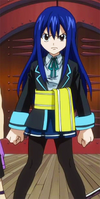 Stunned, the group suddenly hears Horologium telling them to calm down, and that Wendy is fine. Horologium protected Wendy because he sensed great danger, and he was on automatic danger response mode. Lucy wonders why he didn't protect her earlier, and Horologium replies that the level of danger was higher than the previous situations. Wendy thanks Horologium for saving her. Natsu asks why Wendy's clothes were left behind, with Gray nearly suggesting something which makes Wendy scream. Horologium says he only protected her body and explains he can only do this once, and that he's at his limit. He tells them to stay alert and be careful and disappears as Wendy returns back to the field with new clothes.[120]
As the battle ensues, Wendy is hit by Hades' Magical Bullet. Later, while on the ground, she weeps as Hades seemingly prepares to kill Natsu, and watches on in shock as Laxus arrives in a bolt of lightning and clashes with Hades. She then watches as Natsu; who Laxus had transferred all his Magic to, fights Hades with his new Lightning Flame Dragon Mode. She is later horrified to see that all those powerful attacks didn't even scratch Hades, as the former Fairy Tail master awakens his Demon's Eye and uses the Nemesis spell to summon creatures to attack them.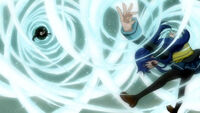 As Natsu reassures them that fear is not necessarily a bad thing because they are not alone, she and Lucy team up to throw Natsu forward. After Natsu punches Hades, Wendy notices in the distance that the Great Tenrou Tree has returned to its original, upright position, thanks to Ultear. With their Magic renewed, the guild members attack Hades, with Wendy using her Sky Dragon's Wing Attack on him. However, their efforts are in vain as Hades keeps the upper hand, preparing to kill them until Laxus stands up once more and attacks, hitting Hades, with Hades finally falling to the ground.
Hades realizes his heart has been destroyed, and it is revealed that Happy, Carla and Pantherlily are responsible. With his heart demolished and his power source gone, Hades is finally defeated by the team of Mages.[121] The battle ends, and the Exceed finally arrive while being chased by Grimore Heart members. Natsu and the others have already run out of Magic, but rest of the Fairy Tail members come to the rescue. After the war, Wendy rests at the Tenrou Island camp with her guild mates.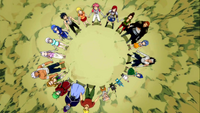 Fairy Tail's happy celebrations are then interrupted when Acnologia, the infamous Black Dragon, lands on Tenrou Island and starts attacking everyone. All of the Mages start moving towards the ship as the Dragon goes on its rampage.[122] Makarov then enters full Titan mode and grabs Acnologia, holding it off from attacking the guild members as they escape. Everyone wishes to help Makarov, but he shouts not to disobey his final order.[123] When Makarov is overwhelmed by Acnologia, all of the guild return and go all out against the Dragon. As Acnologia, having shrugged off all the combined attacks, flies high up into the sky and readies to fire a breath attack against Tenrou Island, the guild members join their hands in a circle. While promising they will return home to Fairy Tail, they are struck by Acnologia's blast, which completely obliterates Tenrou Island, leaving nothing behind.[124]
Seven years later, the Team Tenrou is rescued by some Fairy Tail members and The Trimens of Blue Pegasus after their disappearance along with Tenrou Island. Wendy and the rest return to the Fairy Tail Guild and are welcomed back by the members with a party.[125]
Key of the Starry Sky arc
Edit
Note: Events in this arc occur only in the anime and do not constitute canon material.

Click "show" to read the arc plot.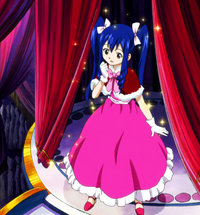 When the members of Fairy Tail practice their social dance skills in preparation for an important job, Wendy comments that dancing is lovely, and is soon asked to dance by Warren. As the others watch her, they comment on her great dance skills, and Wendy decides to accompany the others to the ball. After being briefed on the job they will have to perform (in which they must guard the ball from notorious criminal Velveno) by Balsamico, Wendy puts on a lovely ball gown and heads to the dance floor. She is asked to dance by a young boy, who makes Carla nervous, as they know that Velveno has the ability to change his appearance. When it is revealed that the boy is in fact Velveno, Wendy is shocked, but is more-so when Velveno reveals that he only came to the ball to ask for Aceto -the Count's daughter- to marry him.[126]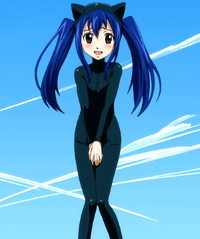 Wendy, along with Natsu, Happy, Lucy and Carla, takes a job to guard gold in a freight cart. Happy ask Wendy to use Troia on a motion-sick Natsu, but it doesn't work, so she tries again and again, but fails due to Natsu having built up an immunity to the spell. Wendy then enters a state of depression and Lucy and Happy try to cheer her up. Wendy opens the door of the cart and finds the leader of the
Jiggle Butt Gang
. She is then taken hostage by the gang, and wakes up to find herself with only the incapacitated Natsu and Plue; Carla, Lucy and Happy having been thrown from the train by the three thieves. She wakes up the Jiggle Butt Gang's boss, and watches them admire Plue. She then uses her Magic to heal the Jiggle Butt Gang leader, with the criminals deciding to try and enlist her into their gang to reap the benefits of her Magic. Trying to stall the group as long as possible for help to arrive, Wendy joins the gang (as a ruse) and becomes their leader and "goddess". She then uses her Sky Dragon's Roar to move the train cart, which was stuck on the tracks. Wendy then tries to make the Jiggle Butt Gang members of Fairy Tail, but Natsu punches them far away. Later Lucy and Wendy apologize to the client for being late.
[127]
After Lucy accidentally turns herself invisible and heads to the guild for help, Wendy watches on in confusion as the members of Fairy Tail fight when Lucy instigates a brawl between them. She is then shocked to learn that Lucy is among them but not visible. She disappears for a time, and returns with Lucy's Celestial Spirit keys and the lotion that turned Lucy invisible in the first place, much to Lucy's gratitude. When Lucy begins to fully disappear, Wendy and Carla quickly deduce that all of her belongings in her apartment are probably gone too, but when Lucy then becomes visible, Wendy comments that Natsu's close bond with her helped her to reappear. Happy then accidentally spills the lotion over the rest of the guild, and Wendy turns invisible with everyone else.[128]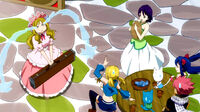 Wendy is sitting at the table conversing about the recent church bombings along with Lucy, Carla, Happy and Kinana. She then, along with the rest of the guild members, listens to Michelle's story when the girl arrives at the guild, and helps Lucy and Kinana hold Michelle's case off the floor. She later watches Jude's mysterious memento levitate and glow, stunned by the unusual item.[129]
Later, she stops Natsu from fighting Laxus, insisting that they should wait until the following day to get ready for it. She says that the showdown should be carried out with a plan and tells them that the battle will be tomorrow instead. To her relief, Natsu and Laxus agree with the idea. In the forest, Wendy meets Carla, who then helps her find Makarov. When they find him, they tell him about Natsu and Gajeel's fight with Laxus. Wendy, Carla, and Makarov arrive at the fight scene. She watches as Freed pleads Makarov to release Laxus from his expulsion but to no avail.[130]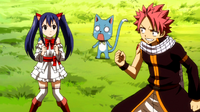 When Wendy, Natsu and Lucy later arrive at the guild, they see three mysterious people standing in front of it. She, with Natsu and Lucy, is shocked and wonders how the three came from Edolas. However, they also notice that though the three almost look the same, they are somewhat different, mainly because here Hughes is a female. She hears the female Hughes demanding that the guild hand over Lucy Heartfilia. She and the guild instantly asks why the trio want Lucy, and state that they will not hand her over. Then, the Earth Land Sugarboy releases his Magic and surrounds the Mages with globules of thick mucus-like substance. Wendy dodges it and Carla flies her to a safer place. Then, Carla and Pantherlily finally realize that the trio are not the people they met in Edolas, but their Earth Land counterparts. Later, she along with Levy, Laki, Mirajane, Lisanna and Elfman are called Lucy, to confuse their Earth Land enemies whilst Lucy escapes. After the enemies escape, the guild vows to find Michelle and Lucy, and Wendy, Carla and Pantherlily are attacked by Earth Land Coco whilst they search.[131]
As Pantherlily, Carla and Wendy are cornered by Coco, Wendy sees Pantherlily trying to fight Coco. She attempts to help Pantherlily with the fight by using Sky Dragon's Roar, but the attack misses. [132]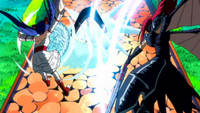 Wendy and Carla along with Team Natsu decide to search the Heartfilia Konzern mansion in search of clues surrounding the memento. They all split up with Wendy and Carla teamed up searching. They later meet up with the others in the library where they try to decipher the anagram that Lucy found in one of the books. Then they are confronted by Samuel and Dan. Wendy, along with the others, tries to attack Dan multiple times, but with no luck, as Dan's shield reflects all of their attacks. Wendy watches with the others as Samuel and Dan escape with knowledge from the book, unable to do anything. [133]
The group head back to the Guild and discuss what they know about the book. It is eventually decided that they will all split into teams to search for the other clock pieces. Wendy is among the Mages who join the quest and is assigned within the same group as Erza and Cana. In the midst of their assignment, they are confronted by a group of bandits whom Erza angrily defeats when they ruin her picnic; Wendy and Cana are left exasperated by it.[134]
Wendy is with the others as Carla begins to think someone is playing a prank by switching the sign directions or trying to trap them; Erza states that the group is lost and Cana states that they have been going in circles. Despite the trouble, Wendy's group eventually reaches their destination: a Magical library. Upon entering and removing a book from a bookshelf, some other books fall out, revealing a Jiggle Butt Gang member's wiggling backside.[135]
Surprised, Wendy witnesses that the ones that ambushed her party were the Jiggle Butt Gang, who are equally surprised to see her, running towards her and calling her their "Goddess". After the gang reveals that they are searching for the parts in order to become the rulers of the world, Wendy, much to Carla's horror, dresses in the gang's outfit once again, becomes their "Goddess" and orders them to give up on being evil.
After the gang refuses and forces Erza to wear their outfit, Wendy is worried about Erza forgetting the mission, as she looks interested to learn more about the gang's principles. Thinking of it as Erza's strategy to distract them, she asks from Cana and Carla to go search for the part, while Erza and herself remain with the Jiggle Butt Gang. Cana agrees, but gives her a card to notify her once the part has been found. When Erza suggests that the leader of the gang must do a hundred push ups to prove himself, Wendy advises him to pace himself and is worried about him when he fails. Once the gang is about to use their signature attack, Gas Butt Triple Ecstasy, Wendy runs and tackles Erza in order to protect her from the deadly attack.
Shortly afterwards, Wendy notices the card given to her by Cana responding, which leads her to understand that Cana and Carla have found the clock part. Although ambushed at first by the Jiggle Butt Gang, Erza and Wendy easily catch up with them, defeat them and meet up with Carla and Cana once more, who are now possessing the clock part. [136]
On the way home after collecting the clock part, Wendy and the group settle down at Erza's request to have a second attempt at her first picnic, they are interrupted once again by the Jiggle Jugs Gang who after denying them permission to picnic on their lands proceed to eat the picnic, Wendy, Carla, and Cana standby and watch as Erza's anger is unleashed on the Gang. [137]
After Wendy's team acquires the clock part, Erza suggests that they all wear the Jiggle Butt Gang's outfit, so that Carla can get over her trauma, to which everyone, including Wendy, agrees. When Erza attempts to have her first picnic for the second time, the Jiggle Jugs Gang appears, claiming that this is their territory, much to Wendy's horror for witnessing another group like the Jiggle Butt Gang. Although Wendy tries to warn them, the group ends up ruining Erza's picnic, much to her rage, which leads to them being attacked by a furious Erza. [138]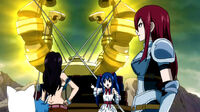 Wendy points at the clock part of her team, which is glowing, along with the other parts in the other areas. Wendy, along with Carla, Cana and Erza, as well as the other Fairy Tail Mages who had acquired their own clock parts, arrives at the Zentopia Graveyard, where Lucy's group fights against Byro. Wendy uses her breath attack and, in a unified effort along with the other Mages, attempts to defeat Byro, only to fail because of the latter's Nulification Magic. She is also later present when the Infinity Clock parts are united, creating the clock once again, and witnesses the appearance of the group formerly known as the Oración Seis.[139]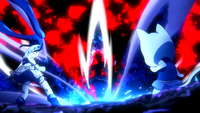 When the Reborn Oración Seis starts attacking Natsu, Byro and Dan, Wendy watches as they can't lift a finger against Oración Seis. Wendy also comments on Erigor's Magic after dispersing Natsu's attack. Later, Cobra appears behind Wendy and Carla, telling them that he wants to ask them something, but immediately activates his Magic saying that they don't know the answer, making Wendy and Carla unable to move. Wendy falls into the ground after Cobra uses his Sound Wall against Natsu, and comments on the spell.[140]
After Angel uses her Angel Magic against them, Wendy is brought to Blue Pegasus Guild by Ichiya. Wendy witnesses as Lucy starts crying and apologizes to them, saying that they did the opposite for collecting the clock parts, but Wendy and the other Mages comfort her.[140]
Back at the guild, everyone is talking about Oración Seis and the Infinity Clock, Wendy brings up the question of how Lucy's father could have gotten involved with the clock, but they leave it be at the moment with the thought of more pressing issues at hand. The Thunder God Tribe arrives and are filled in and bring their own information to the group. After a while Kinana wakes up in a trance and goes down to the guild and writes strange inscriptions on a wall, which leads the guild to discover about Will Neville. After the discussion Cana wakes up and uses her fortune-telling Magic to split the guild up into different teams and prepare to face the Legion and the Reborn Oración Seis, Wendy is paired up with Bickslow.[141]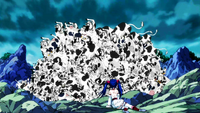 Wendy and Bickslow are next seen walking up a mountain pass with cattle around when a storm comes in, Wendy senses it to be unusual and they then notice Grim Reaper watching them, who doesn't remember being Erigor of Eisenwald. Wendy casts Vernier on Bickslow and herself and they charge Grim Reaper, he uses wind to push them back and slams them into a rock. He attempts an electrical storm wind attack and Wendy deflects it with her Dragon's Roar and is then protected by Bickslow from the Grim Reaper's retaliation. After dodging an attack from Bickslow, the Grim Reaper questions them on who they are, shocking Wendy and Bickslow with his lack of memory. The Grim Reaper proceeds to use another wind blast to attack them only for it to be countered by Wendy's Sky Dragon's Wing Attack, He then uses wind to lift the cattle from before and have them land on Wendy, Bickslow saves her by pushing her out of the attack's range and taking the damage himself.[142]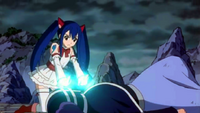 Wendy attempts to heal Bickslow's injuries, despite the attacks that Grim Reaper throws at her. She is told to leave and forget Bickslow but states that she will never abandon a friend; with this saying, she unintentionally causes Grim Reaper to recall his memories. As she finished healing Bickslow, Wendy notices how hurt Grim Reaper is and decides to heal him. She uses her Sky Dragon's Roar, in addition to a healing spell, which she ultimately uses to attack him with. This not only defeats him but "heals" his heart, relieving an initially worried Wendy.[143]
Soon, Wendy and Bickslow try to wake up Erigor, and when he wakes up, he describes his feelings and thanks Wendy for helping him. Wendy and Bickslow suspect that someone let Cana make the teams according to their preference, as she stated that she felt sleepy before doing her fortune reading.[144]
Later on when Wendy and Bickslow meet up with the others back at the guild they are informed about Lucy and Natsu being taken by the Reborn Oración Seis. The Archaeological Society arrives asking for Lucy and, when they find out what happened, they tell Wendy and the others the history of the Infinity Clock. Fairy Tail decides to take on the task of stopping the Infinity Clock from Jean-Luc. Ichiya and the redesigned Christina then arrive to take Wendy and the hand-picked team of Fairy Tail Mages to Zentopia, in order for them to stop Real Nightmare once and for all. However, they are attacked by Racer, who Mirajane decides to take on by herself, allowing Wendy and the others to continue forward.[145]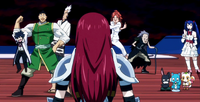 Wendy, along with Ichiya and the rest of the team arrives at Zenotopia Church aboard Christina.The whole group save Erza are affected by Real Nightmare, which results in Wendy growing into an adult. Erza then uses her ancient weapon to return Wendy and the others back to normal. The Zenotopia Church soldiers see the team arriving aboard Christina and try to stop them with no luck. Byro then sends Kanaloa to stop them. Wendy and the others try to get Kanaloa off with no luck, so Ichiya tells them to go and that he will handle Kanaloa.
Wendy and the other Fairy Tail Mages jump off into Zentopia's holy grounds, still worried about Ichiya's fate. At some point, Gildarts also contacts the group via Warren's telepathy and reveals to them that the Archbishop is being mind controlled by Lapointe.[146] Wendy's group soon reunites with Natsu, Coco and Gildarts, who stand in front of a defeated Lapointe. After he disappears, due to being another puppet used by Brain II, Wendy wastes no time and immediately attempts to heal the Archbishop, along with some other Mages that stayed with her, while the majority of Fairy Tail scattered in order to find and save Lucy.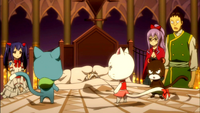 While treating him, Wendy notices some abnormal traces of Magic, which convince her that the Archbishop has been under a spell for a long time. However, after treating him for several hours, she manages to erase the traces of the spell left inside his mind and to completely heal him. Happy and Carla comment on how much Wendy has improved, but she replies that she has simply gained more experience. She is later present when Happy figures out that Lucy can be saved, if the Reborn Oración Seis is defeated.[147] After their guild mates confirm Happy's idea, Wendy wonders what will happen to Lucy after the dark guild is defeated, and soon notices that the Clock itself is struggling to protect the seals. [148]
She, along with Warren, Laki and Carla learns that Lucy will soon be consumed by the Infinity Clock, and watches as Warren contacts all of the Fairy Tail Mages, asking them to hurry and defeat the Dark Guild. She and Carla decide to lead Romeo to the Infinity Clock in order for him to save Lucy, and she is present as Byro appears at the group's location and asks about the Legion Mages' whereabouts and as the Archbishop regains consciousness and announces that while he was being controlled he learned how to slow down the effects of the Infinity Clock. She listens as the Archbishop reveals both to Fairy Tail and to Legion that everyone should cooperate for now in order to halt the Infinity Clock and destroy the chains linking it to the Earth.[149]
Later, as Wendy, Warren and Carla run throughout the Infinity Castle, Warren is contacted by Levy at the guild, who along with the Archaeological Society learns some important information on the Clock.[150]
After the events around the Infinity Clock end Legion Corps comes to the guild to apologize and say goodbye to Wendy and the others they then have a small party. They then head off on their life long mission to find the pieces of the Infinity Clock scattered around the world.[151]
Grand Magic Games arc
Edit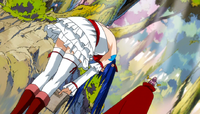 After their return from their stasis on Tenrou Island for seven years, Wendy, Natsu, Gray, Carla, Happy and Lucy visit Porlyusica in an attempt to obtain a drug to make their Magic stronger, but are shooed away by her.[152] After escaping, Wendy weeps and says that Grandeeney and Porlyusica have the same voice and smell.[153] However, Porlyusica later shows up while they converse about her similarities with Grandeeney. She reveals that she is perfectly human and the reason why she seems a lot like Grandeeney is that she is Grandeeney's Edolas counterpart. She gives Wendy a book containing Magic from Grandeeney that the Dragon herself wasn't able to teach Wendy. She warns Wendy to be careful and then leaves.[154]
After returning to the guild, and hearing about the Grand Magic Games, Wendy is excited to participate.[155] She, along with Natsu, Levy, Lucy, Juvia, Jet, Droy, Carla, Happy, Erza and Gray decide to train for the Games on the beach.[156] While the others train physically, Wendy tries to study the book given to her by Porlyusica, and is helped by Levy. Later that night, the girls soak in the baths and look at the stars, but are interrupted by the boys, who try to peep on them.[157]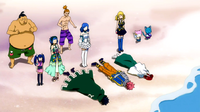 On the second day of their training, Virgo pays a surprise visit and takes them all to the Celestial Spirit World, stating that the Celestial Spirit World is on the brink of disappearing. Upon arriving, they marvel at its beauty and meet the Celestial Spirit King, who informs them that Virgo's statement was a joke to get them to come there and celebrate their return from Tenrou Island. The group parties without a second thought. Wendy later thanks Horologium for saving her during the battle with Hades, distastefully comments on Taurus' perverse habits with Levy and gets her hair styled by Cancer. After the day ends, they are sent back to Earth Land, only to discover that a day in the Celestial Spirit World is equal to three months on Earth Land, completely eliminating their training time and leaving them with only five more days until the Games.[158]
While the team mopes around the beach, depressed, a pigeon lands on Erza's head with a message inviting them to go to a suspension bridge in the West Woods. They arrive at the bridge, which fixes itself before them, and after they cross it they meet Jellal, Ultear, and Meredy. After a brief reunion, Ultear decides to increase everyone in Fairy Tail's power by activating their "Second Origin" with her Arc of Time, in exchange for them investigating a strange Magical force surrounding the Magic Games.[159]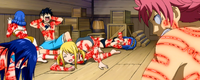 Despite having second thoughts about it,[160] they all let Ultear perform her Magic on them and all wail in pain inside a shed with their bodies covered in Magic markings, with the exception of Erza.[161]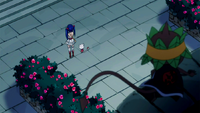 Upon arriving in Crocus, they discover that only five representatives are chosen to participate from each guild. Wendy is among the five selected, due to Laxus and the other stronger members being absent. Wendy and Carla then decide to explore the city before the games begin,[162] and head for Mercurius Castle. As they chat about its appearance and the royalty it houses, a small dark figure looks at them from above.[163]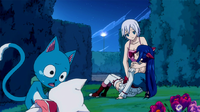 The small creature makes Wendy late for the 12:00 midnight curfew when the preliminary round of the Games begin. The group decide to switch Elfman for Wendy on the team, while Lisanna and Happy go off to search for her.[164] Lisanna and Happy's search leads them to Wendy's bag, which has fallen on the ground.[165] Both Wendy and Carla are later found passed out by some bushes, sapped of energy and Magic after being attacked by the black creature owned by Obra of Team Raven Tail. Porlyusica arrives to help them recover, so that Wendy can still participate in the main event of the Games, much to Wendy's happiness.[166]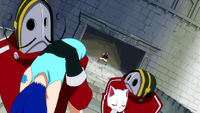 Wendy continues to rest throughout the first day, as well as part of the second day of the Games.[167] While Natsu rests from his participation in the Chariot event, Wendy -along with Carla and Porlyusica- is kidnapped by four henchmen and taken away. Natsu wakes up shortly after the incident and tracks them down, eventually managing to defeat them. Afterwards, Wendy and the others wake up and arrive in time to witness Elfman finish his battle with Bacchus, victorious. Wendy remembers what the henchmen said while taking her and the others away, noting how they were actually looking for the girl who was in the sickbay, who she suspects to be Lucy.[168]
Wendy and the others return to the sickbay area where Elfman is recovering from his battle with Bacchus. Elfman tells Wendy to take his place in the games, which she gladly agrees to do.[169] During Mirajane's fight with Jenny Realight, Wendy is stunned at what the fight turns into.[170]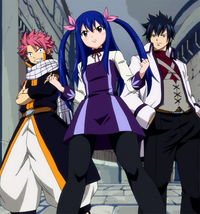 After the days games end, Wendy and the other members of her team have dinner and then head back to their lodging, only to see Yukino Aguria standing outside Honeybone.[171] After inviting Yukino inside, Natsu, acting slightly hostile towards the former Sabertooth girl, asks her what she wants, while Wendy tells him to calm down and listen to what she has to say first. Yukino then surprises them all by offering her two Golden Celestial Spirit Gate Keys to Lucy. When Wendy asks her why she would do this, Yukino states that from day 1 of the Tournament she wanted her keys to go to a stronger Celestial Spirit Mage than herself. After Lucy politely refuses, she, Wendy and Carla go for a bath. Wendy and Carla ask Lucy why she didn't accept the keys, to which Lucy responds that she didn't want to break the bonds between the Spirits and their Mage. Lucy then asks what happened to Natsu and Happy, to which Wendy answers that he went after Yukino.[172]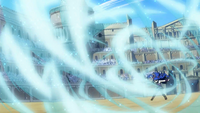 On the third day of the Games, during the battle rounds, Wendy gets picked to fight against Chelia Blendy of Team Lamia Scale after she's just finished changing into new clothes. When Chelia trips and falls over, Wendy asks if she's all right and ends up falling too. As the crowd laughs on, the two greet each other.[173] The two girls get up and begin fighting, using an array of complex Sky Magic spells at one another. Wendy ends up taking serious damage from Chelia's unique form of Sky God Slayer Magic. Wendy decides to continue despite her injuries for the sake of her guild, and casts Shattering Light: Sky Drill on Chelia. When Chelia stands out unharmed even by that attack, Wendy looks on in surprise, completely drained from using the spell.[174]
Despite the fact she was injured, she tells Chelia that she will not give up and that she doesn't need her pity. She asks her to use her full strength and not hold back. Chelia responds by attacking her with the "Secret God Slayer Technique", Heavenly Gathering of Clouds, to finish the fight. However, Wendy manages to make her opponent miss her by increasing her physical strength and causing the Magic to overshoot, Wendy's curative Magic is then explained to heal fatigue and injury as a whole; while Chelia's cannot. They then clash in a fist fight, Wendy manages to stay standing until the time runs out, the intense match is declared a tie and the two teams receive 5pts. Both battered from the fight, Chelia then apologizes for hurting her too much, while proceeding to heal her. Chelia then asks Wendy if they can be friends, which Wendy happily accepts.[175]
After the third day's events and battles, the Fairy Tail Mages celebrate their victories by throwing a party and having fun. Wendy is cheered for her amazing development by Pantherlily and many other Mages after witnessing her battle with Chelia.[176][177]
Whilst they are celebrating at the bar, Wendy, Erza and Lucy are approached by Levy, who tells them about a giant leisure center that is popular in Crocus. When the guild decides they will have to check it out, Wendy gets into her swim gear and goes too, overjoyed at seeing how big the center is.[178] As she looks around, Wendy spots Chelia, who asks her if her injuries are better after their fight. When Wendy confirms that they are, Chelia takes her hand, and the two proceed to go have some fun.[179] They are splashing each other in one of the pools when Gray and Lyon get into a fight and freeze all of the swimming areas, Wendy and Chelia becoming scared when the ice threatens to surround them. In an attempt to melt the ice, Natsu employs his Magic, but succeeds in blowing the entire leisure center sky high. Wendy and Chelia are sent flying, and Wendy lands on top of her, dazed and shocked that events have taken such a turn.[180]
During the 4th day's event, Naval Battle, Wendy watches as Lucy enters for their team.[181] Upon Chelia Blendy being knocked out of the game, Wendy looks at her, acknowledging that she did her best under the circumstances.[182] Wendy runs to the field when Minerva releases Lucy from her grip. She heals Lucy's injuries, alongside Chelia Blendy, before she is taken to the sick bay.[183] Later on, whilst waiting for Lucy to wake up, at the sick bay, Wendy mentions that it was thanks to Chelia's emergency treatment that Lucy's life is not in danger.[184] When Makarov tells the Mages from Fairy Tail Team A and B that it has been decided that both teams will have to pick out five Mages from each team to form only one team, Wendy tells the others that she is cheering for them.[185]
Wendy wishes the best of luck to her guild mates, Natsu and Gajeel, before the battle of the Dragon Slayers begins.[186]
As the battle continues, Wendy is shocked to hear Sting say to Rogue that he alone is enough to beat both Natsu and Gajeel.[187] Whilst treating Lucy's wounds, Wendy watches Natsu and Gajeel; through the Lacrima vision, recover from the many attacks they received from Sting, happy to see they're fine.[188] Later, Wendy, with Elfman, watches anxiously to see the outcome of Natsu's battle.[189] Though, later it is shown that Natsu won the fight, causing Wendy to hug Lucy in happiness. She remains in the infirmary later that day.[190]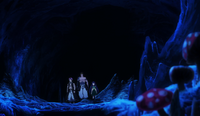 Later, Wendy and few of her other guildmates are taken underneath the Domus Flau by Gajeel, despite not knowing what to expect. When she and the others arrive at the designated location, they discover that they have come across a Dragon graveyard. As they wonder what could've happened, she recalls the Milky Way technique that Porlyusica had told her about, which she believes will allow her to listen to the souls of Dragons. Her group thinks that with this spell, she can learn information about what happened to the deceased Dragons, and possibly about hers and her fellow Dragon Slayers' foster parents.[191]
Wendy then proceeds to drawing a Magic seal on the ground and begins a chant; she initiates the Milky Way spell. She manages to locate a lingering soul and restores Zirconis, the Dragon of Jade, he looks around assuming Grandeeney to be the one to restore him when he spots Wendy and comments on her being cute and wanting to eat her, she remains calm though knowing he's just a soul and cannot harm her. He proceeds to explain the history of Dragon Slayers and furthermore Acnologia, showing visible fear at the mention of the latter and stating he's the one to have killed the Dragons in the graveyard. He attempts to continue only to vanish, everyone starts trying to call him back with Wendy apologizing and stating he entered Nirvana and passed on. She, along with everyone, is startled by the sudden appearance of Yukino and Arcadios and his news that Zeref is the one behind Acnologia's turning into a Dragon.[192]
Upon seeing Arcadios and Yukino, Wendy wonders what need Arcadios has for a Celestial Spirit Mage and listens as Yukino claims they have a plan to defeat Zeref and Acnologia.[193] Wendy soon heads to Mercurius and marvels at the size of the palace, before being taken by Arcadios to see the machine designated for the Eclipse Project.[194] Learning the requirements for the plan, Wendy notes the date of the project initiation is the same as the date the Dragons disappeared.[195] However, the Fire Army immediately shows up and orders the arrest of Lucy, Yukino and Arcadios, claiming the Eclipse Plan is dangerous and must be stopped.[196] After Natsu's failed attempt to save them, his Magic power is sucked from his body at which point the Fairy Tail Mages are ejected from the castle, but told that they may have an audience with the King if they win the Grand Magic Games.[197]
Wendy and the rest later return and meet with other members of the guild and discuss Lucy's arrest. Natsu angrily attempts to break free of his restraints and save her, at which point Wendy tells him to keep calm. With the rest of the Mages, she listens to Makarov as he gives his take on the situation.[198] The next day, while Team Fairy Tail heads out for the final day of the games, Wendy goes with Natsu, Mirajane, Happy, Carla and Pantherlily on a mission to rescue Lucy.[199]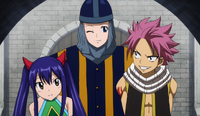 As the group runs to Mercurius, Wendy beings wondering how they're going to get inside the castle, at which point Happy comes up with the idea of making everyone wear disguises, with Wendy putting on a costume of
Mato
. Ultimately, the idea is rejected and Wendy removes her headpiece, stating that they'll save Lucy while also wishing their friends good luck in the games.
[200]
Later on, as it appears Wendy and Natsu were caught by the palace guards and sent to the dungeon, Mirajane cancels her transformation and reveals the ruse intended to help them rescue Lucy.
[201]
Eventually, Wendy and the others find Lucy and Yukino cell. Upon arriving, Natsu melts the door freeing the two. Standing outside the cell, the floor collapses beneath Wendy and the group sending them below. Soon after, the group lands in an underground cavern which they soon find out is called "Abyss Palace".
[202]
Wendy looks around the place curiously, looking for a way out.
[203]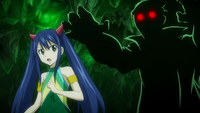 As the Mages attempt to escape, Wendy comments on how shameful it was for them to have been captured during a rescue. As Carla finds a passageway, Wendy gets through and comes across a battered Arcadios, who tells them to get away as a large, shadowy figure attacks them. As the Mages try to understand what is going on, Wendy is confronted by another figure who pulls a flag into the air, knocking her and the other Mages into the air. As Arcadios reveals the figures to be part of an independent group supporting the kingdom known as the Garou Knights, Wendy readies herself with the others as the Knights state their intentions to execute them.[204]
As the Garou Knights move to attack, Wendy sets herself in front of Yukino and Lucy, telling the two to stand back as they are both defenseless without their keys. When Kamika employs her Paper Blizzard: Red Dance, Natsu moves to burn the spell up with his fire, only to discover the attack to be impervious to flames; Wendy's quick-thinking barely managing to save him as she employs her Sky Dragon's Roar to scatter the paper slips. Happy at her saving of Natsu, Wendy doesn't manage to notice a huge fly-trap rise from the ground and surround her until she is nearly consumed by it, only just being saved by Mirajane, who, in her Satan Soul: Sitri form, rips the plant to shreds with a quick sweep of her arm.[205] Kamika and Cosmos give the group no time to rest though, the former employing another attack to paralyze Wendy and her team whilst the latter summons a massive flower on the roof to consume them. To counter Kamika's attack, Wendy heals her team-mates of their binding, this allowing Mirajane, Natsu and Pantherlily to together destroy the flower and save everyone. The trios attack however causes an explosion so great that the caves crumble and smash, raining rocks down on everyone and separating them.[206] Alone and wandering around calling for her friends, Wendy is found by Cosmos, the woman claiming that despite Wendy's pitiful nature, she will still execute her.[207]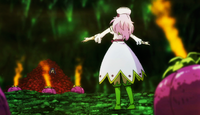 Cosmos begins her attack on Wendy soon after, rising from the flower she appeared in and casting Spore Bomb: Rinka Renka, the attack sending out little spores which then explode in Wendy's face, causing the young Fairy Tail Mage to have to duck for cover. Hearing Wendy's screams, Cosmos laughs and casts Makura Kamura, Wendy startled when several flowers grow up around her and begin to spray clouds of gas in her face. Becoming surrounded by the mist and being forced to breathe it in, Wendy begins to cough and splutter, Cosmos stating that the spores in the spell will put her to sleep; a sleep she will never wake from.[208]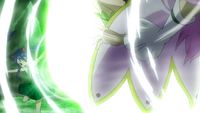 As she stands still, Cosmos taunts her, wondering if she's asleep. However, Wendy recovers through the use of Raise. To the surprise of Cosmos, Wendy explains that Magic that modifies conditions won't work on her as she works to support others and when need be, she becomes a sky Dragon.[209] Attacking Cosmos, Wendy sends her flying through a wall, knocking her out and reuniting with the rescue team in the process.[210]
After the fierce fight, Wendy and the other Mages try to find of a way out. When the group wonders how Arcadios survived the hot lava that engulfed him and they realize that it probably has to do with the blessed Jade talisman, the Jade Dragon Zirconis immediately comes to Wendy's mind. As they find a door that begins to open itself up, a shocked Wendy, along with her teammates, witnesses the appearance of a hooded woman in front of them.[211] As Natsu asks who they are, the woman begins crying, asking for their strength while Wendy looks on.[212] The woman takes off her hood, showing her face is identical to Lucy's. Wendy is surprised by this, asking how it's possible, and is shocked even further when this Lucy claims to be from the future. As she is about to give them information on the future, she collapses, with Wendy running up to her asking if she's alright before Natsu picks her up and states they'll take her with them.[213]
A while later, they realize they are lost and Wendy is shocked when Yukino refers to the castle as a mister. When Mira says that they should try not to leave a bad impression on the King, Wendy states that they have already done that by defeating the Executors. Suddenly, the Lucy from the future stirs and everyone immediately turns to her. When she finds out about their whereabouts, she remembers that they are going to be captured again. When Natsu and Mira say that is impossible, she explains that because they passed Eclipse, they couldn't use their Magic, hence they got captured. When Wendy asks the future Lucy why she came back to the past, she says to change the worst future, shocking them.[214]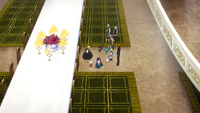 As a surprised Natsu shouts about the incoming Dragon attack, Wendy wonders whether it has anything to do with the events in the Dragon graveyard. As Carla then asks about what happened to them in her future during the attack, her answer is silence, which Wendy interprets as meaning their death.[215] The future Lucy explains her travelling to the past, as well as her lack of strategy. Future Lucy says that for that, they should take the underground route and meet Jellal, who was coming up with one. As she grows sad over not being able to help, Wendy watches as Natsu holds her and promises to protect the future.[216]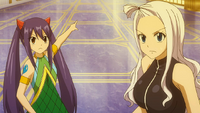 While running through the underground, Wendy expresses that their friends must be worried about them. Suddenly, the group is approached by the army, who Wendy is initially hesitant towards combating. As Mirajane runs off to locate the missing Yukino and Arcadios, Wendy calls out to her, thinking of her as well just before engaging.[217] With the rest of the group, Wendy fights back against the army.[218] As she attacks with her Sky Dragon's Roar, the Garou Knights arrive. Stating that they shouldn't be underestimated, Wendy clutches her arm as the leader states he won't allow them to leave the castle.[219] Wendy and Lucy keep fighting the Garou Knights.[220] Wendy continues to struggle against the army and Garou Knights, back to back with Loke.[221]
As the battle continues, Wendy is ensnared by Cosmos' vines. As her friends begin giving out, a large shadow arrives and swallows the Fiore knights. The Garou Knights are swallowed as well by the shadow which envelops the area but does not harm the Fairy Tail Mages, allowing Wendy to go free.[222] Free of enemies, Wendy watches as the shadow slowly disappears and a man steps forward. Questioning where the shadows are reaching out, the man identifies himself as Rogue from the future.[223]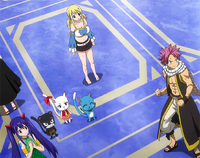 As Rogue stands before the group, Wendy recognizes the Mage to be from Sabertooth.[224] After Carla asks for the reason behind his return, Wendy along with the others listen too Rogue tell them how he came back to open the Eclipse Gate and use its power to destroy the Dragons that will attack soon. Wendy claps her hands in delight hearing this news. Unfortunately Rogue reveals the future world where Dragons have taken over and how the Eclipse can no longer stop them. Natsu then says that they should just prepare to open it now if that was the case, yet Rogue then tells them that somebody will close the gate and stop them from using it and that he has come back to kill that person. Rogue then reveals the culprit for the closing of the gates to be Lucy, as Wendy watches as he sends a blade made of shadows flying towards Lucy. Suddenly, Future Lucy jumps in the way of the blade, leaving Wendy and the other horrified as the sight. She then cries as Future Lucy says her last goodbyes before passing on. Wendy then watches as a tearful Natsu attacks Rogue, protecting her from the Shadow Dragon Slayer.[225]
As Natsu engages the visitor from the future, Wendy escapes with Lucy and the rest, allowing the two of them to battle.[226] Heading outside, Wendy and the group, minus Loke, witness the princess getting ready to open the Eclipse gate. The group is noticed from afar and then asked to come out, with Wendy being surprised as she meets the princess. Being told that Fairy Tail won the Grand Magic Games, Wendy is ecstatic until Arcadios asks where Lucy's future self is and they reveal she was killed by the other person from the future who tried killing Lucy. Wendy listens as Lucy claims that she won't stop the gate from opening but wonder if they can really stop the Dragons.[227]
Wendy later watches, in awe, as the Eclipse Gates open.[228] As Gates continue to slowly open, Wendy expresses her thoughts regarding the future to Lucy, saying that with the Gates now opening, it doesn't seem as bleak, to which Lucy agrees. Wiping the tears from her eyes, Wendy states that Future Lucy can finally rest in peace. When Lucy starts walking towards the Eclipse Gate, however, Wendy can only watch, in shock, as Lucy declares that opening the Eclipse Gate is wrong, and that she must seal the doors.[229]
As Lucy pleads for the door to be closed, Wendy watches her, asking what she is doing. As Lucy explains her reasoning to the princess, a tremor is felt by Wendy and the rest, forcing them to brace themselves as they then see a Dragon emerge from the Eclipse Gate.[230]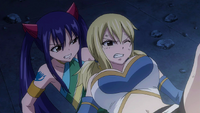 The Dragon immediately causes a deal of destruction upon arrival, sending Wendy and the others flying as a result of its power. The devastation reaches all the surrounding areas, greatly scaring Wendy, who remains stunned at the Dragon just as another arrives. Lucy finds out from the princess how to close the gate and heads to do so, supported by Wendy who encourages her to hurry as the devastation gets worse. As she nears, Wendy asks Lucy how she knew what would happen and is told Crux analyzed the Gate and found that the lunar eclipse was corrupting the Magic. As another Dragon arrives, Wendy asks why the door isn't closed yet as Lucy continues her struggle to make it so.[231]
Calling out to Lucy as she has trouble, Wendy watches her friend struggle as her power alone is unable to close the gate. However, Wendy notices Mirajane arrive with Yukino. Yukino puts her Magic Power together with Lucy's and the two Mages manage to summon the 12 Zodiac spirits at once. Together, the spirits are able to close the gate and prevent the Dragons from coming through. Wendy jumps for joy at this success but soon realizes that several Dragons made it through the gate and need to be dealt with. Seeing the Future Rogue arrive and blame Lucy and Yukino, Wendy is shocked as the man from the future takes control of the Dragons who arrived and commands them to attack all the Mages. Unsure of what he's after, Wendy then sees the arrival of Zirconis, the Dragon they encountered in the graveyard, which surprises her greatly.[232] She rapidly turns her attention at the screaming Natsu, who states that their Magic, Dragon Slayer Magic, was created for this day.[233]
Wendy watches the hysterically laughing Dragon as Zirconis begins to question who will be his appetizer, followed by Wendy asking him if he does not have any recognition of their previous encounter. Receiving a negative response from the Dragon. Carla, echoing Natsu's words and reminding Wendy that it was Zirconis' dead spirit they communicated with, furiously nags Wendy's low confidence. Distracted and befuddled, Wendy is nearly hit by Zirconis' Magic if not for Mirajane ducking in to save her. Raising their heads slowly, Wendy covers her mouth as she witnesses the effects of Zirconis' Magic; to deprive people of their clothes; or, as stated by Zirconis, their dignity. Hearing this, Wendy claims that her Magic will be the one to crush the blood-thirsty Dragon.[234]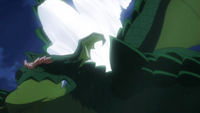 Zirconis inquires Wendy's resolve by grabbing the unclothed Lucy and questions whether Wendy can defeat him before he devours the Celestial Spirit Mage. Wendy enchants Arms X Vernier over herself and Mirajane before responding affirmatively to Zirconis with determination, which angers the Dragon and initiates a roar, scattering Wendy and the rest of the Mages. Zirconis then flies up in the air and jests over the Mage's incapability of flight. Before Zirconis could devour Lucy, an aerial distraction from Mirajane in Sitri form sets up an opportunity for Wendy, alongside the flying Carla, to hit Zirconis with her Roar attack, which causes notable damage. Zirconis further displays agitation and propels Lucy into the air, which leads Happy to tend to Lucy while Wendy and Mirajane prepare to deal with Zirconis,[235] and the two Mages stay and face him in an aerial battle.[236]
Soon after, Wendy is joined by Laxus Dreyar, who was told of her predicament by Natsu. Combining forces with the Lightning Dragon Slayer, Wendy prepares to attack once again.[237] As Laxus attacks Zirconis with his Dragon Slayer Magic, Wendy provides support with Arms, boosting her fellow Dragon Slayer's power.[238]
During their battle, Wendy sees Zirconis begin to disappear due to the destruction of the Eclipse Gate. However, Wendy still finds herself being attacked by her opponent. Seeing the princess approach the Dragon, Wendy tells her to look out as she gets closer to the beast and begins talking. Wendy listens as Hisui tells Zirconis that she's responsible for the problems such as the disruptions in the flow of time. As the two speak, Hisui introducing herself with a name like that of Zirconis' color, the Dragon is distracted long enough for him to disappear completely before Wendy's eyes.[239]
With the party at the castle over some time later, Wendy and Carla join Team Natsu on a carriage ride back to Magnolia Town. As they leave, Wendy watches Happy wave goodbye to Crocus and speaks to Carla, commenting on how many things have happened to them.[240]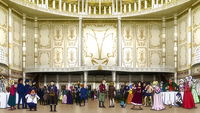 Following the end of the Grand Magic Games and the defeat of the Dragons, Wendy and the rest of the Mages attend a banquet hosted at the Mercurius castle by the royal family.[241] During the party, she meets up with Chelia as the two marvel over some jelly. Wendy comments that it looks like a jewel as Chelia comments she wonder what it tastes like. Each tries a spoonful and drifts into ecstasy over the fantastic taste. As they enjoy the jelly, Mavis wanders off, looking hungry, and comments that it looks good. Wendy is surprised by this and Chelia wonders what is going on, due to not being able to see Mavis. Mavis says that she wants to try some but Wendy tells her to control herself. As Chelia continues to wonder what is happening, Wendy asks Mavis if she has seen Natsu. When Mavis replies she hasn't, Wendy finds it odd, as he usually stands out the most.[242] Later, she looks on in shock as everyone fights for Yukino.[243] As Natsu finally appears wearing the King's crown, Wendy looks on, slightly embarrassed.[244]
Following their carriage ride home, Wendy and the rest of the Fairy Tail members return to Magnolia, where they are welcome rather warmly by all the citizens, being cheered as they enter the town. Seeing all the people applauding them, Wendy bows and thanks them for their support in the Grand Magic Games, something which earns her a chastising from Carla.[245] Wendy then becomes disheartened when she sees Natsu remove Toma E. Fiore's crown from his bag, sadly noting that he stole it;[246] she then expresses joy when Magnolia's Mayor reveals that he and the rest of the town chipped in to restore Fairy Tail's Guild Building to its former glory.[247]
Sun Village arc
Edit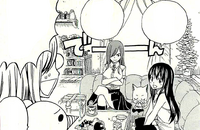 Some time later, Wendy goes on a job along with Erza and Carla to work for Rabian as an actress in his play. Wendy takes on the role of the sword-carrying Haru but is consistently jeered by the audience, who feel she is too short for the role. As this goes on, Wendy asks why they are doing this, and is told by Carla to put up with it to get the reward: a large quantity of sweets.[248] After finishing the job and getting the reward, Wendy, Carla and Erza take their sweets to Lucy's apartment. As Lucy arrives herself, Wendy greets her as she walks through the door, much to her surprise. Wendy apologizes for entering without her permission and as they talk moves to her job, Wendy giggles in embarrassment when asked whether she did a good job. As Carla asks about Gray and Natsu having been missing for three days, Wendy suggests going to check in case they had trouble. Heading to the site of the job, Wendy notices a massive beast knocked out by Natsu and Gray and witnesses her two friends fighting an insulting one another. As Erza attempts to break up the fight, she is punched in the face as well, much to Wendy's shock as she then stares angrily at Natsu and Gray. Subsequent to their return to the guild, where Natsu and Gray get angry at one another, Wendy hears Makarov announce that one of the Four Gods of Ishgar has requested them personally for an emergency job, prompting her to wonder why such a person asked for them.[249]
On their way to the house of the Wizard Saint, Wendy comments on the peaceful atmosphere. Hearing Lucy and Erza talking about the Four Gods of Ishgar, Wendy asks about the name, and is told that it is the name the continent was once referred to as. Barely noticing beforehand, the group comes close to their destination, which Wendy points out[250] Entering the house, Wendy and the group are initially off-put by its inhabitant's strange appearance and mannerisms, particularly upon learning that he is Warrod Cken, the Wizard Saint who hired them.[251] However, upon sitting down with him and learning of the mission, Wendy hears his views on friendship and guilds and becomes excited about the upcoming job, which she and the rest of her friends openly accept. Standing in place, Wendy finds herself inside a tree created by Warrod's Magic for the purpose of taking them to the Sun Village, their destination. Travelling off into the skies on this tree, Wendy smiles as she expresses feeling like she is on a ride.[252]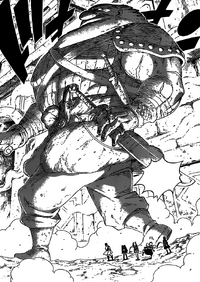 Upon arriving at the Sun Village, Wendy gets off of the tree, stating that Warrod's Magic is amazing; walking into the frozen village, Wendy wonders exactly what happened. The group continues to walk on until they ultimately run into a frozen giant. Natsu, surprised at this, makes several remarks at the immense size of the people, as well as Lucy's breasts, but quietly remarks that Wendy's are small, prompting Wendy to ask if Natsu said something about her.[253] Looking around, Wendy finds a frozen dog and points out that they are giant as well.[254] The group is then interrupted by the Guild Sylph Labyrinth, who state that they are a Treasure Hunting Guild, prompting Wendy to inquisitively repeat the statement. She is then shocked to hear the Sylph Labyrinth members shout at them for getting in their way, and listens as they explain what the Eternal Flame is and why want it; Wendy counters their reasoning by stating that the Eternal Flame is considered to be the protector of the Village of the Sun, and means a lot to the giants. Her reasoning, however, is quickly shot down by the Sylph Labyrinth members. Wendy then goes wide-eyed when a Sylph Labyrinth member reveals that he has liquified Moon Drip, the very item they need to unfreeze the giants and the Eternal Flame; Wendy and Team Natsu then chase the Treasure Hunters, intent on stealing the Moon Drip from them.[255]
Wendy and the other Mages continue chasing after the treasure hunters, who soon decide to stop running and fight against the Fairy Tail Mages.[256] A worried Wendy calls Natsu's name when he is sent flying by his opponent[257] but she soon notices that someone is targeting Lucy and herself, and she falls on Lucy so that their enemy misses his target. Wendy smells gunpowder and tracks down the sniper who has been attacking them from a tree. Lucy calls the Celestial Spirit Sagittarius in order to take the sniper down, but their opponent is on par with Sagittarius' arrows, much to Wendy's disbelief. Soon, the Fairy Tail Mages realize that their opponents are stronger than they initially thought they were.[258]

Wendy and the others are still fighting their opponents when Hiroshi tells them that they are the strongest treasure hunting guild. Wendy adds onto this comment by saying the treasure hunting guilds must also have a festival similar to the Grand Magic Games.[259] The two sides continue fighting until Gray steals the moon drip using Ice-Make: Thieving Hand and throws it to Lucy who in turn throws it to Wendy. Carla is then given the bottle and she throws it to Happy who misses it, much to Wendy's shock.[260] She is shocked again when Lucy points out that the moon drip only melted a small part of the ice. She is then seen looking puzzled as Natsu reveals he can hear voices coming from the ice and runs off to find the source, resulting in Wendy, along with everyone else, running after him.[261]

With Happy and Carla having gone to search the skies and Gray having wandered off on his own, Wendy and Lucy make their way towards Natsu alone; Wendy slips on the ice and falls to her knees, warranting her Lucy's concern. The Sky Dragon Slayer states that she is alright and wonders what they should do, as they are completely lost. Getting back up, Wendy gathers Lucy's attention by stating that something has been on her mind for awhile, and points out that Hiroshi and Lala, who have "disguised" themselves as Happy and Carla, have been following them for quite some time; Amused by the treasure hunters' reactions to being found out, Wendy states that they are a complex kind of people.[262]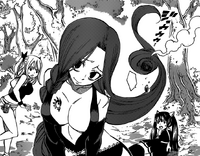 After hearing the two thieves demand that they desire Lucy's golden keys, Wendy weakly apologizes for having broken the bottle containing Moon Drip, explaining that they only wanted to help the giants. However, Wendy's weak attitude all but disappears upon seeing Hiroshi use his Chain Blade to slice into a frozen giant's leg. Hiroshi ignores Wendy's plea to stop, stating that as a treasure hunter, he will do what he wants and take whatever he wants; Wendy releases her Sky Dragon's Roar at Hiroshi and Lala, now screaming for them to cease their actions. Now cross, Wendy states that although she had no intention to fight them, after seeing them act the way they are she cannot let them run wild. Just then, Drake fires a bullet at Wendy from afar, causing her to slip once more on the ice. Taking advantage of this, the sniper fires a bullet at Wendy's head, however, she is saved by Flare Corona, who arrives just in the nick of time to assist the two girls in their battle against the three treasure hunters.[263]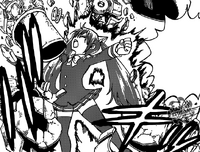 Seeing this, Wendy thanks Flare for saving them. When asked about what she is doing here, Flare explains that she is originally from the Sun Village, much to Wendy's surprise. Flare swears that she won't forgive those who hurt the giants. They resume the fight against treasure hunters, with Wendy being confident that together, they can win. Wendy then hits Lala with Sky Dragon's Claw, not with much effect however. Despite her Hair Magic being at disadvantage, Flare manages to attack Hiroshi, giving Wendy an opportunity to strike Lala. However, Lala catches her with his hammer, with other girls also seemingly losing. When the situation seems bleak, Wendy casts her Arms spell to free herself and then uses Sky Dragon's Wing Attack to make Lala fly away, with the two other girls doing the same to their opponents.[264]
After disposing of the treasure hunters, Wendy sits down with Lucy and Flare as Flare explains that she grew up in the Sun Village but left due to being different. Flare explains why she entered Raven Tail and Wendy forgives her, saying they should make up. Flare apologizes before then taking Lucy and Wendy to the Eternal Flame in hopes that it can fix everything.[265]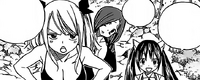 After everyone in the village is turned into a kid, Lucy wonders what is happening and Wendy replies that it is likely the result of someone's Magic. As Lucy and Flare begin to tell each other they look cute, Wendy wonders if those words are actually coming from their mouths.[266] Now returned to her normal size, Wendy accompanies the other two women on their search to find Natsu, which they succeed in, prompting Wendy to express her delight at finding the Fire Dragon Slayer. After Lucy explains Flare's situation, Wendy tells Natsu that the Eternal Flame will be the key to restoring the village to normal; Wendy expresses shock at seeing that the mountain before them is actually the Eternal Flame.[267] Then, with a worried look on her face, Wendy watches as Natsu does battle with, and overpowers, the arriving demonic bird, all before crouching down to hug Carla, who has returned with Happy and Gray. Listening as Gray explains the nature of the ice surrounding the Eternal Flame, Wendy questions what happens after he channels the ice through his body. Wendy then watches as Gray attempts to thaw the ice encasing the Eternal Flame, but her awe soon turns to fear as she finds the Eternal Flame to have vanished, sensing a terrible Magic Power in its wake.[268]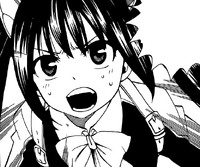 As the ice covering the eternal flame melts away, Wendy watches on with the others in shock as they notice the flame is gone. Suddenly, she yells out that the flame is not gone. She tells the group that there is still some residual thought, which is proof that it is not gone. Looking at the altar, she yells that Natsu can restart the fire.[269] Natsu though, continuing his fight against the one eyed monster, throws the monster around, nearly hitting one of the frozen giants, which worries Wendy.[270] Natsu manages then to relight the flame and Wendy takes notice of the energy she felt before.[271]
To the surprise of the group, Atlas Flame rises from the alter as the true form of the Eternal Flame, though the group's happiness at seeing him is short-lived, as Wendy reveals that she has cast her Milky Way spell: Atlas is actually dead, and only his spirit remains. Knowing they must quickly talk to him before his spirit passes on completely, the group begin to question the Dragon, though Atlas has trouble answering them due to a slight loss of memory. As the others question this, Wendy comments that the ice that was encasing Atlas may be the source of his amnesia. Despite this setback, the group continue to prompt the Dragon, who eventually manages to recall that the village was frozen by a lone Devil Slayer, who came to the town to purge him: Wendy questions the nature of such Magic. Watching as Flare begs Atlas to use his power and return the Sun Village to normal, Wendy holds out her spell for long enough that the Dragon completes the task, watching with the others as everything around them melts.[272] The task complete, Atlas vanishes, Wendy bowing her head in sadness as she confirms that she can no longer feel the presence of his residual memories.[273]
After the giants return back to normal, the Fairy Tail Mages celebrate for their return. Wendy feels offended when a giant is in disbelief about being saved by such small creatures, but Carla tells her that it is true in her case.[274] After the Mages discuss about Succubus Eye's affiliation with Tartarus, Wendy concludes that there were more important reasons for the Sun Village freezing.[275] Later, Wendy smiles for Flare's happiness when the giants forgive her and accept her back, and she spends the rest of her day partying and celebrating with the Mages and her new friends.[276]
Wendy, along with her other teammates, returns back to Warrod Sequen's residence to report the success of their mission. The girls then decide to use the hot springs, and Wendy is amazed when Carla mentions that those springs are both good for their health and their beauty. However, she is later both shocked and embarrassed when she is joined by Natsu, Gray and Warrod, since the hot springs are unisex, as explained by the latter.[277] Wendy is also surprised when Warrod is revealed to be one of the founding members of Fairy Tail. With this revelation, Warrod proceeds to reveal the true values of Fairy Tail established by Mavis herself to Wendy and the others.[278] Warrod then warns the members about Tartarus, and a pissed off Natsu accidentally punches Erza, much to Wendy's shock.[279]

Tartarus arc
Edit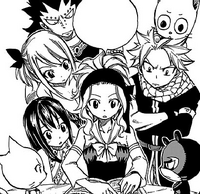 Upon returning to the guild, Wendy and several of her guildmates take a look at a book which details information on Zeref and his Demons. Hearing that E.N.D. is the strongest of Zeref's Demons, Wendy grows afraid. Remembering that Tartarus is in possession of the Book of Zeref and E.N.D., Natsu suggests attacking said Dark Guild, which Wendy agreed with due to the possibility of finding information related to Grandineey. However, their conversation is soon cut of by the arrival of Jet, who has bad news to share.[280]
Some time later, Wendy is in the guild as Porlyusica treats Laxus, Yajima and the Thunder God Tribe after they take in a powerful poison. Alive but seriously in danger, Wendy is in fear as she hears this. As Freed says that Laxus saved the town and asks if it is alright, Makarov is forced to lie about the casualties to alleviate his worries, while Wendy looks at the ground with tears in her eyes.[281] Soon, Loke appears and exclaims that he can help the Mages track down some of the former Council members and, when Wendy asks him how, he proceeds to go on and whisper something to her ear, much to her embarrassment, with Lucy commenting that he probably knows all that from women.[282] Wendy then listens to Makarov's inspirational speech about avenging the injuries that Laxus, Bickslow, Freed and Evergreen suffered.[283]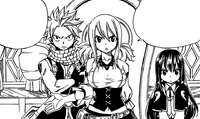 Wendy teams up with Natsu, Lucy, Happy and Carla and pays a visit to former Council member Michello. Despite being told that he is in danger, Michello stubbornly insists that he doesn't need nor trust Fairy Tail with its current reputation. When Michelia appears to convince Michello to help the Mages, Wendy thinks to herself that Loke has been with that woman. When Michello is just about to recall a reasonable excuse for Tartarus to attack against the Council, Natsu tackles down Wendy, Lucy and everyone else, and soon after that a huge explosion blows up a large part of Michello's home. Although Natsu manages to eat the explosion and protect Wendy and the others, Wendy looks in awe as the Tartarus member Jackal appears and picks up a fight against them.[284] Deciding to leave things up to Natsu, Wendy, along with Lucy, takes Michello and attempts to flee the scene, however, Jackal then creates a series of explosions around the entire village they are in, leaving them all trapped.[285] Then, as Natsu batters Jackal with his bare hands, Wendy looks on, slightly worried; with this, Michello tries to leave and Wendy watches as Jackal both threatens him and turns Natsu into a human bomb. Just before his body explodes, Lucy grabs her and throws them both into the ground, away from the explosion. With his smoldering body falling to the ground, Wendy calls out Natsu's name.[286]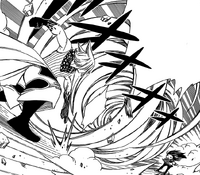 With Natsu down, Michello runs for his life while Wendy moves in with Lucy to stop Jackal. Unleashing her Sky Dragon's Roar, Wendy is shocked as Jackal uses his own blast to cancel out her technique. As Lucy and Scorpio are defeated as well, Jackal reveals to the Mages that Tartarus does not use Magic, but rather, "Enchantment" which is superior to Magic. Caught in a devastating blast, Wendy is sent flying in defeat as Jackal leaves to pursue a feeling Michello. Lucy decides to pursue Jackal in turn, and asks Wendy to remain behind to take care of Natsu.[287] Soon after, Wendy heals Natsu and the two head to find Lucy, arriving in time for Natsu to save Michello and a civilian by attacking Jackal. Wendy watches as he then knocks out Michello in order to focus on the battle, to her dismay.[288]
Warning Natsu of Jackal's demonic transformation, the Tartarus member attacks Natsu, the force from the attack pushing Wendy and co. back. After looking on as Natsu counterattacks and defeats Jackal, Wendy joins Lucy in teasing Natsu about destroying the town and commenting that even Natsu would be worn out after enduring so many explosions. However, Jackal regains consciousness and begins to glow with explosive Magic, planning to take them all out. Wendy and the others watch in shock as Happy carries the Demon into the sky, taking on the explosion in their place despite her pleas. Seeing him emerge from the aftermath, injured but still alive, Wendy nervously laughs about the state of his fur.[289]
Wendy's group later manages to successfully contact Makarov, where she tells him that Natsu seemingly beat one of Tartarus' members. Just then Michello begins to speak, and Wendy learns that the "Face" he's been uttering is actually a weapon owned by the Magic Council. The young girl then is reluctantly told that Face is a Magic Pulse Bomb: a weapon that will nullify all Magic across the continent if used, though Michello adds in that three currently unidentified ex-Council members sealed it with Organic Link Magic, causing Wendy to note that their lives are the keys to unlocking Face.[290] A short while later, Wendy scolds Natsu, who had suddenly woken up early from his rest. However, she then calls out to him in shock when he attempts to extract information from Michello on the location of the ex-chairman of the council and then flies off into the distance with Happy.[291]
Returning to the guild, the group states that they went to the ex-chairman's house but Natsu, Erza and Mirajane were nowhere to be found and Wendy explains that she couldn't track them via scent, for which she apologizes. As Happy stumbles in, he is the one to explain that everyone has been captured and is being held prisoner in Tartarus' base thanks to the traitorous ex-chairman. Listening in, Wendy is present as everyone plans an invasion of Tartarus' headquarters just as Elfman suddenly arrives.[292] Hearing Cana berate him as he reveals that Lisanna was captured, Wendy is shocked to hear her harsh words.[293]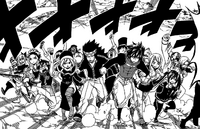 After Levy manages to pinpoint Tartarus' location and reveals that it currently flies just above Magnolia, Wendy and the other members prepare to fight Tartarus and save Natsu and the other prisoners, when a huge explosion suddenly goes off and destroys the guild, leaving the fate of its members unknown.[294] Wendy is not caught in the explosion, as Cana managed to turn Wendy and the other Fairy Tail members into cards using her Card Dimension, much to Wendy's surprise, which allowed Happy, Carla and Lily to take them to Tartarus by flying. Once on Tartarus, Wendy's body is turned back to normal by Cana, and she is in the front line of Fairy Tail's attack against Tartarus.[295] Wendy continues her assault as she employs her Sky Dragon Slayer Magic to counterattack against the enemy,[296] abruptly gazing towards the colossal hole created within Cube by Erza's piercing attack on Kyouka.[297]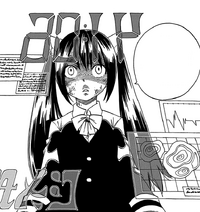 Wendy, Lucy and the other Fairy Tail members decide to jump through the breach created by Erza.[298] Having separated from the others, Wendy, Lucy, Happy and Carla reach a room which, according to Carla, is the control room. Wendy first stares at the huge globe representing a map, and then she and Lucy find out that Face has indeed been unsealed. Much to Wendy's horror, however, she also finds out that they only have 41 minutes until its activation. Although the four Mages initially plan to go and stop the activation themselves, Keith suddenly appears before them and threatens them. His skeletal appearance as well as his words scare Wendy, who tries to reassure herself that he wears a mask.[299]
Lucy and Wendy, seeing that they don't have time to spend on fighting their opponent seriously, decide to distract him and make a run for it. However, another Demon appears before them, much to Wendy's horror, but Lucy reassures her that she'll keep them busy. While Lucy's Celestial Spirits attack, Wendy and Carla fly away, with Wendy asking Carla if she knows where Face is, and the latter replying that it's in the Poison Jelly Valley. The Mages then make their escape but Keith once again stands in their way, albeit only for a moment thanks to Gray's interference. However, Franmalth also reappears soon and traps Lucy and Happy in Aries' wool, leaving Wendy and Carla being the only ones to go after Face. Franmalth tries to stop them as well, but Natsu interferes, allowing the two to successfully escape Tartarus.[300] Thirty four minutes before Face's activation, Wendy and Carla are on their way to the Poison Jelly Valley.[301]
Wendy asks of Carla to go faster, but when the latter asks her how she intends to stop Face's activation, she says she has no idea, but Natsu wouldn't accept failure in her shoes, and so she will do the same.[302] After a while, Wendy spots the Poison Jelly Valley's cave, in which Face is supposed to be located. The Dragon Slayer and the Exceed point out how deep the cave is, and when they reach rock bottom and Carla is too exhausted to go on, Wendy carries her in her arms and explores the cave herself. However, unbeknownst to her, a Nine Demon Gates member creeps behind her and is about to attack.[303]
Wendy continues looking for Face, encountering insects due to the air being cool and humid. Suddenly, she notices Ezel coming down after her, barely dodging his ambush after realizing that he is from Tartarus. Although Wendy initially decides to flee, she knows that she has to face the Demon, and in spite of Carla's protests, Wendy turns back and cast several supportive spells on herself. Ezel wonders whether Wendy is an enchanter while the Dragon Slayer fires her roar. However, this seems to have no effect on him as he even shrugs off Wendy's Sky Dragon's Claw and proceeds by slicing through the surroundings with his Tenga Goken. Although Wendy manages to dodge a few attacks, she is ultimately hit by one of Ezel's tentacles and finds her defensive spells to be failing. Bearing down on Wendy with his tentacles, Ezel reveals that they are right next to Face and notes that the Eternano surrounding the weapon is what will wipe the continent out of Magic. As he is about to deliver the final blow, Carla attempts to intervene, but to no avail as Ezel grabs her and tries to devour her, much to Wendy's horror. The Dragon Slayer then realizes that she can eat the Eternano-infused air, blasting Ezel away and consecutively achieving Dragon Force.[304]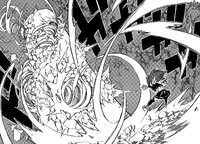 Fully becoming aware of her newfound power, Wendy realizes that air is now under her complete control and suddenly moves at great speed, making Ezel think that she disappeared. However, Wendy instead appears above the Demon and strikes him from behind. Ezel attempts to counter-attack, however, Wendy takes advantage of her agility and continues delivering attacks, finishing them with a whirlwind. While the Demon is readying himself to retaliate, Carla reminds Wendy of Face's activation. The Dragon Slayer, in an attempt to finish the battle, cast Shattering Light: Sky Drill. This proves to be futile as Ezel defends himself with his Curse and then proceeds to attack Wendy. Resolved to win, Wendy musters all her strength and keeps on gathering the winds around Ezel until he is overwhelmed and Face crumbles. While the Demon is lying on the ground, defeated, Wendy and Carla rejoice, but they soon realize that Face is still active and the countdown continues.[305]
Completely exhausted, Wendy sobs that she failed to stop Face. However, Carla states that they are not out of options yet and approaches the weapon, explaining that they can convert the energy the Eternano surrounding Face is giving off into a form of self-destruction Magic circle. Wendy is surprised that Carla possesses such knowledge, only for the Exceed to reveal that she knows this thanks to her analyzing all possible futures through her power of precognition. However, Wendy soon learns that Face's destruction will also lead to the end of herself and Carla. The Exceed reluctantly proposes that they adapt Edolas' living conditions, but when Wendy argues that everyone must not lose their Magic in the midst of battle, Carla tells Wendy to get away. The Dragon Slayer refuses to comply with this, and while reminiscing about their life, they press the necessary spot on the remains of Face, causing a huge explosion. As the dust caused by the destruction of Face clears out, unconscious, but safe, Wendy and Carla are seen being carried by Doranbolt, who escaped the explosion with his Teleportation Magic.[306]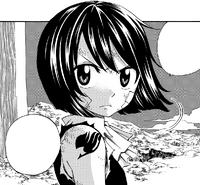 Awakening some time later, Wendy finds herself lying on the ground, bandaged and safe alongside Carla. Questioning what happened to them and Face, Wendy is comforted by Doranbolt, who, sitting nearby, explains that she are Carla were successful in stopping the device from firing. Wendy hugs Carla and happily thanks Doranbolt for their lives, though is then surprised when the Magic Council man tells them that things are far from over. Flying into the sky with Carla, Wendy sees what Doranbolt is talking about: over the landscape there are multiple Face devices, each in working order and waiting to be fired; she and Carla only succeeded in momentarily halting Tartarus' plans.[307] Seeing this, Carla is about to say that she has lost hope, but Wendy does not let her finish her sentence. Wendy says that she already plans to continue living alongside Carla and the rest of her guild. Then, to the shock of both Carla and Doranbolt, she cuts her long hair, proclaiming that she will no longer whine or cry and as long as everyone is fighting, she will continue to fight as well.[308]
Wendy asks Doranbolt how long it would take for him to take her back to Magnolia using his abilities. When Carla asks her if she wants to join the others, she answers positively, saying that she intends to have Warren contact the other legal guilds about the upcoming danger, because the power of all the guilds combined may stand a chance against all the Face artefacts; they decide to make haste to reach their comrades.[309] Thanks to Doranbolt's teleportation, the group soon find the ruins of the Tartarus headquarters where their guild is still fighting. Too focussed on wanting to locate Warren, Wendy forgets her lethargy and topples to the ground. However, as she lies there she begins to shake in fear as she hears a familiar noise starting to approach from afar: Acnologia is swiftly making his way towards the destroyed Cube.[310] Still on the ground, Wendy lies terrified and paralyzed by the coming of Acnologia.[311] But just as Acnologia arrives, Igneel makes his return, leading Wendy's gaze to follow their inevitable confrontation in midair.[312]
Moments later, Wendy reunites with Lucy, Lisanna and the others, revealing that Face still remains.[313] She explains her plan to Warren, but the latter informs her that his telepathy can only, while at his best, reach three miles. As they are about to give up, Makarov connects with them via his telepathy Magic, informing them that they have a secret weapon of their own: Lumen Histoire.[314] Subsequently, Wendy and the others are told to return to the guild's basement.[315]

Magic and Abilities
Edit
Sky Dragon Slayer Magic (天の滅竜魔法 Ten no Metsuryū Mahō): Wendy is the Sky Dragon Slayer, which means that she has the same power as Natsu Dragneel and Gajeel Redfox, but with the ability to manipulate air. Her Magic allows her to heal people with the most gravest of injuries, even those caused by a Dragon, allowing her to use even a kiss to heal other people and can even counteract other Magic. Her Magic also deals support effects, such as increasing attack power and speed.[316] As stated by Carla, Wendy can eat air, but can't heal as well in polluted areas.[317] Her Magic also allows her to sense air currents, which can be used to predict the weather.
Sky Dragon's Roar (天龍の咆哮 Tenryū no Hōkō): An air version of Dragon's Roar. When using this attack, Wendy breathes a hurricane-like blast at her target. It has been shown to be powerful enough to destroy one of Nirvana's Lacrima crystals, and then match Chelia's Sky God's Bellow after having her Second Origin unlocked.[318]

Sky Dragon's Roar + Cure (Tenryū no Hōkō Purasu Cure): A variation of Sky Dragon's Roar with the additional power from Wendy's healing Magic. This spell is unique in its coincidental offensive and healing properties, such that Wendy was able to cure Erigor's memory block, which released the Magic bestowed upon him and rendered him unable to battle.[319]
Sky Dragon's Healing Spell: A type of healing Magic which is powerful and believed to be long-lost where the user manipulates clean air, to perform various feats, such as draining poison from an infected victim.[320] and can even revive people that are in a near-death state.[29] Wendy used this spell to heal Erza of her poisoning, after she was bitten and poisoned by Cubellios, during her battle with Cobra.[321] (Unnamed)
Ile Vernier: By chanting "Ile Vernier", Wendy is able to cast the spell twice in succession, thereby doubling the speed-increasing capabilities of Vernier.[325]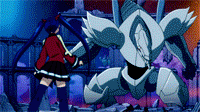 Armor (アーマー Āmā): A spell that enhances the defense power of the target, including the Caster themself, for a short period of time.
Arms X Vernier (剛腕 X 瞬足 Āmuzu x Banīa): A fused form of the Arms and Vernier spells. This Magic increases the attack power of the arms and speed of the legs together.[327]
Arms x Armor X Vernier (アームズ x アーマー x バーニア Āmuzu x Āmā x Bānia): A fused form of the Arms, Armor and Vernier spells. This Magic increases the speed, offensive, and defensive power of the target.[328]
Deus Corona: By chanting "Elemental resistances rise!", Wendy is able to temporarily increase her defensive capabilities quite significantly.[331] However, against powerful enough attacks, the resistances added onto her can be broken through.[332]
Deus Eques: By chanting "Physical ability rise!", Wendy is able to temporarily increase her general physical capabilities.[331]
Sky Dragon's Wing Attack (天龍の翼撃 Tenryū no Yokugeki): This Magic features Wendy expelling a whirlwind of air from her arms to attack her surroundings. This Magic is a mimic of Natsu's Fire Dragon's Wing Attack.[333]
Sky Dragon's Claw (天竜の鉤爪 Tenryū no Kagizume): Wendy jumps and lifts her feet and unleashes large winds the moment the leg is swung down at the target. [334]
Sky Dragon's Crushing Fang (天竜の砕牙 Tenryū no Saiga): Wendy charges and swipes the target with her fingers leaving a wake of wind behind as she does so.[335]
Dragon Slayer's Secret Art (滅竜奥義 Metsuryū Ōgi): Through the aid of Porlyusica, Wendy was able to learn two secret arts that her foster Dragon mother, Grandeeney, failed to teach to her.[336]
Shattering Light: Sky Drill (照破・天空穿 Shōha Tenkūsen): A special spell where Wendy forms a fast wind barrier with her arms spread out, and by moving them in a counter-clockwise direction, causes the barrier to contract inwards towards her opponent.[337]
Milky Way (ミルキーウェイ Mirukī Wei): It is a Magic that can be used to materialize the soul of a deceased Dragon, which can then be conversed with.[338] Although, to be able to summon the Dragon's soul, the soul itself has to be inside the range of the spell. The caster is not able to materialise souls whose magic has vanished from this world.[339] As noted by Wendy, it takes a strong will for one's soul to persist after death, though the state of the soul can be affected and damaged by powerful magic.[340]
Dragon Force (ドラゴンフォース Doragon Fōsu): By consuming air with high concentration of Ethernano, Wendy has been shown to be able to enter Dragon Force. This ability is said to be the final and most powerful state a Dragon Slayer can attain, and it has been said that their power becomes comparable to that of a real Dragon's.[341] Wendy gains pink eyes together with a longer hair, now pink instead of blue, that curves and points upwards. The Dragon Slayer also has white scales, similar to that of Grandeeney's, that spring out of her back, and smaller ones on her hands and feet.[2]
Enhanced Speed: Through the use of Dragon Force, Wendy was shown to have improved her speed as she was able to evade Ezel's attack and appear right behind the Demon, allowing her to attack.[342]
Enhanced Endurance: With the help of Dragon Force, Wendy was also shown to have greater physical stamina. The Dragon Slayer was still able to fight back, even though she already suffered a lot of major damage from Ezel.[342]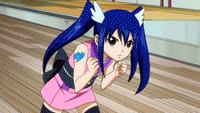 Unison Raid (合体魔法, ユニゾンレイド, Yunizon Reido): A spell which allows two Mages to unite their Magic into a single, combined and stronger attack. Wendy has shown to be able to combine her Magic with Lucy's creating powerful spells.[343]
Hand to Hand Combatant: Despite preferring to avoid combat, and especially close-range confrontations, Wendy can combine unarmed attacks with her Sky Dragon Slayer Magic in order to make up for her reduced size, making the blows she lands stronger and increasing their range with the wind currents characteristic to her Magic; a fighting style not unlike Chelia Blendy's, whom Wendy engaged in a melee confrontation near the end of their battle in the Grand Magic Games Tournament.[344]
Enhanced Durability: Wendy possesses good physical resilience. She was shown being struck by a God Slayer Magic attack while taking little damage and was able to counter-attack immediately.[345] Wendy also engaged Chelia using melee combat, trading hit for hit while they used Sky Dragon Slayer Magic and Sky God Slayer Magic respectively[346] to bolster their blows. By the battle's conclusion, Wendy had only sustained moderate injuries.[347]
Enhanced Smell: Wendy, like all Dragon Slayers, has a very keen sense of smell. Her nose is capable of identifying people by their scent, as she demonstrated with Jellal and Porlyusica. She was also capable of pinpointing Drake's position, tens of meters away from her, on a cliff, through the smell of the gunpowder used by his rifle's bullets.[348]
Enhanced Endurance: Wendy, despite her frail build, possesses great physical stamina. She has been shown, various times, using numerous Sky Dragon Slayer Magic spells in quick succession, showing little to no fatigue afterwards, best exemplified throughout her battle with Chelia during the Grand Magic Games. Wendy used powerful techniques, sustaining multiple injuries after each successive attack, while still mustering the strength to perform a Sky Dragon Slayer's Secret Art,[349] and, in the end, still having the strength to draw with said opponent, if only through hand to hand combat.[350]
Enhanced Reflexes: Wendy's reflexes are shown to be rather sharp, allowing her to move Lucy out of Drake's firing trajectory in an instant, causing the sniper to miss a shot which could otherwise be lethal. The Sylph Labyrinth member himself went on to praise the duo's dodge.[351]
Equipment
Edit
Air Shatter Cannon (空裂砲 Kūretsu Hō): During the time Wendy couldn't use her Magic in Edolas, she fought with this Magical weapon. When she opens it, it releases a strong tornado.[352]
Relationships
Edit
Relationships
Natsu Dragneel
Main article: Natsu Dragneel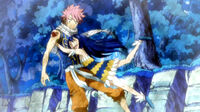 These two fellow Dragon Slayers, Natsu and Wendy are close friends and guildmates, are united by their wish to find their Dragon foster parents, Igneel and Grandeeney respectively.[353] Wendy has healed Natsu's injuries several times through the use of her Sky Dragon Slayer Magic, even when she had little Magic left, ignoring Carla's warnings and being willing to put her own health and energy on the line. Whenever her spells don't work on Natsu she gets depressed and worries more on his condition.[354] Also, when Nirvana was destroyed and everyone was brought to safety aside from Natsu, Wendy was shown to be greatly worried; when Natsu eventually showed up, Wendy was relieved and happy, diving into his arms.[355] Wendy is also seen to care for him a lot, which was seen when she saw him for the first time and despite not knowing him she had a desire to help him. After joining Fairy Tail, Wendy on several times has helped Natsu and is always looking forward to do so. Wendy also looks up to Natsu.
Lucy Heartfilia
Main article: Lucy Heartfilia
Lucy and Wendy are sharing a close, almost sisterly, bond. Both girls easily relate to one another more than their other guild mates. Lucy is one of; if not the only, sensible role models Wendy has and tries to set a good example for the younger girl while also looking out for her. Wendy is often seen with Lucy in the guild hall. Despite both girls believing themselves to not be helpful in a fight, Wendy seems to think of Lucy as being plenty strong and capable showing little to no concern over the fact that Lucy was the only one able to use Magic after arriving in Edolas, happily cheering the older girl on. Lucy is fiercely protective of Wendy, as shown during their encounter with the Jiggle Butt Gang, becoming enraged when it seems the trio has forced the younger girl into their uniform. During Rainbow Sakura, Lucy also allowed Wendy into Horologium in order to keep her out of the cold and promised to attend the Rainbow Sakura festival as fellow new recruits (though Lucy wound up unable to attend due to a cold she caught during the mission).
Erza Scarlet
Main article: Erza Scarlet
When Wendy first meets Erza, she looks up to -and seems almost intimidated by- Erza's title as Fairy Tail's S-Class Mage and strongest woman. Erza is one of the first to welcome Wendy as a member of the Allied Forces, and Wendy quickly expresses her happiness at Erza's kindness with Carla.[356]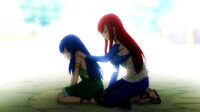 When Wendy later finds out that Erza has been poisoned by Cobra's snake Cubellios, she immediately agrees to heal her,[357] but later tries to blame herself for Erza disappearing to go find Jellal, as she was the one who revived him.[358] After finding Jellal and Erza atop Nirvana, Erza and Wendy express their relief at finding each other safe.[359]
Upon discovering that the Cait Shelter guild and all of her close friends are mere illusions created by Roubaul -and being greatly saddened at their disappearance- Erza is the one who consoles Wendy and advises her to seek comfort in the presence of her new friends. Erza is also the one who asks Wendy to join Fairy Tail.[360] After Wendy joins Fairy Tail, Erza buys her a cake to welcome her, knowing that Wendy enjoys sweet foods. When Wendy goes out on her first big job request, Erza expresses her concerns, and even decides to follow Wendy and ensure her safety.[361]
Carla
Main article: Carla
Carla is Wendy beloved pet and guardian. Carla was found by Wendy while she was still in the fake Guild Cait Shelter, and was raised by her.
Due to Wendy's clumsiness and shyness, she often has to be lectured by Carla, who gives advice and warnings that Wendy usually follows, mostly saying that Wendy should be stronger and more self-confident[362], but she also cares for her in several situations.[363] Carla's concerns about Wendy were because of her Premonition ability, which allowed her to find out her fake mission to kill Wendy.[364]
Gajeel Redfox
Main article: Gajeel Redfox
Wendy and Gajeel are guildmates. Gajeel first met her upon her introduction to Fairy Tail and was rather distraught when he realized that Natsu and her have cat companions while he does not.[365] This prompted him to search for a cat on his own and eventually found his companion, Pantherlily. He aided her at scaring off an unfazed child denizen of Edolas since Wendy had trouble intimidating due to her cute appearance.[366]

Porlyusica
Main article: Porlyusica
Wendy only met the Medicinal Advisor Porlyusica in X791, looking for power-ups for the Grand Magic Games. At the first sight, Wendy felt something different, like she knew Porlyusica from somewhere.[367] Despite of Porlyusica's roughness towards the Mages, Wendy later said that she recognized her smell and voice as Grandeeney's, Wendy's foster Dragon mother. She felt yearning when it occurred, but she couldn't understand why Porlyusica was so rude to humans, since Grandeeney was the opposite.[368]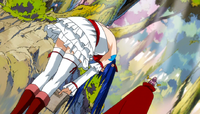 After Porlyusica explained herself to be Grandeeney's Edolas counterpart, Wendy developed an attraction towards Porlyusica, calling her Grandeeney from then on, which somewhat makes her happy,[369] but she keeps telling Wendy to not call her that.[370] During the Grand Magic Games of X791, Wendy was harmed by a member of Raven Tail to prejudice Fairy Tail. Porlyusica came to her aid, swearing that she'll be cured quickly enough to compete in the Games.[371]

Jellal Fernandes
Main article: Jellal Fernandes
Due to Jellal and Mystogan sharing the same face, upon first seeing Jellal, Wendy confuses the two and believes that Jellal is the person who saved her life when she was a child.[28] After reviving Jellal to repay the debt she believes she owes him, she is saddened to find out that Jellal has lost his memories, as she thinks he has forgotten about her after all the years that have passed.[372] After Jellal regains some of his memories but is still unable to remember her, Wendy expresses her sadness. However, though Jellal didn't know he never met her, he has a strong amount of faith in her, such as giving her confidence to destroy the sixth Lacrima and stated she did have the strength to destroy it. She also fiercely defends Jellal when the Magic Council orders his arrest, trying to make them allow Jellal his freedom for helping the Allied Forces defeat Oración Seis.[373]
When Jellal and Wendy meet once again after her seven years in stasis on Tenrou Island, Wendy has already learned that Jellal and the person she thought he was are separate people, and when Jellal tells her as such, she exclaims that she has figured everything out. Though now realizing that Jellal was not the one she is in-debt to, Wendy still was very happy to see Jellal out of prison and having found a meaning in his life.[374]
Chelia Blendy
Main article: Chelia Blendy
When Wendy and Chelia met during the games, both of them end up battling each other,[375] which made Chelia acknowledge Wendy's determination and the resolution not to give up,[376] after the battle end in a tie,[377] Chelia heals Wendy's wound and extend her hand for friendship which Wendy happily agree.[378] During the time in Ryuzetsu both Wendy and Chelia played together in the pool.[379] During the forth day Wendy acknowledged Chelia's effort in the Naval Battle,[380] and giving the credit to Chelia for saving Lucy's life.[381]

Mystogan
Main article: Mystogan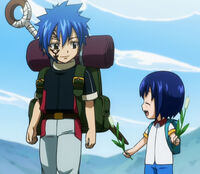 In the year X777, after the disappearance of her Dragon guardian Grandeeney, Wendy wanders aimlessly through a forest until she is found by Mystogan. Being young and having finally found somebody, Wendy immediately attaches herself to Mystogan and seeks his companionship. Seeing that she is alone, Mystogan agrees that Wendy can accompany him, as he himself is lost on the road. As the two travels together, they come to know one another and appreciate each other's company. Mystogan looks out for Wendy in many ways, from gathering food for her, to providing her with shade on a hot day. As the two travels, Wendy asks if she can stay with him forever, and Mystogan agrees.[382] However, when Mystogan senses an Anima rift nearby, he -valuing Wendy's health and safety- tells Wendy that he will have to leave her and travel on his own, and that he will leave her with a Mage guild. Wendy -having come to love him- does not want him to abandon her, and tries to make him change his mind. However, Mystogan soon leaves Wendy in the care of Robaul, and the two part ways.[383]
During her years growing up in Cait Shelter, Wendy hears that a man in the Magic Council, who looks exactly like Mystogan, has been doing atrocious deeds and trying to resurrect an evil Mage. She however, still remembers the kind person she met as a child, and refuses to believe that "Mystogan" would do such things.[384]
When Wendy and Mystogan finally reunite in Magnolia shortly before its disappearance, Wendy bursts into tears and claims that she searched for Mystogan continuously. Mystogan shortens their reunion by stating that the Anima has grown too large, and although he can no longer save Magnolia, he still wants her to escape and save herself.[385]
After arriving in Edolas via the Anima, Wendy does everything she can to support Mystogan in trying to help the people of Magnolia and the Exceed, as well as fighting Mystogan's father Faust. After leaving Mystogan in Edolas, Wendy still seems to consider herself in his debt, seen when she agrees to help Mest in the S-Class Mage Promotion Trial when she hears that he is Mystogan's disciple.[386]
Wendy (Edolas)
Main article: Wendy (Edolas)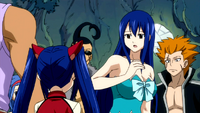 The two Wendys are both counterparts of each other from different worlds.[387] Even though they posses many physical differences, their personalities aren't that different. Even though they had a short relationship, Edolas Wendy looked out for her counterpart warning her about how dangerous it is to fight the Edolas Kingdom.[388]

Roubaul
Main article: Roubaul
Not much is known about Roubaul and Wendy's relationship with each other, but he used to be her Guild Master. Roubaul created an entire guild in order to make Wendy happy after she had been dropped off by Mystogan without her knowing. Wendy loved Roubaul very much to the point that she cried when he, along the other members of the fake Cait Shelter, disappeared.[389]
Doranbolt
Main article: Doranbolt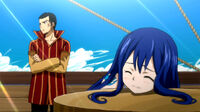 A member of the Magic Council, Doranbolt introduced himself to Wendy under the alias of Mest Gryder, Mystogan's pupil during his stay in Earth Land. As a user of Memory Control Magic, he was making the members of Fairy Tail believe that he was a member as well, but couldn't risk to join the S-Class Mage Promotion Trial with an old member, so he choose Wendy to be his partner. Wendy, despite of Carla's several advises, that she usually uses to follow, accepted the request and went to Tenrou Island as Mest's partner.[390] The team lost a battle and thus was eliminated from the Trial. Wendy blamed herself for precluding Mest from becoming an S-Class Mage, but he cheered her up saying that it wasn't her fault, much to Wendy's happiness.[391]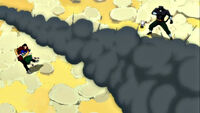 When Grimoire Heart invaded Tenrou Island, Mest revealed his true identity as well his plan to close down Fairy Tail, but Wendy didn't care about it, and asked for Doranbolt's help to fight the opponent, surprising the Magic Council member.[392] They lost and Doranbolt went out of the Island, returning soon later, and yet Wendy was still happy to see that he was fine. Wendy was the reason of the return: Doranbolt offered himself to save Fairy Tail's Mages by teleporting them away from the Island, but the offer was declined.[393]
Grandeeney
Main article: Grandeeney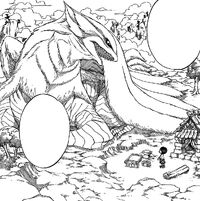 The Sky Dragon Grandeeney is the foster mother of Wendy. She raised and loved Wendy as her daughter even if they weren't beings of the same species. Wendy also loves deeply Grandeeney, saying that she is a gentle and very kind Dragon that loves the humans.[394] Wendy also learned Sky Dragon Slayer Magic from Grandeeney, even if it's a Magic used to kill Dragons. However, due to unknown reasons, Grandeeney left Wendy in X777, and now Wendy's dream is to meet her again. After leaving, Grandeeney was still caring about Wendy, as she passed the instructions to her Edolas counterpart about powerful spells to Wendy.[395]

Appearances in Other Media
Edit
Whose Clothes Are These?
Edit
Wendy is horrified when Gray appears yet again without clothes on at the guild, making her shield her gaze and begs him to wear something.[396] Later on, Wendy compliments Erza when she trades clothes with Lucy, but is horrified when Erza suggests to Wendy that she try on her armor and falls under the weight of it when she does.[397] Wendy is even more horrified after she ends up in a bunny costume and accidentally sees Ichiya in nothing but a speedo.[398]
Fairies' Penalty Game
Edit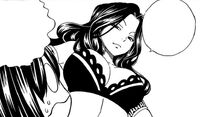 After losing a bet to Team Fairy Tail B,[399] Wendy is selected by Cana to do her bidding for the day.[400] While being forced to try on a wedding dress for Cana's amusement, Wendy remains flustered and questions whether Cana is planning to marry her off to a stranger. Cana ignores the questions and proceeds to force Wendy to try on various other outfits. As Wendy asks Cana what she is planning to do, Cana states that she will be taking Wendy over to a male friend of hers, leading Wendy to fretfully refuse. While walking through the neighbourhood feeling uncomfortable over the situation, Wendy acknowledges that, for a punishment game, it is starting to get overwhelming. Upon arriving at their destination, Wendy looks on and realizes that they have stopped at a church. After a priest appears and identifies Wendy, several children run her way and gleefully convene around her. As Wendy, whom is oblivious to the situation, asks Cana what is going on, Cana simply tells her to go with them. The children remain awestruck by Wendy and recognize her from the Grand Magic Games, gleefully asking her several questions. As night falls, Cana explains to Wendy that the children are orphans of the church, and that she herself used to stay there when she was a child.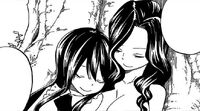 As Cana explains her past, she tells Wendy that the children look up to her as an inspiration because she is a star of their generation. After realizing Cana's sentimental motives, Wendy notes that it was quite a thoughtful punishment, and they continue to converse. When the day of punishment has ended, Pantherlily finds Wendy and Cana asleep against a tree, side by side with smiles on their faces.
[401]
Welcome Back, Frosch
Edit
Walking through Magnolia with Carla, Wendy spots Rogue, Sting, Yukino and Lector and thanks them for their help with the Dragons during the Grand Magic Games; Wendy becomes frightened when Rogue angrily asks her if she's seen Frosch, who has gone missing. When she asks who Frosch is, Yukino explains that it's an Exceed wearing a frog costume, and after Carla points them in the right direction, Wendy states that she has no idea what just happened.[402]
Accompanied by Erza and Carla, Wendy bids Juvia good morning and notes that, in light of her even more so than usual giddy demeanor, something about her seems special; she becomes surprised when Juvia reveals her wild fantasies about how her and Gray's four hundred-thirteenth day anniversary will go.[403]
Welcome to Fairy Hills!!
Edit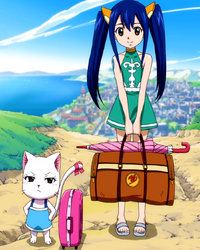 Wendy is present in the first OVA as one of the new residents in Fairy Tail's girl's dormitory, Fairy Hills. As Wendy and Carla arrive at the dormitory, they encounter Lucy at the entrance who is dressed in a revealing cat outfit. Lucy asks them why they are at the dormitory, Wendy explains to her that they have arrived at Fairy Hills as new residents. After being shown around the guild by Happy, Carla along with Wendy head down to the beach for a party held for them by the girls from the dorm. There, Wendy swims in the ocean, plays water activities with the others and watches the girls play a relationship game.[404]
Fairy Academy: Yankee-kun and Yankee-chan
Edit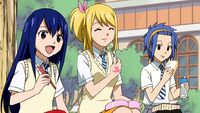 Wendy appears as a student of Fairy Academy along with other Fairy Tail members. Wendy eats lunch with the other girls, after which she notices the popular Loke hitting on Lucy, surprising her as she didn't know they were so close. While the girls are walking home later that day, Erza reveals that she has a date with Seig from the elite Era High School and asks them to help her prepare. After helping her find a dress and prepare for the date, Wendy joined her and Lucy as they head off to the arranged meeting area. However, the group is harassed by students from the Courage Academy, with Wendy standing back as they target Erza in particular. As Erza fights the group back, Wendy notices Seig (who has watched the scene unfold) leave Erza, frightened by her personality.[405]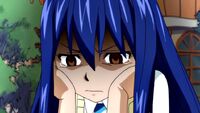 The next day, Wendy is in class and notices Erza's heavy depression. Seeing the new transfer student, Jellal, Wendy notes that he looks a great deal like Seig did. However, everyone's attention diverts as it is revealed that the Courage Academy students have struck once again. Wendy believes it to be her fault, though she is told otherwise by Lucy. During the subsequent confrontation, Wendy watches as Erza single-handedly defeats all the Courage Academy students, only to be seen by Seig, Jellal and their mysterious duplicate, which causes her to fall into a depression once again. To cheer her up, Wendy and the group go out for karaoke and are later addressed by the principal of the school, Plue. Soon after, Gajeel Redfox and Juvia Lockser from Courage Academy join as transfer students, the latter of whom Wendy notices to be quite lively.[405]
Memory Days
Edit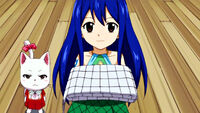 Wendy and Carla appear in the third OVA, Memory Days. In the beginning of the OVA, the two find Natsu's scarf left outside the guild. They later return it to him after he, Lucy, Gray, Erza and Happy return from the past.[406]

Fairies' Training Camp
Edit
To prepare for the Grand Magic Games which are to begin in three months' time, Wendy and several of her guild mates head to the beach to set a training camp. Given the first day to relax, Wendy plays beach volleyball with Levy and Lucy while thinking about the training process. Hearing Levy state that she wished to go with Gajeel and Pantherlily, Wendy joins Lucy in teasing her about the Iron Dragon Slayer. Soon, the peace comes to an end as the boys' training threatens everyone at the beach, and specifically the large chunks of ice created by Gray, one of which nearly crushes the girls. Wendy joins in the attempt to destroy the ice, using her Sky Dragon's Roar to help save the beach, though not before it is heavily damaged.[407]
That night, Wendy and the other girls drink sake but Wendy finds herself unable to hold it, resulting in her passing out. Later on, the girls sober up and enter the hot spring, where Wendy listens to Lucy's story of how she once followed Natsu to his house. Once the story is finished, Wendy sees Erza toss kunai at the bamboo walls, suspecting that someone is stalking them, but the other girls suggest that the boys could be trying to peek at them, scaring Wendy.[407]
The Exciting Ryuzetsu Land
Edit
On the third night of the X791 Grand Magic Games, Wendy joins her guild mates on a trip to the popular resort known as Ryuzetsu Land. While walking around, Wendy meets up with Chelia, who happened to visit as well. When Wendy is asked about her injuries, she states that she's fine thanks to Chelia, with the latter noting her polite tone. As they have fun in the water, Wendy notices Carla's disturbed look and asks what happened to her. Given a vague answer, Wendy wonders aloud what happened to her, with Chelia suggesting it has to do with love. As the girls play, the actions of the ice Mages of their guilds cause them to be frozen in ice as the two freeze the resort. Though the ice is destroyed by Natsu, the resort is as well, leaving the two girls unconscious on the floor.[408]
Fairy Tail x Rave
Edit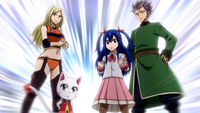 Wendy and Carla are seen walking through the city discussing a doll that Wendy had bought when they are attacked by Klodoa's coin monsters. They are rescued by Let and Julia, who request that Wendy leave so that she doesn't get hurt. Wendy however says she can fight and uses Sky Dragon's Roar on the coin monsters, and then suggests they work together to defeat them, as the city is full them. After Natsu and Haru defeat Klodoa and the coin monsters disappear as a result, Wendy, Carla, Let and Julia are seen remarking that it must be over. Wendy is seen leaving the city with Team Natsu and Juvia when she wonders aloud if they will meet the Rave Warriors again.[409]
Video Games
Edit
Fairy Tail Gekitotsu! Kardia Daiseidou
Edit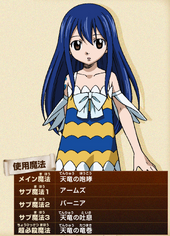 Wendy is a playable character in the DS Game, Fairy Tail Gekitotsu! Kardia Daiseidou, and is unlocked through quests.[410] In this game, Wendy Marvell possess the following moves:
Fairy Tail: Zeref's Awakening
Edit
Wendy is a playable character in the video-game Fairy Tail: Zeref's Awakening. She can be unlocked when you have beaten Racer. She uses the following spells: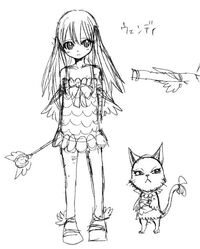 The original concept of Wendy showed her possessing a wand, and her Cait Shelter tattoo was located on her left shoulder instead of her right.
The anime had Wendy cameo in episodes before her actual debut in the manga.[411]
Wendy was originally set to be the Water Dragon Slayer.[412]
Wendy's name started while she was set to be the Water Dragon Slayer, starting with the kanji for water "水", to the Japanese word for Wednesday "水曜日", to the rōmaji of Wednesday in English (ウェンズデイ Wenzudei), to Wendy (ウェンディ Wendi)[412]
Battles & Events
Edit
References
Edit
↑

Fairy Tail Manga: Chapter 388, Pages 2-3

↑

Fairy Tail Manga: Chapter 136, Page 5

↑

Fairy Tail Manga: Chapter 170, Page 7

↑

Fairy Tail Manga: Chapter 221, Page 2

↑

Fairy Tail Manga: Chapter 231, Page 1

↑

Fairy Tail Manga: Chapter 244, Page 6

↑

Fairy Tail Manga: Chapter 287, Page 16

↑

Fairy Tail Manga: Chapter 133, Pages 4-5

↑

Fairy Tail Manga: Chapter 236, Pages 1

↑

Fairy Tail Manga: Chapter 145, Pages 12-14

↑

Fairy Tail Manga: Chapter 101, Pages 8-9

↑

Fairy Tail Manga: Chapter 133, Pages 3-5

↑

Fairy Tail Manga: Chapter 133, Pages 8-14

↑

Fairy Tail Manga: Chapter 134, Pages 3-5

↑

Fairy Tail Manga: Chapter 134, Pages 5-19

↑

Fairy Tail Manga: Chapter 135, Pages 2-5

↑

Fairy Tail Manga: Chapter 135, Pages 17-19

↑

Fairy Tail Manga: Chapter 136, Pages 4-7

↑

Fairy Tail Manga: Chapter 136, Pages 17-19

↑

Fairy Tail Manga: Chapter 138, Pages 9-10

↑

Fairy Tail Manga: Chapter 138, Pages 15-19

↑

Fairy Tail Manga: Chapter 141, Pages 6-8

↑

Fairy Tail Manga: Chapter 141, Pages 12-15

↑

Fairy Tail Manga: Chapter 142, Pages 6-7

↑

Fairy Tail Manga: Chapter 142, Pages 10-12

↑

Fairy Tail Manga: Chapter 143, Pages 5-11

↑

Fairy Tail Manga: Chapter 145, Pages 12-15

↑

Fairy Tail Manga: Chapter 147, Page 12

↑

Fairy Tail Manga: Chapter 147, Page 16

↑

Fairy Tail Manga: Chapter 148, Pages 18-19

↑

Fairy Tail Manga: Chapter 152, Pages 12-19

↑

Fairy Tail Manga: Chapter 153, Pages 7-8

↑

Fairy Tail Manga: Chapter 153, Pages 18-19

↑

Fairy Tail Manga: Chapter 157, Pages 2-3

↑

Fairy Tail Manga: Chapter 157, Pages 4-20

↑

Fairy Tail Manga: Chapter 158, Pages 2-5

↑

Fairy Tail Manga: Chapter 158, Pages 9-11

↑

Fairy Tail Manga: Chapter 159, Pages 6-13

↑

Fairy Tail Manga: Chapter 159, Pages 14-15

↑

Fairy Tail Manga: Chapter 159, Pages 16-19

↑

Fairy Tail Manga: Chapter 159, Pages 13-16

↑

Fairy Tail Manga: Chapter 161, Pages 1-17

↑

Fairy Tail Manga: Chapter 162, Page 4-9

↑

Fairy Tail Manga: Chapter 162, Pages 13-20

↑

Fairy Tail Manga: Chapter 163, Pages 2-15

↑

Fairy Tail Manga: Chapter 164, Pages 2-20

↑

Fairy Tail Manga: Chapter 165, Pages 2-3

↑

Fairy Tail Manga: Chapter 165, Pages 7-15

↑

Fairy Tail Anime: Episode 72

↑

Fairy Tail Anime: Episode 73

↑

Fairy Tail Manga: Chapter 165, Pages 16-20

↑

Fairy Tail Manga: Chapter 167, Pages 4-7

↑

Fairy Tail Manga: Chapter 167, Pages 11-20

↑

Fairy Tail Manga: Chapter 168, Page 1

↑

Fairy Tail Manga: Chapter 168, Page 7

↑

Fairy Tail Manga: Chapter 168, Pages 10-22

↑

Fairy Tail Manga: Chapter 169, Pages 1-20

↑

Fairy Tail Manga: Chapter 170, Pages 4-7

↑

Fairy Tail Manga: Chapter 170, Page 13

↑

Fairy Tail Manga: Chapter 171, Pages 16-19

↑

Fairy Tail Manga: Chapter 172, Pages 2-4

↑

Fairy Tail Manga: Chapter 172 , Pages 9-18

↑

Fairy Tail Manga: Chapter 173, Pages 2-9

↑

Fairy Tail Manga: Chapter 173, Pages 11-20

↑

Fairy Tail Manga: Chapter 175, Pages 13-16

↑

Fairy Tail Manga: Chapter 176, Page 1

↑

Fairy Tail Manga: Chapter 176, Pages 3-5

↑

Fairy Tail Manga: Chapter 179, Page 11

↑

Fairy Tail Manga: Chapter 180, Pages 16-20

↑

Fairy Tail Manga: Chapter 186, Pages 2-7

↑

Fairy Tail Manga: Chapter 189, Pages 4-17

↑

Fairy Tail Manga: Chapter 190, Page 6

↑

Fairy Tail Manga: Chapter 190, Pages 14-19

↑

Fairy Tail Manga: Chapter 191, Pages 2-13

↑

Fairy Tail Manga: Chapter 192, Pages 2-11

↑

Fairy Tail Manga: Chapter 194, Pages 4-25

↑

Fairy Tail Manga: Chapter 196, Pages 11-14

↑

Fairy Tail Manga: Chapter 197, Pages 15-19

↑

Fairy Tail Manga: Chapter 200, Pages 4-10

↑

Fairy Tail Manga: Chapter 201, Pages 9-11

↑

Fairy Tail Manga: Chapter 202, Page 14

↑

Fairy Tail Manga: Chapter 202, Page 15

↑

Fairy Tail Manga: Chapter 207, Pages 4-7

↑

Fairy Tail Manga: Chapter 203, Pages 6-16

↑

Fairy Tail Manga:Chapter 203, Page 18

↑

Fairy Tail Manga: Chapter 207, Pages 8-10

↑

Fairy Tail Manga: Chapter 207, Pages 20-23

↑

Fairy Tail Manga: Chapter 213, Pages 9-19

↑

Fairy Tail Manga: Chapter 214, Pages 9-15

↑

Fairy Tail Manga: Chapter 215, Pages 9-11

↑

Fairy Tail Manga: Chapter 217, Pages 4-14

↑

Fairy Tail Manga: Chapter 218, Page 6

↑

Fairy Tail Manga: Chapter 221, Pages 2-3

↑

Fairy Tail Manga: Chapter 222, Page 18

↑

Fairy Tail Manga: Chapter 228, Pages 22-26

↑

Fairy Tail Manga: Chapter 231, Pages 4-5

↑

Fairy Tail Manga: Chapter 231, Pages 14-17

↑

Fairy Tail Manga: Chapter 232, Pages 3-5

↑

Fairy Tail Manga: Chapter 233, Page 2

↑

Fairy Tail Manga: Chapter 233, Pages 8-17

↑

Fairy Tail Manga: Chapter 236, Page 2

↑

Fairy Tail Manga: Chapter 239, Pages 4-5

↑

Fairy Tail Manga: Chapter 242, Pages 1-4, 16-19

↑

Fairy Tail Manga: Chapter 243, Pages 1-16

↑

Fairy Tail Manga: Chapter 243, Pages 17-19

↑

Fairy Tail Manga: Chapter 244, Pages 1-5

↑

Fairy Tail Manga; Chapter 248, Pages 3-8, 10-19

↑

Fairy Tail Manga: Chapter 252, Pages 5-12

↑

Fairy Tail Manga: Chapter 252, Pages 14-18

↑

Fairy Tail Manga: Chapter 253, Pages 1-18

↑

Fairy Tail Manga: Chapter 255, Pages 10-19

↑

Fairy Tail Anime: Episode 125

↑

Fairy Tail Anime: Episode 126

↑

Fairy Tail Anime: Episode 127

↑

Fairy Tail Anime: Episode 128

↑

Fairy Tail Anime: Episode 129

↑

Fairy Tail Anime: Episode 130

↑

Fairy Tail Anime: Episode 131

↑

Fairy Tail Anime: Episode 132

↑

Fairy Tail Anime: Episode 133

↑

Fairy Tail Anime: Episode 135

↑

Fairy Tail Anime: Episode 136

↑

Fairy Tail Anime: Episode 137

↑

Fairy Tail Anime: Episode 138

↑

Fairy Tail Anime: Episode 139

↑

Fairy Tail Anime: Episode 141

↑

Fairy Tail Anime: Episode 142

↑

Fairy Tail Anime: Episode 144

↑

Fairy Tail Anime: Episode 145

↑

Fairy Tail Anime: Episode 146

↑

Fairy Tail Anime: Episode 147

↑

Fairy Tail Anime: Episode 148

↑

Fairy Tail Anime: Episode 149

↑

Fairy Tail Anime: Episode 150

↑

Fairy Tail Anime: Episode 151

↑

Fairy Tail Manga: Chapter 259, Pages 9-11

↑

Fairy Tail Manga: Chapter 259, Pages 19-21

↑

Fairy Tail Manga: Chapter 260, Pages 2-11

↑

Fairy Tail Manga: Chapter 260, Page 16

↑

Fairy Tail Manga: Chapter 261, Page 3

↑

Fairy Tail Manga: Chapter 261, Page 5, 12, 15-19

↑

Fairy Tail Manga: Chapter 262, Pages 2-20

↑

Fairy Tail Manga: Chapter 263, Pages 5-20

↑

Fairy Tail Manga: Chapter 264, Pages 2-3

↑

Fairy Tail Manga: Chapter 264, Page 16

↑

Fairy Tail Manga: Chapter 265, Pages 3-9

↑

Fairy Tail Manga: Chapter 265, Pages 13-14

↑

Fairy Tail Manga: Chapter 266, Pages 2-11

↑

Fairy Tail Manga: Chapter 266, Page 19

↑

Fairy Tail Manga: Chapter 267, Pages 3-6

↑

Fairy Tail Manga: Chapters 267-277

↑

Fairy Tail Manga: Chapter 278, Pages 1-7, 26

↑

Fairy Tail Manga: Chapter 279, Pages 1-4

↑

Fairy Tail Manga: Chapter 279, Page 11

↑

Fairy Tail Manga: Chapter 281, Pages 16-17

↑

Fairy Tail Manga: Chapter 282, Pages 2-8

↑

Fairy Tail Manga: Chapter 288, Pages 15-17

↑

Fairy Tail Manga: Chapter 288, Pages 2-19

↑

Fairy Tail Manga: Chapter 289, Pages 7-19

↑

Fairy Tail Manga: Chapter 290, Page 13

↑

Fairy Tail Manga: Chapter 290, Page 15-17

↑

Fairy Tail Manga: Chapter 298, Pages 2-4

↑

Fairy Tail Manga: Chapter 298, Page 7

↑

Fairy Tail Manga: Chapter 298, Pages 18-20

↑

Fairy Tail Manga: Chapter 291, Page 6

↑

Fairy Tail Manga: Chapter 291, Page 12

↑

Fairy Tail Manga: Chapter 292, Page 2

↑

Fairy Tail Manga: Chapter 292, Pages 5-6

↑

Fairy Tail Manga: Chapter 292, Pages 8-11

↑

Fairy Tail Manga: Chapter 294, Page 1

↑

Fairy Tail Manga: Chapter 295, Page 4

↑

Fairy Tail Manga: Chapter 295, Page 29

↑

Fairy Tail Manga: Chapter 296, Page 16

↑

Fairy Tail Manga: Chapter 297, Pages 3 & 14

↑

Fairy Tail Manga: Chapter 300, Pages 14-19

↑

Fairy Tail Manga: Chapter 301, Pages 4-21

↑

Fairy Tail Manga: Chapter 302, Pages 2-5

↑

Fairy Tail Manga: Chapter 302, Pages 7-9

↑

Fairy Tail Manga: Chapter 302, Pages 10-12

↑

Fairy Tail Manga: Chapter 302, Pages 13-16

↑

Fairy Tail Manga: Chapter 302, Pages 17-19

↑

Fairy Tail Manga: Chapter 303, Pages 2-6

↑

Fairy Tail Manga: Chapter 303, Pages 17-20

↑

Fairy Tail Manga: Chapter 304, Pages 2-3

↑

Fairy Tail Manga: Chapter 304, Pages 19-20

↑

Fairy Tail Manga: Chapter 305, Pages 16-20

↑

Fairy Tail Manga: Chapter 306, Page 1

↑

Fairy Tail Manga: Chapter 307, Pages 10-19

↑

Fairy Tail Manga: Chapter 308, Pages 2-9

↑

Fairy Tail Manga: Chapter 308, Pages 10-13

↑

Fairy Tail Manga: Chapter 308, Page 17

↑

Fairy Tail Manga: Chapter 309, Pages 7-8

↑

Fairy Tail Manga: Chapter 310, Pages 10-11

↑

Fairy Tail Manga: Chapter 310, Pages 16-18

↑

Fairy Tail Manga: Chapter 311, Pages 2-4

↑

Fairy Tail Manga: Chapter 312, Page 24

↑

Fairy Tail Manga: Chapter 313, Pages 2-5

↑

Fairy Tail Manga: Chapter 316, Page 16-19

↑

Fairy Tail Manga: Chapter 317, Pages 5-7

↑

Fairy Tail Manga: Chapter 317, Pages 8-12

↑

Fairy Tail Manga: Chapter 318, Pages 2-5

↑

Fairy Tail Manga: Chapter 318, Page 17

↑

Fairy Tail Manga: Chapter 319, Pages 14-15

↑

Fairy Tail Manga: Chapter 320, Page 3

↑

Fairy Tail Manga: Chapter 321, Page 9

↑

Fairy Tail Manga: Chapter 323, Pages 6-9

↑

Fairy Tail Manga: Chapter 323, Pages 17-20

↑

Fairy Tail Manga: Chapter 324, Page 1

↑

Fairy Tail Manga: Chapter 324, Pages 4-18

↑

Fairy Tail Manga: Chapter 325, Pages 2-4

↑

Fairy Tail Manga: Chapter 325, Pages 9-11

↑

Fairy Tail Manga: Chapter 326, Page 4

↑

Fairy Tail Manga: Chapter 326, Pages 18-20

↑

Fairy Tail Manga: Chapter 327, Pages 2-6

↑

Fairy Tail Manga: Chapter 327, Pages 7-15

↑

Fairy Tail Manga: Chapter 328, Pages 3-14

↑

Fairy Tail Manga: Chapter 329, Pages 15-18

↑

Fairy Tail Manga: Chapter 330, Pages 12-18

↑

Fairy Tail Manga: Chapter 331, Pages 2-7

↑

Fairy Tail Manga: Chapter 332: Page 15

↑

Fairy Tail Manga: Chapter 335, Page 19

↑

Fairy Tail Manga: Chapter 336, Page 2

↑

Fairy Tail Manga: Chapter 337, Pages 5-10

↑

Fairy Tail Manga: Chapter 337, Pages 14-15

↑

Fairy Tail Manga: Chapter 338, Pages 3-4

↑

Fairy Tail Manga: Chapter 338, Pages 7-8

↑

Fairy Tail Manga: Chapter 338, Page 16

↑

Fairy Tail Manga: Chapter 338, Page 20

↑

Fairy Tail Manga: Chapter 340, Pages 2-3

↑

Fairy Tail Manga: Chapter 340, Page 5

↑

Fairy Tail Manga: Chapter 340, Page 8

↑

Fairy Tail Manga: Chapter 341, Page 7

↑

Fairy Tail Manga: Chapter 341, Pages 12-21

↑

Fairy Tail Manga: Chapter 342, Page 2-5

↑

Fairy Tail Manga: Chapter 342, Pages 6-9

↑

Fairy Tail Manga: Chapter 342, Pages 10-16

↑

Fairy Tail Manga: Chapter 343, Pages 3-6

↑

Fairy Tail Manga: Chapter 343, Page 8

↑

Fairy Tail Manga: Chapter 343, Pages 12-16

↑

Fairy Tail Manga: Chapter 344, Pages 2-4

↑

Fairy Tail Manga: Chapter 344, Page 7

↑

Fairy Tail Manga: Chapter 344, Pages 9-13

↑

Fairy Tail Manga: Chapter 345, Pages 7-8

↑

Fairy Tail Manga: Chapter 345, Pages 9-13

↑

Fairy Tail Manga: Chapter 345, Pages 14-17

↑

Fairy Tail Manga: Chapter 346, Pages 12-14

↑

Fairy Tail Manga: Chapter 346, Pages 15-20

↑

Fairy Tail Manga: Chapter 347, Pages 2-19

↑

Fairy Tail Manga: Chapter 348, Pages 2-4

↑

Fairy Tail Manga: Chapter 350, Pages 6-7

↑

Fairy Tail Manga: Chapter 351, Page 2-5

↑

Fairy Tail Manga: Chapter 351, Pages 15-19

↑

Fairy Tail Manga: Chapter 352, Page 2-5

↑

Fairy Tail Manga: Chapter 352, Page 9

↑

Fairy Tail Manga: Chapter 352, Page 18

↑

Fairy Tail Manga: Chapter 353, Pages 2-11

↑

Fairy Tail Manga: Chapter 353, Pages 16-17

↑

Fairy Tail Manga: Chapter 354, Page 3

↑

Fairy Tail Manga: Chapter 354, Page 5

↑

Fairy Tail Manga: Chapter 354, Pages 13-14

↑

Fairy Tail Manga: Chapter 355, Pages 2-8

↑

Fairy Tail Manga: Chapter 355, Pages 10-17

↑

Fairy Tail Manga: Chapter 355, Page 19

↑

Fairy Tail Manga: Chapter 356, Pages 20-23

↑

Fairy Tail Manga: Chapter 358, Pages 18-23

↑

Fairy Tail Manga: Chapter 359, Page 11

↑

Fairy Tail Manga: Chapter 359, Page 15

↑

Fairy Tail Manga: Chapter 359, Pages 18-23

↑

Fairy Tail Manga: Chapter 360, Pages 3-5

↑

Fairy Tail Manga: Chapter 360, Pages 14-19

↑

Fairy Tail Manga: Chapter 361, Pages 2-8

↑

Fairy Tail Manga: Chapter 361, Pages 18-17

↑

Fairy Tail Manga: Chapter 362, Pages 3-19

↑

Fairy Tail Manga: Chapter 363, Pages 12-18

↑

Fairy Tail Manga: Chapter 364, Page 25

↑

Fairy Tail Manga: Chapter 367, Pages 14-20

↑

Fairy Tail Manga: Chapter 368, Pages 3-4

↑

Fairy Tail Manga: Chapter 370, Pages 18-20

↑

Fairy Tail Manga: Chapter 371, Pages 8-13

↑

Fairy Tail Manga: Chapter 372, Page 13

↑

Fairy Tail Manga: Chapter 372, Page 17

↑

Fairy Tail Manga: Chapter 373, Pages 9-10

↑

Fairy Tail Manga: Chapter 373, Pages 16-20

↑

Fairy Tail Manga: Chapter 374, Pages 2-13

↑

Fairy Tail Manga: Chapter 374, Page 20

↑

Fairy Tail Manga: Chapter 375, Page 2

↑

Fairy Tail Manga: Chapter 375, Pages 18-20

↑

Fairy Tail Manga: Chapter 376, Pages 5-23

↑

Fairy Tail Manga: Chapter 377, Pages 3-19

↑

Fairy Tail Manga: Chapter 378, Pages 6-20

↑

Fairy Tail Manga: Chapter 387, Pages 14-19

↑

Fairy Tail Manga: Chapter 388, Pages 2-3

↑

Fairy Tail Manga: Chapter 392, Pages 2-3

↑

Fairy Tail Manga: Chapter 399, Pages 11-12

↑

Fairy Tail Manga: Chapter 400, Page 5

↑

Fairy Tail Manga: Chapter 401, Page 4

↑

Fairy Tail Manga: Chapter 406, Page 6

↑

Fairy Tail Manga: Chapter 406, Pages 24-25

↑

Fairy Tail Manga: Chapter 407, Page 2

↑

Fairy Tail Manga: Chapter 135, Pages 17-18

↑

Fairy Tail Manga: Chapter 136, Page 10

↑

Fairy Tail Manga: Chapter 161, Pages 14-15

↑

Fairy Tail Anime: 143

↑

Fairy Tail Manga: Chapter 141, Page 9

↑

Fairy Tail Manga: Chapter 138, Pages 9-10

↑

Fairy Tail Manga: Chapter 152, Pages 15-17

↑

Fairy Tail Manga: Chapter 165, Page 2

↑

Fairy Tail Manga: Chapter 191, Page 6

↑

Fairy Tail Manga: Chapter 214, Page 4

↑

Fairy Tail Manga: Chapter 214, Pages 9-10

↑

Fairy Tail Manga: Chapter 243, Pages 10

↑

Fairy Tail Manga: Chapter 308, Page 11

↑

Fairy Tail Manga: Chapter 310, Page 10

↑

Fairy Tail Manga: Chapter 376, Page 16

↑

Fairy Tail Manga: Chapter 248, Pages 14

↑

Fairy Tail Manga: Chapter 288, Page 4

↑

Fairy Tail Manga: Chapter 289, Page 10

↑

Fairy Tail Manga: Chapter 260, Pages 2-11

↑

Fairy Tail Manga: Chapter 288, Pages 13-15

↑

Fairy Tail Manga: Chapter 300, Pages 19

↑

Fairy Tail Manga: Chapter 301, Pages 16-17

↑

Fairy Tail Manga: Chapter 353, Page 4

↑

Fairy Tail Manga: Chapter 376, Page 26

↑

Fairy Tail Manga: Chapter 289, Pages 15-16

↑

Fairy Tail Manga: Chapter 288, Pages 5-7

↑

Fairy Tail Manga: Chapter 289, Pages 15-16

↑

Fairy Tail Manga: Chapter 289, Pages 17-18

↑

Fairy Tail Manga: Chapter 344, Page 11

↑

Fairy Tail Manga: Chapter 288, Pages 2-19

↑

Fairy Tail Manga: Chapter 289, Pages 15-16

↑

Fairy Tail Manga: Chapter 344, Page 10

↑

Fairy Tail Manga: Chapter 172, Pages 9-11

↑

Fairy Tail Anime: Episode 69

↑

Fairy Tail Anime:Episode 107

↑

Fairy Tail Manga: Chapter 162, Pages 8

↑

Fairy Tail Manga: Chapter 133, Page 5

↑

Fairy Tail Manga: Chapter 141, Pages 7-8

↑

Fairy Tail Manga: Chapter 142, Page 6

↑

Fairy Tail Manga: Chapter 157, Pages 3

↑

Fairy Tail Manga: Chapter 164, Pages 19-20

↑

Fairy Tail Anime: Episode 72

↑

Fairy Tail Manga: Chapter 133, Page 5

↑

Fairy Tail Manga: Chapter 141, Page 12

↑

Fairy Tail Manga:Chapter 198, Pages 5-11

↑

Fairy Tail Manga: Chapter 165, Page 11

↑

Fairy Tail Manga: Chapter 196, Page 13

↑

Fairy Tail Manga: Chapter 259, Pages 12-13

↑

Fairy Tail Manga: Chapter 259, Pages 20-23

↑

Fairy Tail Manga: Chapter 260, Pages 9-10

↑

Fairy Tail Manga: Chapter 267, Page 7

↑

Fairy Tail Manga: Chapter 267, Page 6

↑

Fairy Tail Manga: Chapter 157, Pages 2-3

↑

Fairy Tail Manga: Chapter 163, Pages 2-3

↑

Fairy Tail Manga: Chapter 263, Page 15

↑

Fairy Tail Manga: Chapter 287 Pages 16-18

↑

Fairy Tail Manga: Chapter 289 Page 12

↑

Fairy Tail Manga:Chapter 289 Page 18

↑

Fairy Tail Manga:Chapter 289 Pages 20-21

↑

Fairy Tail Manga: Chapter 298 Page 11

↑

Fairy Tail Manga: Chapter 291 page 18

↑

Fairy Tail Manga: Chapter 292 Page 13

↑

Fairy Tail Anime: Episode 59

↑

Fairy Tail Manga: Chapter 145, Pages 13-20

↑

Fairy Tail Manga: Chapter 145, Page 15

↑

Fairy Tail Manga: Chapter 167, Pages 12-20

↑

Fairy Tail Manga: Chapter 202, Pages 13-14

↑

Fairy Tail Manga: Chapter 170, Page 6

↑

Fairy Tail Manga: Chapter 171, Pages 3-4

↑

Fairy Tail Manga: Chapter 164, Pages 12-18

↑

Fairy Tail Manga: Chapter 207, Pages 4-6

↑

Fairy Tail Manga: Chapter 207, Pages 8-10

↑

Fairy Tail Manga: Chapter 214, Pages 9-10

↑

Fairy Tail Manga: Chapter 228, Pages 23-26

↑

Fairy Tail Manga: Chapter 260, Page 5

↑

Fairy Tail Manga: Chapter 260, Page 8

↑

Fairy Tail Omake: Whose Clothes Are These?, Page 2

↑

Fairy Tail Omake: Whose Clothes Are These?, Page 4

↑

Fairy Tail Omake: Whose Clothes Are These?, Pages 6-7

↑

Fairy Tail Omake: Fairies' Penalty Game, Page 1

↑

Fairy Tail Omake: Fairies' Penalty Game, Page 4

↑

Fairy Tail Omake: Fairies' Penalty Game, Pages 12-22

↑

Fairy Tail Omake: Welcome Back, Frosch, Pages 8-9

↑

Fairy Tail Omake: 413 Days, Pages 5-6

↑

Fairy Tail OVA: Welcome to Fairy Hills!!

↑

Fairy Tail OVA: Memory Days

↑

Fairy Tail OVA: The Exciting Ryuzetsu Land

↑

Fairy Tail OVA: Fairy Tail X Rave

↑

Fairy Tail Gekitotsu! Kardia Daiseidou

↑

Fairy Tail Anime: Episode 49

↑

Fairy Tail Manga: Chapter 214, page 11

↑

Fairy Tail Manga: Chapter 288, Page 11

↑

Fairy Tail Manga: Chapter 289, Page 5

↑

Fairy Tail Manga: Chapter 310, Page 13