Chapter 293
So, this chapter was really funny with the Ichiya Fight (Who knew Nichiya was the bunny - I did *Claims £5 bet prize*) I would have preferred to see Kagura and Milliana vs Lyon and Yuka. I have two reasons:
I am a GIANT Lyon Fangirl
Kagura said Milliana would have died if it was a battle to the death - AWESOME!!!!!
So, here is the winner for Chapter 293: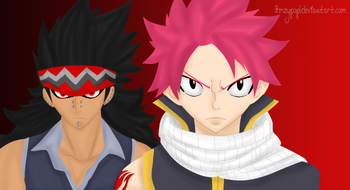 I chose this one because
1: GAJEEL AND NATSU LOOK EPIC!
2: .....Nah it's just number one XD

So, Next chapter is NATSU AND GAJEEL VS STING AND ROGUE (Who I also fangirl over because he is the living embodiment of Heaven!!!!!!!!!)
So, I'm gonna do a little twist with this one. Since we kinda know who's fighting in this chapter, whenever we are certain of the characters fighting, I will do a vote to see who wants what character in the winning panel!
Which character would you like on the next panel?
See ya next week on....AMY'S COLORED PANEL OF THE WEEK! *Echos week week week week* XD
CREDITS TO REMNANT13 THE WENDY FANBOY FOR THE POLL CODING!
NOTE: Thanks to the man who now has no head, the 10 Gajeel votes that he done for a prank will NOT be counted. Thanks
Amyx

ToshiroFanGirl
Ad blocker interference detected!
Wikia is a free-to-use site that makes money from advertising. We have a modified experience for viewers using ad blockers

Wikia is not accessible if you've made further modifications. Remove the custom ad blocker rule(s) and the page will load as expected.