AFTER MANY WEEKS, 10 CHAPTERS, REM'S MANY PERVY JOKES, WE ARE CRASH LANDING THIS WEEK WITH THE AMAZING CHAPTER 311!!!!!!!
THe winning Panel: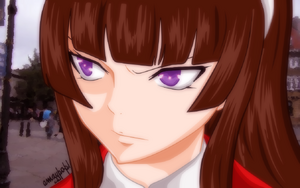 WAS THIS CHAPTER EPIC OR WHAT?! Right, so I'd say the chapter was 3 main bits:
1.The mystery behind Eclipse and the Kingdom
2. Juvia VS Chelia
3. THE MOST AMAZING MATCH UP IN THE HISTORY OF MATCHUPS - ERZA VS KAGURA VS MINERVA EFDIUSHBREIFS*BNRFLISUKHBNRWE!

So, part 1 xD Basically, Arcadios survived testing his new Olympic sport, 300m Lava Sprint, and he survived because of some jade talisman thing, which is where we remember the pedo, loli-loving Dragon, Zirconis, and we are reminded that Hisui's name is Jade in English (I think anyways - my Japanese is lacking these days xD I can only say important phrases like Hello, How are you, Where is the toilet etc) Anyways, is it just me or does Zirconis remind you of someone. . .
AND THEN! WE SEE THE HOODED WOMAN!!!! SO MUCH MYSTERY, LIKE SHERLOCK! Anyways, after that, we go on a journey to the room of Princess Hisui, where the guards are surprised that the Fodder Filler Knights failed, while Hisui is happy. AND THEN! Datong comes in and reveals that HISUI, THE GIRL IN THE MINI DRESS WHO LOOKS LIKE SHE CANNOT PICK A FIGHT WITH A 90 YEAR OLD MAN (I am not describing Umnei btw no matter how close the description is) IS THE MASTERMIND BEHIND ECLIPSE!

Insert Hungry gif here XD*

AND IF THAT WASN'T ENOUGH, SHE SAYS THAT ECLIPSE IS FAKE! HAHAHAHAHAHA! No, really, there is an Eclipse 2 that will destroy the country tomorrow if it fails! I MEAN REALLY, ECLIPSE 2?! Not the most . . . original name ever, but it will do.

And then we get sent magically back to Domus Flau, where we see Juvia VS Chelia! Chelia is mad at Juvia since she is Lyon's "Beloved" and attacks her. I SENSE LYVIA MOMENTS COMING UP :DDD

AND THEN THE BEST PART OF THE CHAPTER! ERZA VS KAGURAAAAA! OMG OMG OMG! All we need is a shirtless Laxus/Lyon/Rogue to make my life complete :D Right, so apparently, Mavis predicted that Minerva would come to Erza. AND SHE WAS WRONG HAHAHA XD Anyways, Kagura came first and then they start having an ALL OUT BRAWL when......THE BOO FROM MARIO MAKES IT'S DEBUT IN FAIRY TAIL! No, Minerva comes in with her still unknown magic and grabs Kagura and Erza by their faces and throws them both to the floooor!

SO! NEXT CHAPTER IS AN ALL OUT BRAWL! It's called "Threesome"...I SENSE 3 WAY YURI :D between : Erza, Kagura & Minerva!!! (INSERT R18 YURI XD) GET YOUR FANGIRL SCREAMS AT THE READY! Right, so now for the traditional poll :D Got 2 this week ;D
WHO DO YOU WANT IN THE NEXT PANEL!?
Are you glad that I have restarted the blog again and should I continue?
NOW! WHO DO YOU THINK WILL WIN?! WILL ECLIPSE 2 BE ACTIVATED?! WILL WE FINALLY BE ABLE TO PARTAKE IN ARCADIOS' NEW OLYMPIC SPORT?! Say your thoughts and comments on the chapter below...

And as always, Have a nice day ;)
Amyx
Ad blocker interference detected!
Wikia is a free-to-use site that makes money from advertising. We have a modified experience for viewers using ad blockers

Wikia is not accessible if you've made further modifications. Remove the custom ad blocker rule(s) and the page will load as expected.