minerva's power is really a badass move! but poor lucy...
wait... did lucy got the 2nd highest score or at the last place?
i cant think...
stupid sabertooth, they gained more points!!!

I wish Mr. Mashima would put a blast in the end of this arc... like jiemma blowing into a million pisces!! haha... too harsh?
i hate that guild master...
but the latest manga is certainly nice... all girls (except quatro puppy) in a swimsuit!!! Yum yum yum!!!
Mr. Mashima! pls let jiemma blow up!!! :) and let the five greatest mage in sabertooth in fairy tail...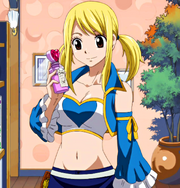 Ad blocker interference detected!
Wikia is a free-to-use site that makes money from advertising. We have a modified experience for viewers using ad blockers

Wikia is not accessible if you've made further modifications. Remove the custom ad blocker rule(s) and the page will load as expected.