Hewwo partay people and welcome to another Otabear's Anime Review! X3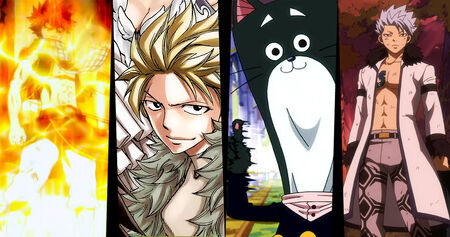 If you have a difficult job that needs to be done, don't hesistate to contact Team Megaherme! The Fairy Tail Wiki's first ever official Team!

Team Megaherme will carry out any request you have for them. Just go here and leave a message detailing your request and it will be completed as soon as possible.
All requests must be signed with four "~" tildes (three "~" if you have a custom signature)
Requests must not be a job found at any of the Wiki's Guilds
Please give time for the requests to be completed
Remember to stay civil
Episode 127: The Terror of Invisible Lucy
It was one funny episode! X,D I was wondering what the hell was going on at the start for ages O_o And that creepy mask was so creepy T_T
T-then those animators...Those DAMN animators! DX NaLu moment! Right there! But nnnnnnnooooooo, they didn't wanna roll like that and wanted to make Natsu look like an idiot instead T_T (No one say he is >_> Not if you value your life...)
But then it was funny again with naked Lucy roaming the streets X,D Although I was concerned about the children and the tickle fest O_o Awkward!
I loved the bar brawl XD Erza took that table to the face like a champ! Then I suppose you could count the accidental gropage as a NaLu moment O_o If you were desperate for moments and were a pervert...(I hate the animators X_X) But that was kinda funny too XP
The best bit was everyone painting her face! Reedus had a bit of a Picasso thing going on there ;P But the best one was the Happy face; it suited her XD
Okay. The animators redeemed themselves with Natsu remembering her and her coming back X3 But they could have at least made them hug -_-' She ran forward and I squeed! Then Levy got in the way ¬_¬...Damn her
Overall: 9/10
Good music, funny, sad and inspirational too and *begrudgingly* well animated >_>
Ad blocker interference detected!
Wikia is a free-to-use site that makes money from advertising. We have a modified experience for viewers using ad blockers

Wikia is not accessible if you've made further modifications. Remove the custom ad blocker rule(s) and the page will load as expected.