Greetings people and welcome to Otabear's Anime Review! X3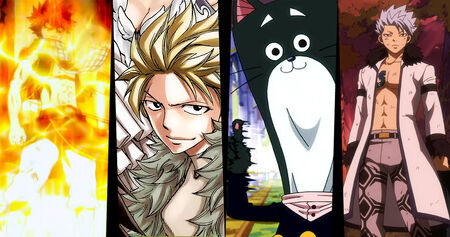 If you have a difficult job that needs to be done, don't hesistate to contact Team Megaherme! The Fairy Tail Wiki's first ever official Team!

Team Megaherme will carry out any request you have for them. Just go here and leave a message detailing your request and it will be completed as soon as possible.
All requests must be signed with four "~" tildes (three "~" if you have a custom signature)
Requests must not be a job found at any of the Wiki's Guilds
Please give time for the requests to be completed
Remember to stay civil
It's heeeeerrrrreeeee!!!! And it's freaking EPIC! 8D Not to mention pret-tay huge O_O Acnologia FTW!
Oh Juvia; you so funny X3 You'd think Gray would realise that the chair was squishy O_o And Evergreen taking a rage fit was equally as funny XD
Why do they have to play sad music when peoples be crying? T_T It was so sad.... And then even SADDER when they all came back and the battle music was playing! Happy sad; but still sad X,3
I absolutely LOVED the sequence when everybody used their magics at once. I thought it was well done ;P
Then all of them joining hands to stop it was so beautiful! X,<


So, Overall: 9/10


I thought it was awesome in all aspects; the music, the animation and the portrayal of the story. Kudos to the animators ;P
Ad blocker interference detected!
Wikia is a free-to-use site that makes money from advertising. We have a modified experience for viewers using ad blockers

Wikia is not accessible if you've made further modifications. Remove the custom ad blocker rule(s) and the page will load as expected.