Hey party people and welcome to another Otabear's Anime Review!! X3 (~Ahem~ Which is late because I was away all day Saturday and didn't have a chance to review...)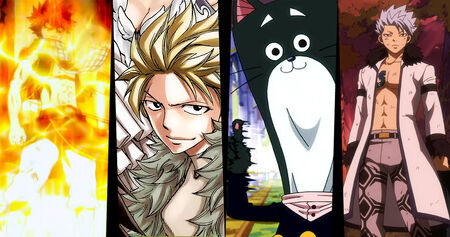 If you have a difficult job that needs to be done, don't hesistate to contact Team Megaherme! The Fairy Tail Wiki's first ever official Team!

Team Megaherme will carry out any request you have for them. Just go here and leave a message detailing your request and it will be completed as soon as possible.
All requests must be signed with four "~" tildes (three "~" if you have a custom signature)
Requests must not be a job found at any of the Wiki's Guilds
Please give time for the requests to be completed
Remember to stay civil
Episode 123: X791 Fairy Tail Well! First thing's first; they all look so WEIRD O_O Laki was pretty much the same though, but everyone else was so strange O_o, Even Kinana...
It was incredibly wierd to see FT so, well, pathetic. It was pitiful to be honest, and extra sad T_T The saddest part was definately Reedus' sketches. Although I felt like they should have dragged out the fact that they were missing presumed dead; because it was kind of:
"We miss them"
"Wow, seven years"
"Oh look, we found them! Huzzah!"
It made the episode feel a little short to me; but maybe it's just me XD
Animated Mavis was awesome X3 And I quite liked the Fairy Sphere spell. The reunions were quite nice, but also kinda short...
So, Overall:6/10
I wasn't uber excited or sad or happy and they seemed to fill half an hour with, well, not much really. It was well animated but there isn't really much to comment on =S Although it was always going to be tough following last weeks absolute AWESOMENESS X3 Lemme hear your thoughts people!
Ad blocker interference detected!
Wikia is a free-to-use site that makes money from advertising. We have a modified experience for viewers using ad blockers

Wikia is not accessible if you've made further modifications. Remove the custom ad blocker rule(s) and the page will load as expected.