Well, finally! The last few episodes made me think that the charm that the anime was giving to the Tartaros arc has been lost. Thankfully, it returned just when it counts - for one of the most important moments of the arc.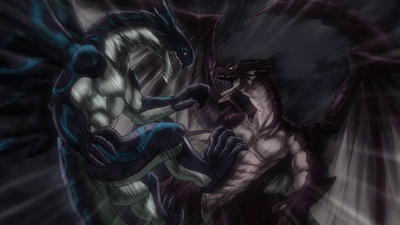 And half of the episode's budget goes to...
Of course, before we reached it, we were given a nice little extension on the dragons destroying Faces. I mean... the Mages' dialogue fell flat once again, but at the very least, the anime at least made it look like the dragons actually took some time to fly around, so that was quite nice filler. We also saw Garou Knights. Kek. In fact, when Skiadrum flew over Crocus, I can only imagine them being like, ogod, not dragons again. -_-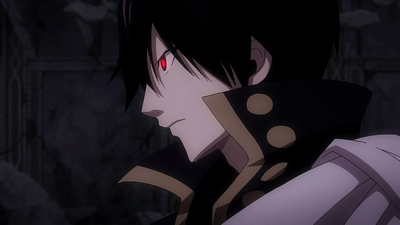 Boo-hoo
Meanwhile, as Igneel tries to explain the reasons for him being in Natsu's body, Acnologia wakes up from his nap (we all agreed that it was Face's doing, right?) and the two dragons continue their fight - which the anime made... more explosive throughout the course of the last few episodes. And while this is happening, we have Zeref coming to wreck Mard Geer and disappear yet again. Like a fart in the wind. Never forget #MangaStreamNotTooLiteralTranslations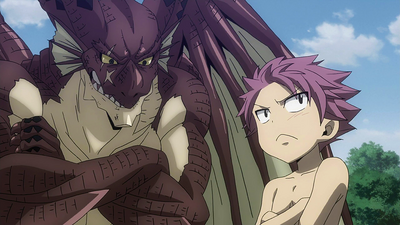 :(
And finally, the fight between Igneel and Acnologia reaches its conclusion, and Natsu watches as Igneel gets defeated. Did I like how anime adapted this? Well.. It kinda lacked that woah factor for me, but it had blood, they didn't really censor it and the flashbacks of little Natsu were actually super nice! As always, that's where the anime excels. So yep, it was actually pretty good.
Next week, we reach the epilogue of the arc... It's been a long run!
Ad blocker interference detected!
Wikia is a free-to-use site that makes money from advertising. We have a modified experience for viewers using ad blockers

Wikia is not accessible if you've made further modifications. Remove the custom ad blocker rule(s) and the page will load as expected.