Hello everybody i would like to announce the result of the most perverted user in Fairy tail wikia and on the first place you know him for loving lolis,hyperactive, marry to toshi and most time bugging umnei on chat, its REM!!!!!! Congrats Rem for winning first place on the most perverted user on the wiki. On second place is the user that always trying to marry Chaos or Jess, He is from Canada, the big bro of many users in this wiki and the guy who makes funny abridged chapters, he is the perverted romeo MDM. Congrats MDM for being second place! In Third place is the guy who is married to Carrotyumyum, who is admin and a mexican, here he is winning in third place is MEGA!. As for the rest of the users that were in the polls congrats on the votes that you got and until next year blog of the top 10 perverts in this wiki :) and also once again CONGRATS REM!!!!!!!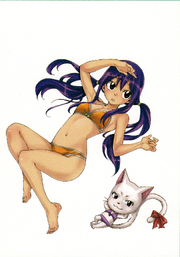 Ad blocker interference detected!
Wikia is a free-to-use site that makes money from advertising. We have a modified experience for viewers using ad blockers

Wikia is not accessible if you've made further modifications. Remove the custom ad blocker rule(s) and the page will load as expected.