When i was in Province, i saw my cousin watching an anime, but he didn't watching . i don't know why . xD So I Decided Watched the anime . i already like anime when i was watching some of the old anime's before, like "Hell Girl" , "Yamato Nadeshiko" , "Azumanga Daioh" , "Maihime", "Haruhi Suzumiya", "Death Note" and "Special A" .
When i was watching, i said " This is the Story I Love " Honestly, i really love that kind of story , about a bond of Friendship in one roof with wizards . When i was a little kid , i really love playing my toys about "Guilds" I have so many Small People Toys , so i decided to have their guild .
After I watched the Anime . I felt in love with it . and the Title of this Amazing Anime " FAIRY TAIL "
When the day that we go home , i opened my computer and i click the www.animefreak.tv I watched the episodes from 1-100+ and it is still AWESOME !!
The Funny Moments , mad , sad , and many more . I love Fairy tail . actually , my favorite ARC in Fairy tail is . Kardia Cathedral Arc , which is Laxus get rebelled . because i saw the powers of the S Class Mages such as mystogan and Mirajane !! And I love the scenes when Lucy saves Loke from Spirit World .
I hope Hiro Mashima create an episode about Erza , mystogan , mira , and Laxus taking on a SS Quests .
THAT'S ALL !! HAHA !! THIS IS MY FIRST TIME TO CREATE A BLOG ! I HOPE U UNDERSTAND . !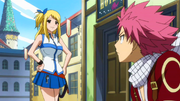 Ad blocker interference detected!
Wikia is a free-to-use site that makes money from advertising. We have a modified experience for viewers using ad blockers

Wikia is not accessible if you've made further modifications. Remove the custom ad blocker rule(s) and the page will load as expected.