Te
am
Ele
me
nt
Se
ven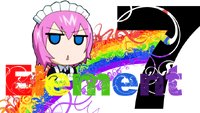 Need help with anything? Feel free to visit Team Element Seven, an official wiki team that accepts any request. Simply drop a message on our talk page or to a talk page of any of our Mages and they will get back to you as soon as possible. Just remember to sign your posts with ~~~~ Thank you and Happy editing!
Result for last time poll
Miss Fairy Tail
Lucy Heartfilia and Wendy Marvell
Mr. Fairy Tail
Laxus Dreyar
Miss Edolas Fairy Tail
Lucy Ashley and Juvia(Edo)
Mr. Edolas Fairy Tail
Natsu Dragion
Thank you for voting.
Lucy Heartfilia VS. Wendy Marvell
Erza Scarlet VS. Natsu Dragneel
Cana Alberonas VS. Gray Fullbuster
Mirajane Staruss VS. Elfman Staruss
Gajeel Redfox VS. Bickslow
Juvia Lockser VS. Lisanna Staruss
Laxus Dreyar VS. Freed Justine
Alzack Connell VS. Levy McGarden
Romeo Conbolt VS. Reedus Jonah
Ad blocker interference detected!
Wikia is a free-to-use site that makes money from advertising. We have a modified experience for viewers using ad blockers

Wikia is not accessible if you've made further modifications. Remove the custom ad blocker rule(s) and the page will load as expected.