Comments

27
Fairy Tail Unpopularity Contest: Round 2
Okay, time for the second round. But first, the results... Minerva overwhelmingly won in the first unpopularity contest, with 17 votes, whereas Flare Corona was only voted by 5 people. Seems right....Anyway, time for Round #2!
Round #2: Angel vs Karen Lilica
Who is the most hated Celestial Spirit Mage, according to you? Oracion Seis' Angel, or Blue Pegasus' Karen?
Reasons for hating
Sadistic
Using Celestial Spirits as mere weapons
Beating the crap outta the main female protagonist
Weird outfit? O.o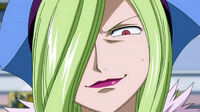 Reasons for hating
Sadistic
Using Aries as a shield, as well as a way to get rid of some guys
Torturing her spirits