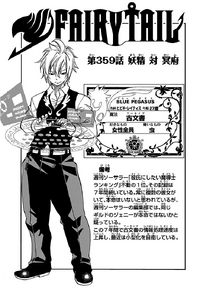 First of all...I'm FIRST!!!! That's right, not you, God, not you either, Jak, but me!
Okay...now that this has been said, let's go on and review this week's chapter!
So, the cover is about Hibiki, and the fact that he loves Jenny, although nobody cares about them D: Afterwards, we see Tempesta back to the Tartarus HQ, and Kyouka giving him a new body. It appears that Kyouka is second-in-command, as she is in charge of almost everything, including Tempesta's recovery. I am very interested in this guy and want to know more about his nature, but what I'm most interested in is...
MINERVA!!! SHE FINALLY APPEARS! AND GUESS WHAT, SHE PASSED THE TEST!!!
FT wiki: We already figured she'd pass ( ._.)
Raven: YEAH, BUT YOU DON'T GET IT! SHE IS THERE, ALL NAKED AND SEXY, PROVIDING FANSERVICE FOR MASHIMA! :DDDDDDDD
FT wiki: Calm down, Raven ._.
Raven: DON'T YOU GET IT, SHE'S HOT D: Anyway...where were we...
Oh yeah, Minerva is about to become a new Demon, or as Kyouka put it, a new "child", so I think that we have to say goodbye to dat sexy figure of hers... T_T
Anyway, Franmalth(or is it Flan Mars? I prefer the latter) hopes that she won't be another failure...look who's talkin D:< at least she is not such a fugly... thing >_> those guys then mention Fairy Tail, and Minerva reacts violently upon hearing that name.
The rest about Tartarus doesn't really matter ( ._.) back at the guild, Natsu wants to beat Tartarus, but Erza and Makarov tell him that they know nothing about them. Lucy and Gray then suggest looking for present and past council members, and Macao(new outfit? Awesome!) says they'll have troule finding them, although Loke thinks otherwise! That's right, our favorite Celestial Spirit gathered some info from girls and knows the exact locations of the Council members!
After some Nakama speech and a MirajanexLaxus and ElfmanxEver moment, the Fairies divide into teams to protect the Council members(Key of the Starry Sky arc anyone? >_> does it ring a bell only to me?).
Natsu, Lucy, Wendy, Happy and Carla protect Mikero(the old guy with cat ears) Lucy's new outfit is good and not much-too-revealing(yet). Happy's comment about Mikero being a fellow cat was funny XD and also, Mikero's granddaughter is extremely good looking >_> but not better than Minerva. Anyways, although the cat guy is suspicious of Fairy Tail at first, Michelia(seriously??? Michelle Lobster, another KoTSS reference!) convinces him to talk to them, but as he is about to do so, a huge explosion prevents him from doing so. Natsu eats it, and everyone's safe. Around that moment, Jackal appears!!!
So...yeah, that was the chapter. It had some good points and bad points. I liked Minerva's appearance, and Kyouka's role in Tartarus. I did not like the fact that Fairy Tail is already fighting Tartarus, and especially the fact that Natsu, Lucy and Wendy will probably beat Jackal by themselves...once again, it makes the enemies look really weak, except if it takes a long and hard fight to beat them.
So, those were my thoughts about the chapter!
What do you think about Fairy Tail dividing into teams to beat Tartarus?
Did you like the chapter?
Raven's Ratings: Chapter 359
Art
10/10
Story
8/10
Fight
0/10
Chapter
8/10
Ad blocker interference detected!
Wikia is a free-to-use site that makes money from advertising. We have a modified experience for viewers using ad blockers

Wikia is not accessible if you've made further modifications. Remove the custom ad blocker rule(s) and the page will load as expected.