If you are reading this, then the world did not end on 21/12/12, but DO NOT RELAX YET!!! According to valid sources, the world may get destroyed in 2013,2014,2015 and 2016. This was sarcasm by the way. On another note *checks note* it seems this will be the last blog post of mine before Christmas, so I want to wish you all to have the most AWESOME, FUN, WONDERFUL CHRISTMAS EVER. And now that I passed on my message to you commentators, I think I'll finally begin the review.
Awesome chapter! We have a cover in color with Minerva, Erza and Kagura standing against each other (GO MINERVA!!!) and we also get a colorful mafia-like image with the protagonists (Erza looks awesome in that one).
Now on to the actual chapter. Fairy Tail says Erza will win, Mermaid Heel thinks Kagura will win, without being very confident though (TAKE THAT MEGA >:D ) and Rufus says there is no way MINERVA will lose! She's even more powerful than the two Dragon Slayers! I'M WITH YOU MAN!!! MINERVA WILL DOMINATE!!!
Kagura is still thinking about why Erza protects Jellal and Erza thinks that Kagura will not forgive Jellal for what he did to her(WHAT WAS IT??? ლ(ಠ益ಠლ) Y U NO TELL US?) and Minerva, on the other hand, says that she will defeat them because they got in ST's way. Minerva attacks Kagura who attacks Erza who attacks Minerva...ಠ_ಠ okay. Then Minerva lands a hit on Erza who lands a hit on Kagura who lands a hit on Minerva. This will never end...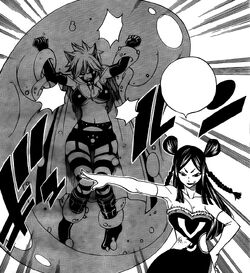 Minerva "traps" Kagura in a liquid-like...thing but she breaks out and attacks her. They keep attacking each other, until everyone's favorite girl, Minerva, uses a spell called "YAGDO RIGORA", which more or less destroys everything, shocking everyone (especially Mavis, who is malfluctioning after her predictions failed). However, Erza and Kagura are okay, as one would expect (some clothes from Erza's side are torn however). She also called it one of Yakuma's magic of the 18 gods of battle...I guess we'll learn in the future!
Minerva says that she will modify her plans and reveals that she has captured Milianna, whom both Erza and Kagura love. She says she will not use her as a hostage...what could she mean?
Back to the palace, Hisui E.Fiore reveals to Datong that the fate of the world depends on the winner of the events, since she was warned that a guild will win with an unbelievable outcome (who else could it be, than our Nakama-overpowered Fairy Tail?) so the Games must go on until the end. If it indeed happens, it means that the "person" was not lying and the future is also true. Smart thinking, Hisui, gotta hand it to you!
We then finally see who the masked woman is.....THE MAJORITY GOT IT RIGHT! It is... FUTURE LUCY!!! Now that explains almost everything.... She asks from Natsu and co. to lend her their strength. THE END!
There are many questions for the poll this week, so the one that I choose is...
What is Minerva plotting?
And finally...
How did you like the chapter?
By the way, we still don't know the true nature of Minerva's magic! And we only saw 1 threesome, not "threesomes". But anyway.
Raven's Ratings: Chapter 312
Art
10/10
Story
9/10
Fight
10/10
Chapter
9/10
Ad blocker interference detected!
Wikia is a free-to-use site that makes money from advertising. We have a modified experience for viewers using ad blockers

Wikia is not accessible if you've made further modifications. Remove the custom ad blocker rule(s) and the page will load as expected.