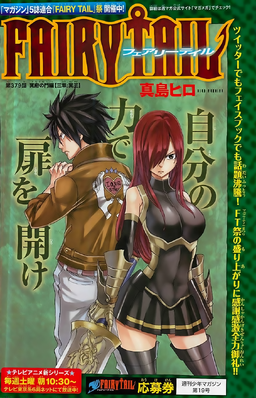 Introductions and Cover Page
Hello everyone, BlackWizardZeref here to start the review of Chapter 379: The King of the Underworld. First off, I have to admit, this was a good chapter, even though its predecessor was the Wendy and Carla ALMOST sacrifice Chapter. From what I have seen is this chapter some things are revealed, especially that ending, but I'll get to that at the end of the review, so without further ado, here's the review! We start off with the color cover page which is kinda boring and plain, since it just has Gray and Erza standing and that's it......much like what they have been doing in the past few chapters....., but still nice overall.
Before I forget, there is a special Intermission in this review that is different from my previous ones, and I must say "I'm probably going to hell for this" but it must be done.....
Tartarus's Last Resort: Master E.N.D
After Franmalth gets trolled by Hiro Mashima into thinking that Face is going to activate, Franmalth quickly realizes that Face was destroyed by Wendy and Carla......"Impossible" indeed. Franmalth flips out saying that this will cost them a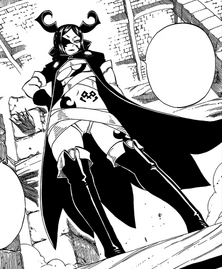 ll 100,000 of their souls and begins to go on a rampage on Natsu, Lucy, and Happy. Panicked that they can't do much against the Soul Absorber, they try to dodge Franmalth's attacks, however; he reminds the group that he has Hades's power and activates Amaterasu Form 28, which I believe was used on Laxus when Hades used it.
Now, we get to see that Erza and Kyouka's battle is still going on, and Kyouka realizes that Face isn't activating and thus Failed.....Epicly. Realizing that things aren't going according to plans, Kyouka retreats from the battle to rethink strategies, but NOT BEFORE SENDIG OUT MINERVA TO FIGHT ERZA!!!!!!! YES MINERVA IS COMING OUT TO PLAY NOW!!!!!.....Wait I'm wrong, her name is Neo Minerva now......cough lame cough. So back to Kyouka, wondering why Face failed and shocked that it could fail, she realizes that she has no other option; SHE MUST WAKE UP E.N.D!!!!!! So E.N.D is so badass that he can just sleep during all of this shit? Cool. Either that or E.N.D is "Sleeping" inside of Natsu and E.N.D really stands for Evil Natsu Dragneel! Oh please no! Anything but that! That will suck!
---
Intermission: Naruto vs. Fairy Tail, The Battle of Faces.….Rape Faces that is
Ok now unlike my previous intermissions this one will have a different approach to it. As you can tell from the title, this is solely a battle of Rape Faces given in both series, and it is the viewer's job to vote for the best Rape Face. My reasons for doing this was because of the New Naruto Shippuden Opening and after seeing this, as well as the many memes on Madara's rape face, I knew I just had to put it in my next blog.
From the Narutoverse we have the King of Rape Faces!! A man who honestly can call himself God after seeing what he has done; I bring you all:
Madara Uchiha http://i101.photobucket.com/albums/m71/egeorgiades93/MadaraRapeFace_zpse15a4e46.gif
And in the Fairyverse, I bring to everyone a True Star and Lone Survivor. He has Infiltrated Fairy Tail and lived, he survived the bombings of Jackal, he proved himself a hero in chapter 378, he is everyone's favorite Pedo; I bring you all:
Doranbolt of the magic council http://i101.photobucket.com/albums/m71/egeorgiades93/DoranboltRapeFace_zps80219027.gif
After seeing our two Faces, who do you think will win the ultimate showdown of Best rape face?
Who has the better rape face?
---
The Will of Wizards and The Final Words of a Lost Soul of the Abyss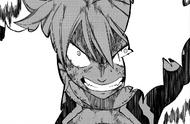 Ok now back to Franmalth; he has beaten Natsu, Happy, and Lucy and is now preparing to absorb their souls and add them to his collection. HOWEVER, Natsu decides that his soul is his own and decides to use his own Will Power to keep his soul from leaving him....which inspires Happy and Lucy to do so as well. While thinking of the thing that gives their souls purpose at the time being, they use their Will to beat Franmalth's Soul Absorbtion, which I have to admit sounds badass even though its a little B.S. Natsu is thinking of Igneel, Happy thinks of Carla, and Lucy thinks of her Celestial Spirits that are already trapped inside of Franmalth. Luckily, Lucy's thinking comes in handy, because it is forcing the celestial spirits out of Franmalth to the point where he almost got pulled into the Celestial Spirit World. Go Lucy for finally being useful in this battle. Now that Franmalth is rejecting the C.S inside of him, Lucy tries to push her luck by not only saying "<insert spirit name> gate close", but she also says "Natsu gate close" as if he is a spirit hoping that Franmalth will let him go, and guess what? He actually does!!! EPIC FAIL BY FRANMALTH!!! Now that Natsu is free, he goes to attack Franmalth, however; since he absorbs things with a soul he uses Strength from Pokemon, and throws a giant bolder, which doesn't have a soul, onto Franmalth, crushing him and thus knocking him out. While this also feels B.S, it is realistic for something like Franmalth to be out cold after getting Hulk Smashed by a boulder of that size. Hell most people would have died.
Now that Franmalth is beaten, all of the souls he has collected are sparating from his body, including a old foe and by far one of Fairy Tail's greatest challenges; Master Hades!!! Hades appears to give the young faries his final words to them. "It's not..over yet" "Tell Makarov...that it's time to let out the light..."
OMMFGP!!!! IF ANY OF YOU HAVE A SLIGHT IDEA OF WHAT HADES'S WORDS MEANT THEN YOU ALL KNOW WHAT IS COMING. THE LIGHT!!! FAIRY TAIL'S LIGHT!!!! LUMEN HISTOIRE!!!! OMFG YESSS!!!! LUMEN IS COMING PEOPLE SINCE THAT IS THE MOST OBVIOUS THING SO FAR!!!!!
The End, Poll Time and Rankings
Ok so that's the end of the chapter. How many of you liked that ending? How many of you liked that chapter? Let me know in the comment section and as always, "Have fun with the polls".
Also HOW MANY PEOPLE ARE EXCITED THAT THE FAIRY TAIL ANIME IS GOING TO BE ON TONIGHT? My Feelings can only be described in one image: The Feelings of a Mad man, a man called Nicolas Cage!http://i101.photobucket.com/albums/m71/egeorgiades93/NicFaceOff_zps141a98d5.gif
Ranking:Chapter 379:
Story:










Art:










Degree of Bullshit:





Action:










Overall:










Thumbs up for Minerva.....Neo Minerva vs Erza! Who else agrees?
How many of you feel that Franmalth's defeat was justified?
How many of you feel I may go to hell after making a Rape Face section on the review?
How many feel that Hades's words point out to Lumen Histoire?
HOW MANY ARE HAPPY THAT FAIRY TAIL ANIME IS GOING TO BE ON TONIGHT?
Ad blocker interference detected!
Wikia is a free-to-use site that makes money from advertising. We have a modified experience for viewers using ad blockers

Wikia is not accessible if you've made further modifications. Remove the custom ad blocker rule(s) and the page will load as expected.