Hello FT Wiki this is BlackWizardZeref and after over a month of not posting any blogs, I am back. This blog will be simple and to the point as everyone will clearly see based on the title of the blog.
Who's Your Favorite Fairy Tail Character?
For the first segment of this blog I ask the Wiki Users who is their favorite character in Fairy Tail. If you cannot pick one then I'll allow up to three. Briefly explain who is your favorite character and provide your reason for liking that character so much. I will also provide a voting poll in this section of some of my favorites and will include others as well if multiple users request that character. As for myself I will briefly explain to you all my top three favorite characters and will eagerly await the love/hate messages that will follow.
Number 3
---
When it comes to FT there are a lot of characters that I like, however; in my books the character that will take the Bronze medal in this top 3 listing will be the man of Epicness and Badassery:
Bronze Medal
Jellal.
Jellal is simply one of my favorite characters simply because he is also one of the most badass characters as well. I also like the deepness of his past as well, and although Erza's past is a sad and depressing one, I'd have to say Jellal's is even more so. From being possessed as a child to a saddened man who still feels guilty for his past crimes and feels that he doesn't deserve any happiness, which includes distancing himself from Erza, bad news to the Jerza fans, Jellal has one crappy life. He is in love with Erza but every time they have a chance either its the Magic Council getting in the way, or its himself cock blocking himself because of self pity. What makes his character more pitiful is that his true wish is to be free, yet throughout his entire life he is the exact opposite of that, and often has to sacrifice his freedoms for others, like Erza for example so she can walk the path of light while he lives the life of a criminal. Now although his character is a sad one, it doesn't take away from the fact that he is a badass character, since he is portrayed as one of the most powerful wizards out there, even surpassing Erza in power. We have seen Jellal hold his own against Jura and in my books almost win, until Ultear interfered, we saw him hold his own against the Oracion Seis in a five-on-one match, and he held his own during the day of the dragons (the event that must not be remembered). Overall Jellal is a awesome character and deserves to be Number 3 in my top favorites.
Number 2
---
Before I start, I'll make the next two shorter than my other ones since Jellal was a long one and the next two don't have a lot of info on them anyway. Now to the point the character that takes the Silver in this top 3 favorites is.......
Silver Medal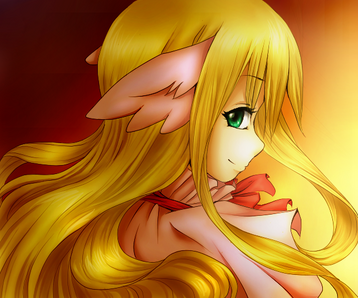 Mavis Vermillion. My reasons for Mavis are very simple; she is FT First Master and she is so adorable. Ever since Mavis first appeared I knew that we were going to see more of her, and then not long after we get to see her rooting for FT in the GMG. I wish we could see what type of magic she uses, other than the Incredible Fairy Sphere. I am also interested in her past as we were able to see a sneak peak of it when we saw her communing with Zeref, indicating that they knew each other and were even close at one point in time. The epic stare off that Mavis and Zeref had made Mavis not only adorable but insanely Epic as well. Mavis is in simple words; the definition of what Fairy Tail really is: a beacon of Friendship and love and Mavis's adorable childlike figure and childlike moments are something that even the hateful would find appealing. Can't wait to see her in the current or future Arcs.
Number 1
---
We are finally up to the number 1 character that will take the Gold in this Top 3 listing of mine. To some it is probably obvious, but to those who don't know who my favorite character of the Fairy Tail series it is.........
Gold Medal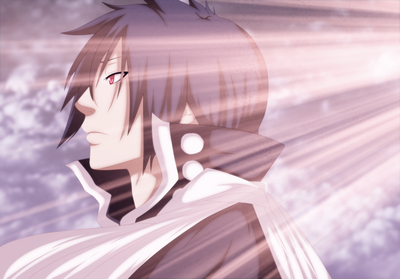 Zeref. Just by looking at my user should have been enough for most people, but when it comes to FT characters, Zeref is definetly my favorite of them all. Reasons include that although Zeref has been portrayed both indirectly and directly as a villain whether it was his creation of Deliora, Lullaby, and for indirectly inspiring Grimoire Heart to strive for the Ultimate Magic World Goal in the hopes that Zeref would be at the heart of it; Zeref is also in some cases an antihero as well. My reasons to believe this is because in his current status although he plans to eradicate the human race, he is doing it in the hopes that darkness and hatred will finally be cleansed from the world and that it can start again anew, which is why he describes this as "a gift to humanity". The reason as to why the Black Wizard cares for human life in the first place is a mystery as is most of his life,however; I would bet that Mavis is somehow involved since she also knows of his quest for someone (Natsu) to take his life. The dept of his character, the many mysteries surrounding the character, the uniqueness of his antagonistic character role, as well as the constant badass moment he brings when his eyes change color makes this man my #1 favorite character.

Now that I am finally done with my top three, I can't wait to hear who are your favorite characters. As I stated I will put a poll of some characters that I feel that are some people's favorites as well.
Who is your Least Favorite Characters
I'll make this short. As we put our favorite I'll also ask everyone who is their least favorite character and why,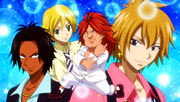 as for me its Ichiya, no explanation needed. Men. I will also in the future make a poll for the least favorites as soon as I see people posting some of theirs and I'm sure a lot of user will put similar ones. Have fun everyone and have a Happy New Year!!! There is also another character that until recently I forgot about that makes Ichiya look great.
WARNING THE FOLLOWING IMAGE MAY BE BLINDING TO ALL WHO VIEW IT

Ooba Babasaama. I cannot express my apologies to those who see this enough.