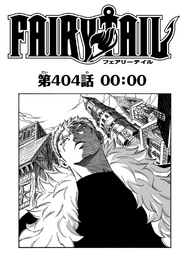 Introduction
Hello all this is The Dark Lord Zeref here, and I am here as promised to the other reviewers to give everyone my word on this chapter of Fairy Tail. First off, I am glad to be back after so many weeks....on my last year of college and it has been stressful. Anyway enough about my life, let's get on to this cancer of a chapter. I have to admit tho that this will be my first rant in a chapter.....unless I wrote a review on the Afro Happy chapter....tho in that case it was just a rant on one page, this will be a near full chapter rant. Anyways Ladies, Gentleman, Aliens, Exceeds, and others I present to you all Chapter 404: The Bad Chapter of Tartarus. We start off with a cover that honestly is better then the chapter and that all there is to say about that.
The "Review"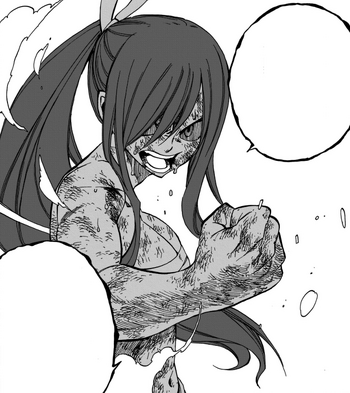 Part 1: BECAUSE I'M BATMAN..I MEAN ERZA...
We start off with Kyouka shocked that Erza is able to fight her despite losing her senses and believe me she is not the only one...I'm still trying to figure this out. Erza then gets in front of her and lands a kick, much to the characters of Fairy Tail's excitement...I say "the characters" because I'm not happy and neither is anyone else. Kyouka is still wondering how she is able to hit her when she can't see, feel, hear smell, or even sense her. Panterlily, Mr.Logic as i call him from time to time, comes out and says that perhps she is using her sixth sense or even a seventh. This I would have liked because it wouldn't be B.S.....kinda. Then Lector jumps in and says that perhaps this is a sense that kicks in when one loses their other five senses, which I also liked because that would be cool. THEN.........HAPPY HAS TO RUIN THE BUZ I WAS GETTING FROM THESE TWO EXCEED AND HAS TO SAY THE ONE THING THAT SHOULD NOT BE SAID......"IT'S BECAUSE SHE IS ERZA!!!!!!!" ..........................................................................................................what did he say? Did he really just she "It's because she is Erza?.......NOOOOOOOOOOOOOOOOOOOOOOOOOOOOOOOOOOOOOOOOOO!!!!!!!!
Erza is NOT FUCKING BATMAN!!!! ONLY HE CAN SAY THINGS LIKE THAT AND GET AWAY WITH IT.....and of all things its Happy saying it....Mr. AFRO MOTHER FUCKING HAPPY TROLL MASTER!!!!!!!!
Okay..........I think my blood pressure has gone up a bit too much so I will leave you all with a intermission while I calm down.
Intermission: One Piece and Naruto talking bout their week in the Manga World
Law: So guys we all did pretty good this week right?
Naruto: We?.....Well me and Sasuke did pretty good, BUT you man had one hell of a week.
Law: Really? I don't know why people were so shock about that reveal...its been hinted at a bit since I mentioned my knowledge of it before AND after the time skip.
Sasuke: True, but still when we saw that we were all.....DAMN.....OUR ULTIMATE FIST BUMP JUTSU pails in comparison.
Naurto: Yea....but not as much as Law's "Condition".
Law:.....Really man....your bringing up my illness right now.....
Sasuke: Low blow man...
Naruto: Sorry couldn't help it.
(For those who don't get it "pail white" a reference to the white amber illness Law had.)
BlackWizardZeref: Hey guys what did I miss...I was recovering from writing a shitty review.
Law: What review?
BWZ: Chapter 404 of FT.
Sasuke and Naruto: DAMN!!! That sucks man.
Law: No wonder you look so bad. That chapter was worse than the One Piece 5 episode filler of Rebecca fighting in that tournament that no one cared about...that or just watching the Tontatas.
BWZ: I know Law, and I'm not even done yet.
ALL: Damn man, well good luck!
BWZ: Thanks, I better get back...this intermission is starting to get long.
END OF INTERMISSION
Part 2: Minerva comes to save the day!!!!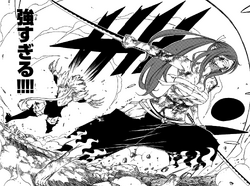 Okay, now that my blood pressure is back to normal, lets get back to this chapter. Erza is continuing her assault on Kyouka, while feeling the effects of her curse on her. Kyouka gets pissed and the timer is going down even quicker....Oh it had better not end with a 00:01 left on it or I am going to flip. Kyouka swipes at Erza and that attack alone feels like a chunk of Erza has been ripped off. That visual will look good on the anime....if they don't censor it at least....exhales Ok one rant at a time. Kyouka looks as if she is getting the upper hand, however; because Erza is Erza, she lands another blow to Kyouka, much to my disgust. Kyouka wondering if she doesn't feel pain at all and doesn't know fear realizes that she is outmatched. Erza pulls out two swords from her vag and slices Kyouka leaving 00:41 left on the timer.
THIS IS WHERE THE CHAPTER GETS GOOD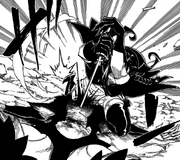 HOWEVER, Erza collapses from all of this at long last. The next page had me celebrating. What we see next is a sword about to pierce Kyouka, BUT ITS NOT ERZA.....ITS MINERVA!!!!! YES!!!!! YOU FINALLY DO SOMETHING USEFUL!!!!! YOU ARE TRYING TO SAVE THIS CHAPTER!!!!!!!!! EVEN SHE KNEW IT WAS BAD!!!!! There is just one problem: TIMES UP!!!! Face is going to activate!!!! YES!!! After all they went through....they failed!!!!!!! Bout time they fucked up!!!! From the last page it looks like Kyouka's curse wore off cause it looks like Erza's senses came back, judging from her eyes and we end this chapter with Face activating!!!!!
My Ranking....if we didn't already know
So know that I'm finally done with this chapter, its time for the rating, as well as the polls...I'll make them good, unlike this chapter. If you want to enjoy this chapter read the first page, then skip to when both fall down and continue from there.
Chapter 404: 00:00
Category
Ranking
Story
Art
Fight
B.S
Feels (Anger Feels)
Overall

The Troll Master Happy and Batman Erza

"You two have disappointed me so much today...I only can hope that Erza can just put on a maid outfit to make me feel better...and then call Lucy to do the same! This would be my Dark Lord Harem Plan"
Poll #1: Rate this chapter
What did you think of the chapter?
Poll #2: Rate My Review
What did you think of my Review/Rant?
Poll #3: Hopes on Next weeks Chapter
What do you think will happen next chapter?
Poll # 4: How much did you want to kill Happy for saying that line
How much do you want to kill Happy for saying that line?
Ad blocker interference detected!
Wikia is a free-to-use site that makes money from advertising. We have a modified experience for viewers using ad blockers

Wikia is not accessible if you've made further modifications. Remove the custom ad blocker rule(s) and the page will load as expected.