Introductions and Opinion of the Cover Page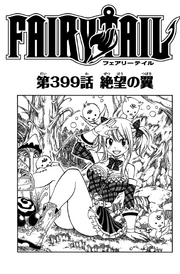 Hello all this is BlackWizardZeref here once again to write the good people of the wiki a review of Fairy Tail. I know that this is a late one, and the reason is because of college and I'm also trying to join a Frat. Yea people Zeref is trying to join a Frat. Anyways, now that I'm here I will provide all who give a damn my review of Fairy Tail Chapter 399: Wings of Despair. First off I should have seen it coming given a title like this but still it took me for surprise, but I'll talk about that later.
First off the cover page we get Lucy Heartfellia in that nice outfit doing the thing she does best: Giving fans boners!!! Dem titties, and DAT ASS!!! Lucy is love, Lucy is life!!!!. Anyway that's our girl Lucy.
Countdown to Face (again), and The Battle of the Devil Girl and The Fairy Queen
In the beggining of this chapter we once again get a countdown to Face, which was origionally supposed to go off right away as of last chapter, but I assume that was a translation error. Anyway, Erza is rockin it in that armor as she readies herself against the torturous devil Kyouka who is so hot without that helmet (she looked like Freeza's sister with it on). Erza and Kyouka clash blow for blow on each other showing that both are evenly matched against each other. Erza starts to get the upper hand as she nearly swipes Kyouka with her blade, impressing most of the spectators. Meanwille Maryjame isn't looking too good as she begins to tell everyone what happened to her and how she got there.
Attack on Tartarus, The Legion of Fangirls
About 10 minutes ago, after Lucy and the Celestial King sliced up Alegria (still awesome by the way Lucy FTW), Mira is welcomed by Elfman, Lissanna, Warren Jet, and Droy who proclaim that there is an enemy in front of them.
OMG NOOOOOO IT CAN'T BE!!! IT COULDN'T BE!! OH GOD IT IS!!! IT'S THE ARMY OF FANGIRLS!!! NO WORSE, IT'S AN ARMY OF LAMY!!!!!!!! NOOOOOOOOOOOOOOOOOOOOOOOOOOOOOOOOOOOOO!!!!!!!!!
It seems Mashima is trolling us right now since I thought we saw the last of this bitch, but I guess not! In the Crowd of Lamies Mira spots Sayla and decides to pursue her while the others face the Legion of Lamy. Lissanna is lookin good in that cat outfit. It seems Mashima has a thing for cats. Meow. Also ( I can't let this get away) Lamy is askin Warren if there are any hunks in his guild and he's all "Bitch look in front of you" Hahaha yea...NO just NO forever!!!!!
Mira is all "they will do fine" while Happy is all "Bitch DO NOT get your hopes up. They be fodder....the kind that just sticks around.....like Ten-Ten and Kiba from Naruto." Anyways Kyouka is enjoying her fight with Erza as she proclaims that she is like them, and all of the sudden a loud roar interrupts them both as they are in shock wondering what that was. Lookin on Kyouka's face I think she knows what it is. Minerva, and the other are also wondering what that sound is and where or who its coming from.
Roars of the Past, The Return of the King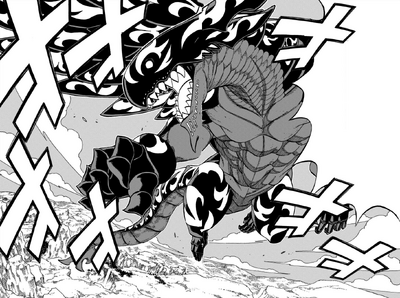 Doranbolt and Wendy show up again, and Doranbolt looks like he's about to drop from Exhaustion. Poor guy. Carla states the obvious by saying that Alegria was destroyed....yeah we know that....about 10 chapters ago. Wendy suddenly collapses as she also hears the sound who looks like she is in a feetile position. Meanwhille, Juvia is looking for Gray....again and Gajeel gives Levi Tmpesta's blood so we can get Laxus back into action. Natsu is sitting by himself and Gajeel thinks its because of Gray's power-up, but then we see the unthinkable: Natsu trembling as he asks Gajeel if he hears THAT VOICE!!!!!! NATSU'S PANICKING THIS RARELY HAPPENS!!!! OH GOD WHO IS THIS VOICE?!?! Gajeel also listens and hears it as well, giving off the same reaction as Natsu. Hell even Mard Geer hears it and is all "oh shit didn't think I'd hear this guy so soon". He also claims if this voice is here because of END, or if he is following Zeref. OH GOD THIS COULD ONLY BE ONE INDIVIDUAL!!!!! All of there fears, and our excitement are all confirmed as we get that panel of...........wait for it.............ACNOLOGIA!!!!!!!!! YESSSSSSS!!!!!!!! YESSSSSSSS!!!!!!!!
Extra:THERE'S MORE
BUT WAIT THERE IS MORE!!!!! ON THE LAST PAGE WE GET A PANEL OF EVERYONES FAVORITE DRAGON.....REAL DRAGON, NOT ARTIFICIALLY MADE DRAGON; IGNEEL!!!!!! YESSSSSSS!!!!! He shows up and says "It looks like the time has come"!!!! OMG!!!! THIS IS A POTENTIAL IGNEEL VS ACNOLOGIA BATTLE COMING IN CH.400!!!!!! IF SO THIS WILL BE THE BEST ARC EVER HANDS DOWN!!!! NO.....WE NEED GILDARTS, THEN IT WILL BE THE BEST ARC EVER!!!!!!
The END, Polls, Rating, etc....
So thats my review, here is my rating, and holy shit I cannot wait till next week!!!!! FT Forever!!!!!
Chapter 399: Wings of Despair
Category
Ranking
Story
Art
Fight
B.S
Feels (in this case Excited Feels)
Overall

The Two Kings

"On the left we see the King of Despair, on the right we see the King of Hope"
What did you think of this chapter?
What did you think of Acnologia Returning?
What about Igneel's apperance?
Do you think that Warren is FT hunk material? (This is a joke poll)
One Extra Poll....until the next section
I just wanted to add this final poll and see how people respond
Does anyone agree that Lucy is Love, Lucy is Life?
Bonus Post: Similarities Between Two Great Masterpieces
Ok this is an extra segment of this post that I would like to address to you all. I think it was near or at the start of the Tartarus Arc, I had a convo through one of the reviews with FairyTailGrandMaster, and it was about how Rave Master and Fairy Tail felt so similar regarding......well everything, but one thing we noticed was that Fairy Tail felt like it was following a pattern of Rave Master, and that was it's arcs. Me and FTGM disscussed what arc would Fairy Tail be if one looked at in in a Rave point of view. We both concluded that it was in the Blue Guardian and Hardner Arc area.
In this arc, several powerful individuals a part of a very powerful group show up, and the leader plans to get ultimate power by activating a device. In this Fairy Tail Arc, a powerful dark guild shows up who is trying to activate a powerful device. The reason I'm postingthis is because of what happens in this chapter. In this chapter Acnologia, one of if not the most powerful enemies to humanity suddenly appears. In Rave Master, in that arc I talked about earlier, near the end of that arc we get the sudden appearance of their most powerful enemy to humanity, Endless. See the resemblance?
I'm laughing right now that our guess was more or less accurate which means that Fairy Tail may be ending in about 2-3 years if it follows this plan. All that's left is a Protagonist obtains full power arc, in this case compare Haru getting full Rave power in the cost of Shiba's life, while I theorize Natsu getting full Dragon Force Power through the means of having to be forced (like Haru) to kill their mentor (for haru it was Shiba) in Natsu's case Igneel. I feel that this was why the whole "Dragon Slayers get stronger through the bloodshed of other dragons" thing originated. It sets up Ntsu's ultimate decision to kill his father for the means to defeat his foes.
If that's the case, then we also need a Past Arc where Natsu and gang (I hope for Lucy, Wendy, and Gajeel) to go to the 400 year past, in order to fin out the truth behind Zeref and Natsu, as well as Acnologia's True Identity (who I theorize to be the shadows of Rogue that travels to the past after corrupting him). After that we can get our Final Arc of Natsu and World vs Zeref and Acnologia. I know I forgot to talk about END but I don't know where that's going to go so I'll leave that one in the air. Anyway hope you enjoyed this, Bye.
What do you think about this?
Ad blocker interference detected!
Wikia is a free-to-use site that makes money from advertising. We have a modified experience for viewers using ad blockers

Wikia is not accessible if you've made further modifications. Remove the custom ad blocker rule(s) and the page will load as expected.