Intro+Cover
Hello FT Wikia users, this is BlackWizardZeref here, and though I know there are several blogs about this chapter already, I am here to review chapter 396 of Fairy Tail. For the most part I liked the cover. Not to much, just a simple picture of Levy.....which makes one realize that she will make an appearance in this chapter. Anyways on to the chapter!!!
Torafusa has had enough, THIS IS TARTARUS!!!!!
We first see Natsu and Gajeel after they both punched each other, to everyone's surprise including myself (I can't believe that actually happened last week). I just loved how Lucy was just face palming herself thinking "really guys, really?" And then in the next panel she actually did say that as they are about to fight each other instead of the demons of Tartarus. Juvia is also there mumuring "Love rival".....really girl...right now you're doing this?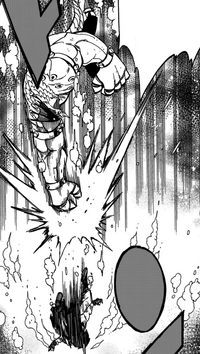 Torafusa seems to have had enough as he prepares to drown everyone in his "Deep Seas of Hades" technique. Water comes out everywhere drowning everyone, including Levy who just happened to be in the area....didn't I tell you she was going to show up. Having her "Gajeel senses" tingling she thinks she hears Gajeel's voice and is on the way for rescue. Meanwhile, everyone is running out of air......wait now I get why its called "Air"....anyway, everyone is running out of air Natsu is shocked that his Fire Magic isn't working in the water...."Really bro? You are surprised your fire attacks aren't working in water?". Torafusa starts attacking them all on some Kisame shit and Gajeel tells Natsu to get the women out of here. Unfortionately they are all dead....I mean unconscious so its up to Gajeel. Apparently it takes 5 minutes for the poisons in the water to kill its victims so Gajeel has 5 minutes to beat Torafusa. Torafusa uses his "Deep Impact" attack on Gajeel which seems effective. Gajeel, seeing no way to match his speed, tries using his shadows to attack him which is effective at first, but Kisame...I mean Torafusa turns around and punches him and as he prepares to hit him again he goes on some 300 Spartacus shit and goes "THIS IS TARTARUS!!!!" knocking off his metal brace that is keeping Gajeel from swallowing the water.
GAJEEL X LEVY CONFIRMED? HELL YES!!!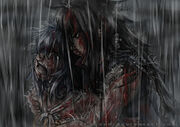 Gajeel is unable to take it anymore as he is gasping for air and is now wondering if he is going to die. He sees a light and he sees......his father.....no just kidding he sees Levy and she gives him CPR AKA she is kissing him!!!!! YES!!!!! About damn time!!!! Gajeel now has air in his lungs but unfortunately Levy does not so she is floating down towards Torafusa who is ready to beat a bitch. Gajeel sees that and punches him while saying "HANDS OFF!!!" No one can touch Gajeel's Girl. Nobody!!!
Next Chapter "Steel"
The End......... Rating and Polls Time
Now that I am done with the chapter all I can say is " Hiro you had better not be trolling us!!!!!!!" Anyway here is my rating:
Chapter 396: Air Ranking Table
Category
Ranking
Story
Art
Fight
B.S
Feels (in this case Excited Feels)
Overall

Words and Steel

"Your breath is what keeps me living, your words are what keep me strong"
Hope you all enjoyed this review!!! Now on to the Polls!!!!!!
DAT GAJEEL X LEVY SCENE!!!!
Torafusa being Kisame's brother from another manga?
Ad blocker interference detected!
Wikia is a free-to-use site that makes money from advertising. We have a modified experience for viewers using ad blockers

Wikia is not accessible if you've made further modifications. Remove the custom ad blocker rule(s) and the page will load as expected.