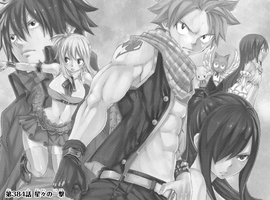 Introductions and Cover
Hello everyone it's BlackWizardZeref here to bring you all another review. I was hesitant at first due to all of the other reviews already posted, but after seeing only 1 or 2 are actual reviews while the rest are 2-3 lines (not offending the others by the way) I decided to get into the game. The reason why I'm late is because its Finals Week at my school and they have been killing me. Now enough with my life lets get down to the chapter that made me feel today!! Now as for the cover as well as the color page, I'm greatly impressed with the artwork and everything. Now that that is out of the way I can now review the chapter.
Pain, Torture, and Delight
We start off the chapter with Aquarius jumping into action and using her signature water attack to wash away the members of Tartarus. At first it is going well, until we see Torafusa swimming in the current and then slices Aquarius. Now free from the water, Jackal goes and takes down Virgo and Loke. Now with Aquarius bleeding in a corner and with no one left to protect the now weakened Lucy, she is at the mercy of the three demons. Jackal being his sadistic self, wants to torture slowly, while Torafusa wants to simply kill her as they were told. Jackal gets pissed at him, and Torafusa ends up leaving.
Lucy desperately tries to get away, however Jackal uses his Explosion Curse to wound her leg, leaving her unable to move. Lammy, being just as weird as usual, wants to see Jackal blow up Lucy's tits, which results in him killing Lammy. THANK YOU JACKAL!!!!
Sacrifices and Tears: Her name was Aquarius
Now that Lammy the useless is finally dead, Jackal procedes to torture Lucy when suddenly Natsu comes out of nowhere to save her........I had you didn't I. No Just Kidding, Aquarius goes in to protect her Master and uses her water to trap Jackal and keep him from hurting Lucy. Realizing that this won't beat him, Aquarius tells Lucy of the only thing that can defeat them all and ensure victory for Fairy Tail: SUMMONING THE CELESTIAL KING!!!!!!!
Realizing that she doesn't have his key, Aquarius informs her that he can only be summoned by a specific way: Sacrificing a Golden Key!! The only true way for the Celestial King to be summoned is for the user to have a strong bond with the spirit and that it has to be a Golden Key.
Realizing what this means, Lucy immediately refuses saying that she wouldn't ever sacrifice any of her keys only for Aquarius to tell her to use her key. Shocked and saddened by her reply, she continues to argue with Aquarius saying that she can't sacrifice her since she was her first friend and first spirit and that she values her so much like her other spirits. Aquarius responds with a "hateful" remark saying that she never liked her, but Lucy doesn't care because she loved her. As Jackal begins to get free from the water and attempts to prepare an attack, Lucy in the end sacrifices her key and summons the Celestial King, but not before we see Aquarius have flashbacks of her and Lucy and her having a tearful farewell to her Master and Friend!!!!!
The Battle of Kings: Underworld vs Spirit World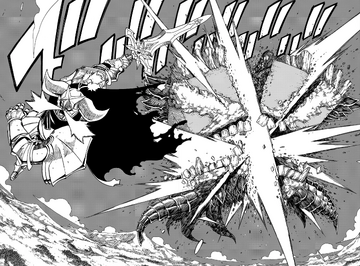 OMFG! The Celestial King appears from the heavens like Jesus and shoots through the Plutogrim and then slices it up reducing it to a pile of shit. We get the other Demons concerned wondering what the hell happened only to get that epic scene of The Celestial King destroying The Plutogrim. Epic as hell!!!! The next scene we get Lucy crying over the loss of Aquarius as well as Jackal pissed off wondering what she did. In the final page we get Mard Guile and The Celestial King in an Epic Stare-Off acknowledging each other and calling the other by name. OMG Spirit King vs Demon King!!! Epicness!!!! Also it seems like they know each other!!!! How?
Final Verdict and Polls
Chapter 382 Ranking Table
Category
Ranking
Story
Art
Fight
B.S
Sadness
Overall

Tribute to Aquarius: She sacrificed herself for our Lucy

Aquarius Forever
Dem Feels for Aquarius and Lucy.
The Celestial King vs The Demon King. Who will win?
Ad blocker interference detected!
Wikia is a free-to-use site that makes money from advertising. We have a modified experience for viewers using ad blockers

Wikia is not accessible if you've made further modifications. Remove the custom ad blocker rule(s) and the page will load as expected.