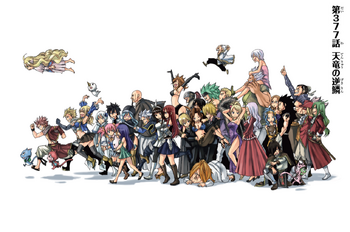 Introduction
Hello Wikia World, I am BlackWizardZeref, and I'm here today to bring forth a double review of Chapters 377 and 378. Both Chapters revolve around Wendy's fight with Ezel and her attempts to stop Face from activating. It's a good day when characters such as Wendy are given their time to shine, and it gives me hope that one day, Lucy will get that chance as well. Anyways, on with the review:
Wrath of a Sky Maiden, Wrath of the Bladed Demon
This chapter begins with a color page of Wendy with pink hair getting herself ready for her fight with Ezel. Am I the only one wondering why her hair is pink? I guess Super Sayain's are going pink nowadays! I thought only Vegeta had the right to pull off the pink look. Anyways Wendy claims the area as her space, and lets forth her wind attacks on Ezel, who takes it like a champ and prepares to counter attack, however; Wendy leaps into the air and attacks Ezel from behind! Way to take a hard one from behind Ezel!! Anyways Ezel is getting pissed off, seeing Wendy get the upper hand against him and yet also intrigued. The timer is counting down to 4:25 so Wendy begins to take her focus towards Face. Seeing that they don't have much time Wendy decides to finish it with one attack called "Dragon Slaying Technique: Shouha-Tenkuusen" (that is the translation I got anyway), however; Ezel decides to act serious and deflects it, or in his words "cut through it", with an ability of his called "New Moon". Now in his Slayer Mode, Ezel is ready to kill Wendy and stop her from destroying Face. With 3:43 left on Face, Wendy reclaims her statement of how "She rules over this space" and prepares one more attack, by gathering all the wind around her and unleashes it not only on Ezel, but on Face as well.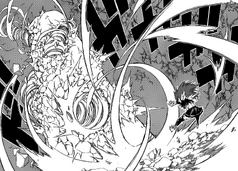 Wendy uses Gust, Face is Unaffected
After defeating both Ezel and landing a blow onto Face, it appears that Wendy has succeeded in destroying Face and saving the Magic World (Fiore).
However, Face's countdown is still going!!!!!!!!!
Shocked, as were we all, Wendy and Carla wonder why Face's countdown is still going even though it was destroyed. Face begins to activate as Wendy is down with no Magic left, and we even get a panel of the Rapist Franmalth saying that We (Magic Users) Are Screwed, and that our Era is Over!!!!
To Be Continued........
Ranking:Chapter 377:
Story:










Art:










Degree of Bullshit:





Action:










Overall:











Intermission: A word from Bleach, One Piece and Naruto? Three Manga's have become One!
The Sage: "Hmmmm. Interesting. So it was all for nothing, and Face is going to activate anyway."
Naruto: "What the hell? Even though it was destroyed why didn't it go off? More importantly, how did we get here? This isn't even our world!
Captain Zaraki: "Because the reviewer, Lord BWZ, allows it"!!
Naruto: "Zaraki?!? From Bleach?!? How'd you get here?"
Curos: The same way I, the Legendary Curos, got here!!
Naruto: AHHHHH!!! NOW ONE PIECE!!! WHAT THE HELL, I'M CONFUSED!!!
The Sage: Fret not, Naruto, for it matters not. In this world, all things can exist, and when all thing exist, the walls of other worlds meld together, and...
Naruto: I DON'T UNDERSTAND WHAT YOU ARE SAYING!!! DIDN'T WE HAVE THIS CONVERSATING IN OUR CHAPTER?
Curos, and Zaraki: SHUT THE HELL UP YOU, DAMN BRAT!!!
The Sage:.....hmm. Anyways I believe it is time Lord BWZ got back to the review!
END OF INTERMIISSION
Friendship between a Cat and a Girl, and The Ultimate Decision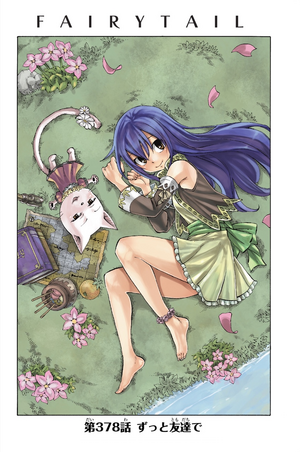 Now, back to Fairy Tail. We last left our heroes Wendy and Carla destroying Face, however; the countdown was not stopped. Not knowing how to stop it how will our favorite loli and our least favorite cat get out of this?
We go to Natsu and Franmalth's fight, were they are talking instead of fighting stating that in 3 minutes, Face will wipe out all magic! Meanwhile Gray is trying to fight Keith, however; he is having trouble actually hitting him. Elsewhere Saylia is still chucking books at Mirajane, and Mirajane still can't beat her!! Seriously, Mira what the hell? It's just books! Are demon books more tough than regular books? Also Lammy latches herself onto Lissanna and declares that she will fight her. Yeah this is what we need a useless fight of two useless characters. -___- Also Erza and Kyouka are still fighting, when Kyouka declares that its almost over for humans.
Now back to Wendy, who is crying at the fact that she couldn't stop Face, however; Carla has been "searching" through possible futures to see if Face could be stopped. I guess seeing into the future is like the Internet. Type in Face and Prevent and see what comes up!! Carla has come up with one way, however; there is a risk! Press a botton and Face will be stopped, but the explosion with take their lives as well. With time ticking and with both characters out of magic and out of time, Wendy decides to stay behind with Carla, despite her protest, and die with her. Sob. After both friends embrace each other, and reminiscing through all of their memories, Carla presses the button and Face explodes and both Wendy and Carla die.
BWZ: NOOOO! WENDY, and now that she made a heroic sacrifice, CARLA!!! You will be remembered. If only there was someone who could have saved you. Like God. Like Jesus. Like.............
DORANBOLT!!!!!!!!!!
In the Last Second, Doranbolt teleported to Wendy and Carla, and saved them both. Good thing that Doranbolt has the Mythical Ability: Pedo-Mode!!! Its's the only ability that can sense loli's in distress, and allows them to go to wherever that loli is and save them!!
Ranking: Chapter 378:
Story:










Art:










Degree of Bullshit:





Feels:











Action:










Overall:













End of Chapter, Rise of the Polls
So that's it everyone. That was Chapter 377, and 378. What did you think? Should something different have happened? Above, I have my rankings for the chapters, and below I have some polls since everyone loves those! Also judging by the title of Next Chapter, it sounds like we are either getting back to Franmalth, or "Tartarus Arc Part 3: King of Hades" stands for E.N.D Showing UP!!!!!!
What did you think of Ezel's Slayer Mode?
What did everyone think about Face still activating even though it was destroyed?
DEM FEELS FOR WENDY AND CARLA. HOW MANY HAD FEELS FOR THEM?
Thumbs up for Doranbolt and his Pedo-Mode ability to sense Wendy in trouble. Who is happy that Pedobolt showed up?
Judging by the title, "Tartarus Arc Part 3: King of Hades", who thinks that next Chapter, we may be seeing E.ND?
Ad blocker interference detected!
Wikia is a free-to-use site that makes money from advertising. We have a modified experience for viewers using ad blockers

Wikia is not accessible if you've made further modifications. Remove the custom ad blocker rule(s) and the page will load as expected.