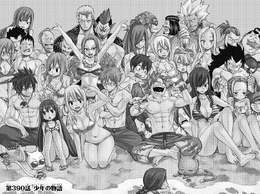 Introduction
Hello Everyone!!! After a 1+ month hiatus The BlackWizardZeref is back once again. I know there are a few reviews out already but after reading this chapter I just had to write a review for it. This chapter from beginning to end was simply wonderful. I think I'm beginning to understand how Hiro Mashima works: every XX0 chapter is the chapter where either something awesome happens or the most amount of work is put into it. Examples would be Chap 340 with that Mavis/Zeref moment, Chap 380 where Mard Geer is revealed or Chap 250 where Zeref shows off his Dark Magic by killing Hades. Anyways I guess it's time to get to the review.
Star Wars X Fairy Tail Crossover
We start off the chapter with a beautiful cover page showing Gray's past where his home town was destroyed and his friends, his mother, and his father were killed by Deliora. Silver, looking exactly like his father pulls a Darth Vader and tells Gray that he is his father. NOOOOOOOOO!!!!!!!!! Silver denies this saying that his father was killed years ago, but Silver reveals that he is Silver Fullbuster, his Father!!! NOOOO!!!! Furious, Gray attacks Silver proclaiming that what he says is a lie, however none of his attacks affected him. Refusing to believe that the man in front of him is his father, Gray continues to proclaim that he isn't his father, which results in Silver laughing at him saying that this is exactly how he thought he'd react. Silver then reveals that while his father is still alive, he himself is something completely different. To be more precise, he is something that is destined to fight Gray specifically.
http://i101.photobucket.com/albums/m71/egeorgiades93/IamyourfatherFairyTailStyle_zpsaa752493.gif
Fights of Less Importance
Meanwhile on a different battlefield, we go back to Natsu, Gajeel, and Juvia who are still fighting Keith, Torafusa, and Tempesta. Nothing to interesting is happening in these fights as little progress has happened since the last time we all saw it. During all of the fights, Juvia gets a bad feeling regarding Gray and wonders how he is doing. Also Lucy seeing her friends struggle against the demons attempts to get up to help in the fight, with Natsu telling her to sit back and enjoy the show.
We then go back to the battle of Sting and Rogue vs Mard Geer who effortlessly beat him.......just kidding they barely have done anything to him. Mard Geer is still not taking them seriously but at the same time begins to understand why Kyouka is intrigued with human, since they fight with their feelings and fight regardless of how hopeless the situation is.
We then go to Erza and Minerva who are looking for the control room when suddenly Kyouka comes out and challenges them both.......OH I WISH.... No instead we get the cats. While Frosh and Lector are commenting on Happy's new accessory Minerva approaches Happy and rips it off. Shocked, Happy wonders why, but Minerva reveals that it is Franmalth and figures that he knows where their destination is. Did anyone else feel that it looked like Minerva was holding a dick in that one panel?
Destined Rivals, The Return of Pasts Despair
We now go back to Gray vs Silver where Gray asks what Silver meant by destined to fight. Silver then says that he will tell his story starting with how he got this body. He reveals that the body he sees now is only a vessel for the true demon that is inside of Grays father. Apparently it was a body found by this demon and since having a demon body can be inconvenient at times, they sometimes need a human body as a means of camouflage. When having to choose what body he wanted to use, he found Gray's father and has been using it since. Originally feeling that it was convenient, he sees it was fate since it was something that drew them even closer to one another.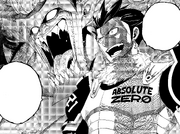 Silver then proclaims that he has been waiting for this moment for many years, while Gray wonders why he despises him. He then tells Gray something that make Gray realize who the demon is, "I've been wanting to kill all of Ur's pupils, after all its been more then 10 years". Gray then is awestruck in shock as "Silver" reveals that he is none other than Deliora, the demon that is the source of Gray's despair. Seeing Deliora die years ago, Gray proclaims that its impossible, but due to Hell's Core, Deliora was revived inside of Gray's fathers body. Deliora then tells him to not make him prove himself by showing him his true form, "the form I had when I slaughtered both your parents"-Deliora. We go back to Juvia and Keith where Keith says that Gray's fate is sealed and that his life will end, angering Juvia. Keith even goes as far as to say that Gray's fate will be the same as his Master's.
The End, Rankings, and Polls (everyone's favorite)
This chapter was amazing. I was going insane when Silver reveals himself to be Deliora. I did not see that coming. Looks like Hiro is pulling a Kishimoto of Plot twists. Great chapter, I wonder who will win. Part of me wants this to be a round 1 fight where Gray is near death and Deliora leaves him to suffer while he proclaims that he will kill him another day and by another day, I mean the final arc where Zeref is the final boss and Natsu is fighting Zeref, while Gray can have his final battle with the source of his suffering and despair, Deliora. That would be cool. Anyways I'll put up the rankings and polls now. I'm BWZ and as always keep reading Fairy Tail.
Chapter 390 Ranking Table
Category
Ranking
Story
Art
Fight
B.S
Feels (in this case Excited Feels)
Overall

Despair and Hope

Vengence of the Fallen and Vengence of the Suffering
Were you surprised that Silver was really Deliora?
Will Gray die or will he avenge the death of his loved ones?
Ad blocker interference detected!
Wikia is a free-to-use site that makes money from advertising. We have a modified experience for viewers using ad blockers

Wikia is not accessible if you've made further modifications. Remove the custom ad blocker rule(s) and the page will load as expected.