Introductions
Hello Wiki Users I am BlackWizardZeref, or BWZ for short. This will be my second time doing a chapter review since it appears that no one has made one for Chapter 376 yet. I know that I'm not Mega, Raven or any of the other usual reviewers, so I hope that you all like this one.
The Cover and Countdown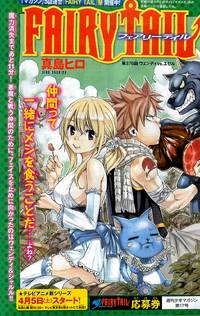 Overall, I got to say Hiro has done himself good with this color cover page for the chapter. I like the whole Natsu and Lucy thing so I give the cover a A. Now as the chapter begins, we are given the usual Fairy Tail Intro where we are given a brief description of what is happening. Right now Fairy Tail has 11 minutes until Face activates and the whole continent loses its magic. Natsu and Fran are still fighting and Fran is giving everyone his Hades/Rapist face telling everyone that time is almost up and that the "Era of wizards has come to an end". Honestly, I can't take him seriously with that "Rapist Clown" look of his. Lucy, concerned that Face is going to go off and equally worried about the others since they are all still fighting prays that Wendy is almost at Face and about to deactivate it in time. We also get a optimistic Happy saying that they will do it since Carla is there. Big wop. No one cares about the female cat. She lost her fandom (if it existed) after her "prediction" were seen as useless.
The Cave, and the Encounter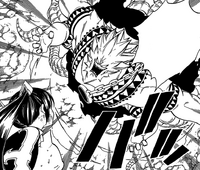 Meanwhile at the Cave of Dokujelly Valley, or whatever its called, Wendy and Carla are wondering around wondering how they are going to find Face, noting that they do not even know what it looks like. Wendy starts talking about how they should concentrate and that the air is good here, when suddenly Ezel is shown in the next panel. Curing Kyouka's name to himself, Ezel is pissed that he has to fight a child, however; proceeds to do so anyway. Wendy, realizing that he was likely the one to activate Face, gets herself prepared for the assault of Ezel. Realizing that she doesn't have time to deal with Ezel, she uses her enhancing magic to boost her stats and attempts to escape from Ezel, using her Dragon Roar as the Ice Breaker. Ezel, unfaced by her attack gets ready to attack her again, but Wendy kicks him in the face,however; that also does nothing (damn I guess Wendy hasn't mastered the "Lucy Kick" yet). Wendy, unable to dodge Ezel's Onimaru, or whatever the translation for the attack is, is bested by the tentacled beast known as Ezel.
Intermission: A word from our Naruto
Madara: Hm so this chapter of Fairy Tail is looking pretty decent so far.
Guy: Yes. It is, but our fight blows this one away!
Madara: Oh yes definitely.
Naruto: Hold on, this fight is going to get better, just watch.
Madara and Guy: How do you know?
Naruto: Because I read the whole thing already, Wendy.....
Kakashi: NOOOOOOOO. NO SPOILERS! I HAVEN'T READ THE END YET! DON'T SPOIL IT LIKE MY LAST BOOK, ICHA ICHA TACTICS!
Guy: Alright already, my rival. Anyway lets get on with the chapter.
A "Catsized" Snack, and The Birth of the True Sky Maiden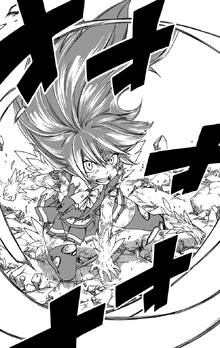 Back to the chapter, Ezel is being all beast taking Wendy down and, feeling so cocky, shows them Face. Realizing that they only have a few minutes left, Wendy tries to find a way out but to no anvil. Ezel, getting ready to finish off Wendy, is interrupted by our savior, Jella.......I mean Gildar......I mean Carla. Ezel grabs her and gets ready to eat Carla. Happy is not going to like this! Anyway Wendy begging Ezel to stop notices that there is alot of Etherno in the air and decides to "pull a Natsu" and eats the Etherno infused air. The next panel we see is Wendy knocking Ezel off of her and Ezel shocked of the rapid increase of her power. The last panel is something we have all been waiting to see: WENDY IN DRAGON FORCE MODE!!!!!!!!!
The End, The Ranks, and The Polls
Alright everyone that's the end of my review. Hope everyone liked it. Can't wait to see this in the new anime!
Ranking:
Story:










Art:










Degree of Bullshit:





Action:










Overall:










Polls:
Does everyone agree that Fran looks like a Rapist Clown?
How awesome is Wendy's Dragon Force Mode?
Who will win in the Ultimate Showdown of Wendy vs Ezel?
Ad blocker interference detected!
Wikia is a free-to-use site that makes money from advertising. We have a modified experience for viewers using ad blockers

Wikia is not accessible if you've made further modifications. Remove the custom ad blocker rule(s) and the page will load as expected.