There's going to be a third OVA! I'm so excited!! I'll search ever crook and canny in the internet to find it!
Oh boy! Oh boy! Oh boy!
Memory Days ( メモリーデイズ ; Memorī Daizu )
Information: Air Date: February 17, 2012 OVA: 3 Memory Days is the third OVA for the Fairy Tail series by Hiro Mashima. It is bundled along with the Special Edition of Volume 31 of the Manga and was first released on February 17, 2012.
Preview: "Natsu's Secret" is going to be revealed in the "Past World"?! Guided by a "magic book" that's lying in the Guild's storage room, Natsu, Lucy, Happy, Gray, and Erza has traveled back into the past!! Got a feeling that there will be a big uproar the moment they encounter their past selves and their companions!! Will Natsu and them return to their own world safely?
This just screams awesome! If you guys found the link, tell me A.S.A.P.!
Aaaaaaaah! Can't wait! Yay, Fairy Tail!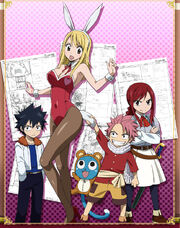 Ad blocker interference detected!
Wikia is a free-to-use site that makes money from advertising. We have a modified experience for viewers using ad blockers

Wikia is not accessible if you've made further modifications. Remove the custom ad blocker rule(s) and the page will load as expected.