Ultraprime2/Fanon
Talk

0
2,756pages on
this wiki
| | This article is Fanon and is not considered canon. |
| --- | --- |
"Go ahead, build all the walls you want. It won't stop me. I'll tear 'em all down and throw the rubble at you. "

— Garrett Lindwall to the world upon beginning his trek in
The Disintegration
Garrett Lindwall
Kanji

ギャレット・リンドウォール

Rōmaji

Gyaretto Rindououru

Alias

Casanova

Characteristics

Race

Human

Gender

Male

Age

19

Height

188cm

Weight

61kg

Birthday

February 21st

Hair Color

Blonde

Eye Color

Green

Blood Type

O+ve

Professional Status

Affiliation

Independent

Previous Affiliation

None

Guild Mark Location

None

Occupation

Freelance Mage

Previous Occupation

Chef
Escort

Team

None

Previous Team

None

Partner(s)

None

Previous Partner(s)

None

Base of Operations

None

Personal Status

Status

Active

Relative(s)

None

Magic

Magic

Overdrive (Primary)
Lightning Magic
Darkness Magic
Water Magic

Portrayal

Japanese Voice
English Voice
Appearance
Edit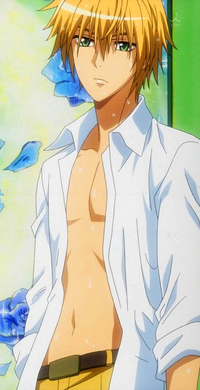 Garrett Lindwall is a blonde, moderately muscular teenager standing comparatively taller than the average male. He has dark green eyes and a visible laceration on the back of his right elbow. His well-defined features often attract the attention and interest of girls he encounters on his travels, many fawning over him.

While he does not consistently wear the same thing, his most common outfit appears to be a pair of black jeans and a white full-sleeved shirt. Garrett's wardrobe in general seems to consist of t-shirts, jeans, hooded sweatshirts, trousers and formal shirts, all in various colors. He also owns a number of fancy suits which he keeps in the event of an invitation to a high-class event.
Personality
Edit
Garrett is generally very calm and reserved, preferring to only go into conversation if the situation demands it. Such attitude allows him to carefully analyze his surroundings and situations and determine the best course of action. His battle strategies have garnered him many victories, allowing him to be reasonably confident in his magic ability.
In the past, Garrett showed no interest in actual romance with girls, being more interested in hiding his salami stick. It was partly for this reason that he took a job as an escort, as it would've connected him with a great deal of attractive women. While working as an escort, Garrett often attracted many girls to his profile and had supposedly been with many of them.
However, his attitude towards romance changed after meeting Sienna, who captivated him and changed his attitude towards women. The two of them soon became an item and Garrett left his job as an escort for her peace of mind. Upon discovering Sienna's capture by the dark guild Black Countess, Garrett flew into an angry rage and completely abandoned his calm persona, determined to rescue her at any cost.
Garrett also has a strong sense of duty and will do anything necessary to pay back someone that he is indebted to. After the events surrounding the destruction of Black Countess, Garrett felt he could not get on with his life until he had paid back Crime Sorcière for rescuing him. Though they stated they were only fulfilling their mission to destroy dark guilds and that Garrett owed them nothing, he insisted on, at the very least, accompanying them on their next mission, which they allowed.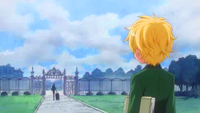 When he was only 13 years old, Garrett's mother planned to abandon the family due to her depressed mental state. Despite the pleas of Garrett and his father, the woman made the choice to leave her family and disappear. However, as she was about to exit the gate, Garrett ran after and grabbed onto her, unintentionally giving her a severe electric shock, alerting all present that Garrett was a Mage. As a result of the electrocution, Garrett's mother ended up with heavy injuries to her nervous system and became paraplegic from the waist down. As a result, Garrett's father threw him out of their house and into the streets.
Despite being on the streets, Garrett found himself more and more interested in developing the Magic skills he knew he had. His nights were often spent in abandoned areas of the city, training the basic forms of magic which he found knowledge of. Eventually, after overhearing some passing Mages, he came across a type of Magic known as 'Overdrive' which was said to be incredibly difficult to master but very powerful if one was able to.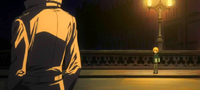 While travelling and practicing Magic, for a long time, Garrett was travelling Fiore on foot, with no way to provide for himself. After a period of being unable to find either food or shelter, Garrett was found by the owner of an escort service who recognized his potential and offered him a job working with him. All Garrett would have to do would be to take the girls who came and go with them to their events, after which he could do as he wished, so long as he had their consent.
For one year, Garrett worked and did as his boss wished, taking on female clients of his own age at a rapid pace. With his dashing good looks, suave appearance and quick wit, Garrett ended up planting his flag numerous times during his work. His reputation even started bringing in more business for the company. During this time, Garrett also underwent a clear physical change, growing considerably taller with more defined features.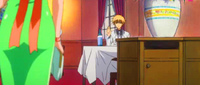 It was one night that initially seemed like any other than Garrett's life changed. He had been hired by a client to escort them to a dinner followed by a high-class dance and was told by his boss to meet his client, a girl named Sienna Vega, at a restaurant. As he waited, wondering what his game plan should be, Garrett spotted the girl and signaled her. For a while, the two appeared to get along well and conversed.
However, the moment Garrett attempted his usual tactics to score women, Sienna showed a look of disappointment. Without any effort, Sienna managed to recognize and analyze every aspect of Garrett's personality, including his exploits and goals with the opposite sex. Though Garrett tried to reason that he simply did what came naturally, Sienna struck down all his words with profoundly insightful arguments, leaving him dumbfounded and unable to argue with her to the point that he began considering whether he was really a bad person. In the end, Sienna left Garrett at the restaurant, deciding not to go any further with their arrangement.
Months passed as Garrett began taking fewer and fewer jobs at the business, sleeping with none of his clients and thus leaving more for his coworkers. Within a matter of time, he had grown disillusioned with his work and took on very few clients. Due to his increasingly sullen attitude, Garrett soon stopped taking jobs altogether and simply began spending his time wandering around Fiore.
Macao arc
Edit
During one of his trips into Hargeon Town, Garrett heard word of a famous Mage known as Salamander who had recently arrived in town. Interested in seeing his magic, Garrett headed to where the crowds flocked around a blue haired, middle aged man who was demonstrating his Fire Magic. Garrett looked around and noticed that despite the Mages mediocre magic, the female audience appeared to be completely infatuated with him. One thing in particular that struck Garrett was seeing Sienna Vega as one of the girls fawning over Salamander. After the arrival of a pink haired boy, Salamander soon took off. However, Garrett noticed that Sienna's behavior hadn't changed, making him realize something was very wrong.
For hours, Garrett followed Sienna around town attempting to convince her that
Salamander
was bad news.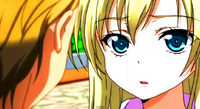 Her reactions to his words were emotionally cold and distant, insisting that he knew nothing of other peoples feelings and that he was jealous because Salamander had so many girls fawning over him. Garrett insisted that she was wrong and he did understand and knew that her feelings for Salamander were not real but that his feelings for her were real. Garrett's words shocked Sienna, effectively breaking Salamander's spell that he'd cast on her and causing her to cry on Garrett's shoulder.
Tower of Heaven arc
Edit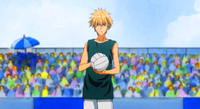 After their encounters with the unsual Mages of Fairy Tail, Garrett decides to take Sienna to Akane Resort for a vacation and get away from work for some time, which she cheerfully agrees to. The two reach the resort and enjoy their time together, playing in the water and simply sunbathing. However, upon learning that Sienna has never played any real sports, Garrett offers to give her a crash course in beach volleyball. Despite her attempts, Sienna struggles to understand the game, which Garrett finds amusement in, making no effort to hide said fact.
Magic and Abilities
Edit
Expert Hand to Hand Combatant: Garrett is highly skilled in hand to hand combat, capable of fighting equally with Jellal Fernandes in a friendly, no-magic sparring session for a considerable amount of time, which Ultear Milkovich noted to be no easy feat.
Enhanced Reflexes: Even without the use of his magic, Garrett has proved to be quite nimble and quick, able to evade or block punches and kicks aimed at him with incredible speed, in addition to having a great deal of agility, as seen from his near-effortless evasion of the physical traps set up around the headquarters of the dark guild Black Countess.
Cooking Skills: Having left his profession as an escort, Garrett required a way to sustain a living and found himself working as a chef. His food was of high quality such that he consistently received compliments from diners, coworkers as well as Sienna.
| | | |
| --- | --- | --- |
| Offense | | 6/5 |
| Defense | | 3/5 |
| Speed | | 5/5 |
| Intelligence | | 4/5 |
| Sexy | | 6/5 |
(To Sienna Vega's gravestone) "Whenever I was sad, you would always look up to the night sky and make the stars shine even more."
(To Jellal Fernandes) "Even if it wasn't your original goal, the fact is, you saved me. For that, I owe you."
(To Jason) "Stay behind me, I won't let them get to you!"
Battles & Events
Edit
Garrett Lindwall vs Sol = Won
Garrett Lindwall vs Laxus Dreyar = Lost
Garrett Lindwall vs Sienna Vega = Won
Garrett Lindwall & Sienna Vega VS Bluenote Stinger = Lost
Garrett Lindwall vs Black Countess = Lost
Garrett Lindwall vs Flare Corona = Won
Garrett Lindwall vs Dark Mages = Won