MagicalKey/Fanon
Talk

6
2,756pages on
this wiki

Me and Me

♫
Characters

♫

Magics

♫

Badges

♫

Relationships

♫

Random

♫

Fanon

| | This article is Fanon and is not considered canon. |
| --- | --- |
"It doesn't matters how slow you go, as long as you don't stop."

— Amu Hinamori to
Wendy Marvell
in "
Danger lurks in Seiyo Academy!
"
Amu Hinamori
Kanji

日奈森あむ

Rōmaji

Hinamori Amu

Alias

Amu-senpai (Rikka Hiiragi)
Amu-nii (Romeo Conbolt)

Characteristics

Race

Human

Gender

Female

Age

14 (debut)

Height

158cm

Weight

45kg

Birthday

24, September X774

Hair Color

Pink

Eye Color

Golden-brown

Blood Type

A

Professional Status

Affiliation

Fairy Tail

Previous Affiliation

Seiyo Academy[1]

Occupation
Previous Team

Guardian Five[2]

Base of Operations

Second Fairy Tail Building
First Fairy Tail Building (former)

Personal Status

Status

Active

Relative(s)

Ami Hinamori (younger sister)
Tsumugu Hinamori (father)
Midori Hinamori (mother)

Magic

Magic

Portrayal

Japanese Voice

Amu Hinamori (日奈森あむ Hinamori Amu) is a young female Mage, formerly belonging to the Seiyo Academy. She uses Take Over as her magic.
Appearance
Edit
Amu has pink hair and golden eyes. She often has red "x" hair clips attached to her hair. Sometimes she wears other colored pins, such as blue, green, white or black. She wears gothic (or rather, "cool") outfits, so everyone views her as the "Cool & Spicy" type.
Personality
Edit
Everyone at Seiyo Academy thinks Amu is "cool and spicy", but actually she is shy and uncertain. She does not know her true self very well, but she appears to be rather determined when it comes to helping others. But as her friends indicates, she needs to know herself better in order to be able to do any good at all. Amu is quite stubborn, doing what she has always intended to do and focuses on it
Fanon Sypnosis: Danger lurks in Seiyo Academy!
Edit
When Amu was drinking some orange juice,
Mirajane
appeard and gave Amu a letter saying it was from Seiyo Academy. When Amu heard what Mirajane has told her, she was excited. After handing over the letter to Amu, Amu couldn't wait what her friends wrote to her.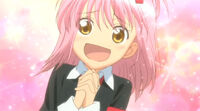 She quickly open the letter and read it. After she has finish reading that letter, she then went silent. Mirajane ask her if there's anything wrong. Amu then told everyone that Seiyo Academy has been attack by some
Dark Mage
. Everybody was shock at what Amu said, then everyone was silent.
Suddenly, Natsu and Happy stood up and said that they're going to help Amu. Wendy and Lucy told Amu that they are going to help her. So does Erza and Gray. Amu quickly gave them a big smile and said that they are going to Seiyo Academy first thing in the morning.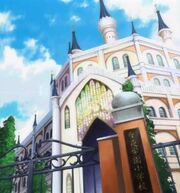 The next day Amu and the others was ready to go and save Seiyo Academy. On the way to their destination, Wendy ask Amu how Seiyo Academy looks like. Amu told Wendy that Seiyo Academy is located at Hargeon Town which is located in the southern part of Fiore, near Magnolia Town.
After their long walk to Seiyo Academy everyone was surprise at what they saw. After that, they were greeted by one of Amu's friend, Yaya Yuiki. Yaya cried and quickly hugged Amu. After that, Amu introduce her friends to Yaya and everybody in Seiyo Academy.
Magic and Abilities
Edit
Take Over (接収 テイクオーバー Teiku Ōbā)Unlike normal children, who usually used Take Over, Amu is gifted with three spirits that helped her transformed into her Take Over form. Their theme centers around the four suits in a card deck: heart, spade, and diamond. Amulet Devil and Amulet Angel is the other two spirits she had.
Open Heart (オープンハート ōpun hāto) is a finishing move used by Amu Hinamori while in the form of either Amulet Heart or Amulet Spade to cleanse all types of Darkness Magic, unseal Magical seals or Darkness. The phrase goes by "Negative Heart, Lock On! - Open Heart!".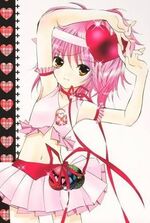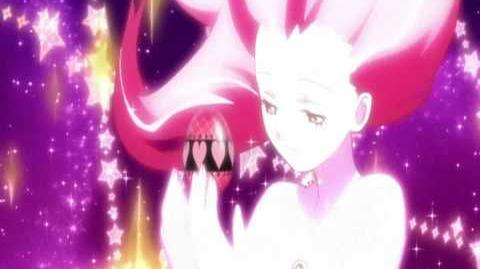 Amulet Heart (アミュレットハート Amyurettohāto): Amu wears her hair in a side ponytail, she wears a cheerleader's outfit, including a pleated skirt, a pink top and leg warmers over her shoes, all with heart-shaped accessories. She has a ribbon tied around her neck and one around her skirt. The Humpty Lock shines with pink light.
Hand to Hand Combat: Amulet Heart's powers are mostly useful in combat.
Flame Rod: Amu's main weapon. With it, she can perform the Spiral Flame and Spiral Flame Special.
Spiral Flame: Amu creates a large circle using flames and spin it over its target.
Spiral Flame Special: Amu sprinkle a paralyzing pink energy over the target, and throw it like a boomerang.
Flame Speeders: Amulet Heart receives a pair of roller skates which gives her the ability to fly.
Pom-pom Pom Special: She generates a distraction maneuver called to produce sparkling stars from her cheerleading pom-poms to distract other people. Her pom-poms are also used as a shield.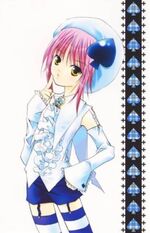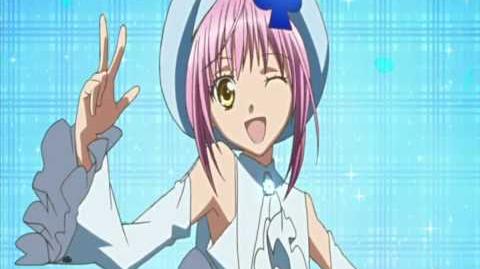 Amulet Spade (アミュレットスペード Amyurettosupēdo): As Amulet Spade, she wears a blue costume which consists of a light blue blouse with frilly sleeves and a ribbon at the back. She wears brown boots, dark blue shorts, and striped stockings. Most of her hair is inside an identical light blue cap with a Spade decoration. The Humpty Lock shines with blue light.
Ice Baton:Amu wields a gigantic blue paintbrush to unleash Colorful Ice
Ice Tornedo: Amu creates a Tornedo which is made out of ice and it will directly hit its target.
Ice Wall: Amu creates two large wall to protect herself.
Prism Music: An attack that sends multicolored notes to neutralize hypnosis and offensively.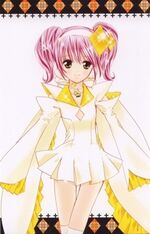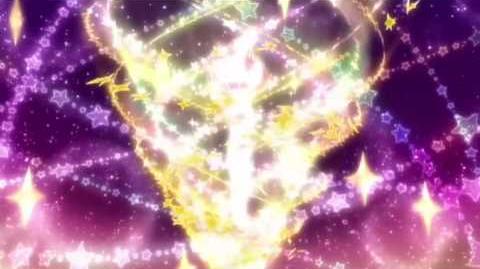 Amulet Diamond (アミュレットダイヤモンド Amyurettodaiyamondo): In this form, Amu wears a pair of ponytails and a futuristic headphone with a pair of double diamonds attached it. Her outfit is a futuristic yellow idol skirt. A yellow ribbon is attached to the back of her neck with straps that go down to her waist. She wears yellow boots that come up to her inner thighs. The Humpty Lock glitters with yellow light. This Requip Form is used in case of absolute emergency. This form also gives her flying abilities.
Starlight Navigation:She shoots bright lights up in the sky and it can show the direction of where they are going.
Twinkle Shield: She creates a really bright shield which can reflect any objects that is coming towards her.
Shooting Star Shower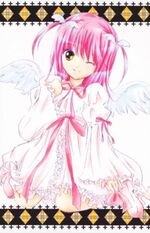 Amulet Angel (アミュレットエンジェル Amyurettoenjeru): In this form, Amulet Angel wears a long pink gown with white frills and a red ribbon tied around her chest. She also has a pair of tiny ponytails with winged hairclips on them. Her shoes look like red ballerina shoes with a red bow tied around her ankle. She also has (possibly fake) wings attached to her back. The Humpty Lock shines with white light. Despite being an angel, she does not seem to possess any flying abilities, since her wings are too small.
White Flag: Its to perform the defensive techniques.
White lag Double Plan: When she uses this technique, she draws out a pair of white flags to block an attack.
Angel Wink: By being super-cute and innocent, she can attract alot of boys.
Love Repair Beam:It's to restore two lovers' passion, but failed because the passion was never gone to begin with.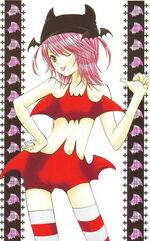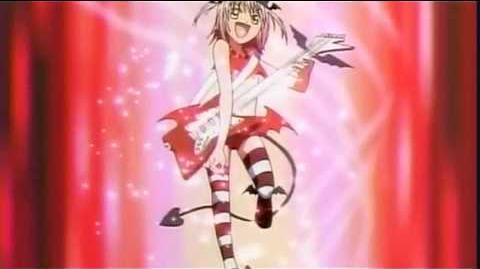 Amulet Devil ( ): She receives a black beanie with bat wings attached to it, a red bat-formed top, a lap with a devil's tail, and a pair of black and white stockings. She also wears black boots. The Humpty Lock glitters with red light.
Devil's Tune: It has the power to send out strong soundwaves towards the enemy and repress lesser powerful attacks.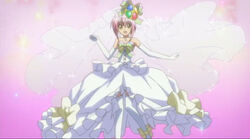 Amulet Fortune ( ): In this form, Amu wears a pure white bridal gown with a tan and rainbow colored bow on the top and frills, pure white opera gloves, and a bridal veil on her head. On top of the veil is a bow and a jeweled flower brooch with the gems.
Open Heart Full Bloom: A pure, pink light will emit from a ball of light in Amulet Fortune's hands, purifying those who are feeling negative feelings positive feelings. This is done by showing all the good memories each person holds.
Relationship
Edit
Relationships
Natsu Dragneel
Main article: Natsu Dragneel
Lucy Heartfilia
Main article: Lucy Heartfilia
Erza Scarlet
Main article: Erza Scarlet
Gray Fullbuster
Main article: Gray Fullbuster
Happy
Main article: Happy
Gajeel Redfox
Main article: Gajeel Redfox
Wendy Marvell
Main article: Wendy Marvell
Wendy and Amu share a very close relationship. When Wendy first joined the Fairy Tail, Amu was the first one who welcome Wendy as a member of the guild, and Wendy quickly expresses her happiness at Amu's kindness with Carla.
Nadeshiko/Nagihiko Fujisaki
Main artical: Nadeshiko/Nagihiko Fujisaki
Nadeshiko was the one to "trick" Amu in to the Academy. Nadeshiko had once invited Amu over to her house for a sleepover. Amu was devastated when Nadeshiko left, and was depressed about her leaving for a dangerous quest. They are best friends.
Kairi Sanjo
Main artical: Kairo Sanjo
He switches sides, after Amu convinces him he is a good person. Afterward, he leaves saying that he promised his parents and friends that he would return, but not before declaring his love for Amu, saying that he shall return for her when he has become a man.
Rima Mashiro
Main artical: Rima Mashimo
At the start, Rima acted cold to Amu. Later on, she began to open up to Amu and eventually they become best friends. Rima can be get rather jealous over Amu's other friends, as shown with Nagihiko. She also becomes sad when Amu first mentions that Nadeshiko was her best friend.
Tadase Hotori
Main artical: Tadase Hotari
Amu developed a crush on Tadase during her first day in the Academy. Though she confessed to him, he turned her down and told her that he already liked someone. That "someone" turned out to be his pet dog, Betty. Later, Tadase began to have a crush on Amu. He acted on this crush and confessed his love to Amu again, but this time to her and not Amulet Heart. In their Academy Magazine, it says they are the best couple. But one day, Tadase kissed Amu on the cheek.
Kukai Soma
Main artical: Kukai Soma
Amu had a crush on Kukai. One day, Kukai stops Amu from tripping, which causes Amu to blush. Amu also thought about Kukai's love. Kukai and Amu are very competitive in many sports, such as surfing, running, etc. They also went on several "Dates" like shopping and going to eat ice cream. Amu added Kukai to her "future grooms" dream. Gradually, she got over her crush, but she remained a close friend.
Yaya Yuiki
Main artical: Yaya Yuiki
Yaya is best friends with Amu. Amu seems to know what Yaya's true self is.
Rikka Hiiragi
Main artical: Rikka Hiiragi
Rikka looks up to Amu, calling her "Amu-senpai". Amu helps her during Rikka's time as an Apprentice. Rikka personally views their relationship as mentor-ship.
Ami Hinamori
Main artical: Ami Hinamori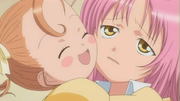 Ami is innocent and pure-hearted child. Unlike Amu, Ami's mother dresses her in "Sweet Lolita" clothing. Though sometimes a handful, she looks up to her sister very much.
Sometimes, when Amu went to hang out, Ami plays 'Investigation Game' with their pet dog named Ken
Tsumugu Hinamori
Main artical: Tsumugu Hinamori

He is a wild bird photographer and Amu's father and husband of Midori Hinamori. Tsumugu is devoted to his daughters and refers to them with names like "papa's little sparrows" and "papa's shining star". He is frequently shown taking pictures of Ami. However, he overreacts at the slightest hint that Amu has a relationship with a boy. When he has a fight with Amu's mother, he says that he is leaving, when he only hides in the bathroom. He is a very active and energetic person, which his wife finds interesting in him.
Midori Hinamori
Main artical: Midori Hinamori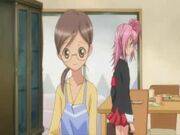 She is Amu's mother and wife of Tsumugu Hinamori and works as an editor for the Sorcerer Magazine. Midori is the one responsible for choosing Amu's and Ami's clothing styles. Unlike Amu's father, Midori is more understanding of Amu's relationship with boys.
Ran
Main artical: Ran
Ran is the first spirit who Amu Take Over it. She is extremely energetic and is almost never seen without her cheerleader pom-poms. Ran undergoes a new take Over Transformation, along with Miki, and Dia; becoming Amulet Fortune. Ran represents Amu's desire to be more honest, athletic, and confident. She likes cheering for others and she hates keeping still.
Miki
Main artical: Miki
An artistic form, Miki is level-headed, calm and insightful. She is intuitive and seems to detect the presence of Dark Mage better than her fellow Take Over Spirits. She is also stubborn, disobedient and can be quite ironic at times, but overall she is very sensible and moderate. Miki is an "incredibly gifted artist" with a "cool personality".
Dia
Main artical: Dia
Dia is Amu Hinamori's third Take Over Spirit Character and final. She represents the radiance that emits from Amu's heart. Her fellow Take Over Spirits Characters are: Ran and Miki. Unlike Ran and Miki, Dia is among the most powerful and only uses her powers in the most necessary situations.
El
Main artical: El
El can perform Take Over with Amu without her permission. She can also sense Dark Mage like Miki and can use limited telekinesis.
Il
Main artical: Il
Like El, ll can Take Over with Amu without her permission, as well as sense the presence of Dark Guilds and Dark Mage.
Amu's given name is part of the word "Amulet."
When Amu Reqiup into Amulet Fortune, it does not last very long.
Amulet Fortune is the first joint Requip.
If Jason were to give Amu statistics for her participation in the Grand Magic Games, they would be as follows:

| | | |
| --- | --- | --- |
| Offense | | 4/5 |
| Defense | | 3/5 |
| Speed | | 3/5 |
| Intelligence | | 4/5 |
| Coolness | | 6/5 |
Battles & Events
Edit
References
Edit