The 24-Hours Endurance Road Race in X784 was an event held in Magnolia Town.
Event Organizers
Edit
The master of Fairy Tail, Makarov Dreyar, organized the event and announced its rules to the participants while S-Class Mage, Mirajane Strauss and Sorcerer Magazine Reporter, Jason take the role of commentators, watching the event through the use of a TV Lacrima that is connected to a camera that follows the participants.[1]
Mages start from a starting line and are to follow an appointed course. They are to collect a Wyvern scale from the top of Mt. Ivor and return to the finish line within 24 hours.[1]
All forms of Magic, except flying Magic, can be used during the race.[1]
No Mage is allowed to drop out of the race.[1]
Participants
Edit
Last Place:
Jet
Punishment
Edit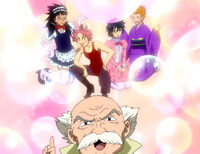 The year's punishment, according to Makarov, was an embarrassing photo spread for the Weekly Sorcerer Magazine consisting of twenty pages and a one week, all-access interview.[1]
References
Edit
Ad blocker interference detected!
Wikia is a free-to-use site that makes money from advertising. We have a modified experience for viewers using ad blockers

Wikia is not accessible if you've made further modifications. Remove the custom ad blocker rule(s) and the page will load as expected.