Shadow Dragon Slayer Magic
Talk

30
2,747pages on
this wiki
Shadow Dragon Slayer Magic
Kanji

影の滅竜魔法

Rōmaji

Ei no Metsuryū Mahō

Information

Type
Users
Shadow Dragon Slayer Magic (影の滅竜魔法 Ei no Metsuryū Mahō) is a Caster Magic, Lost Magic, and a type of Dragon Slayer Magic that utilizes shadows.
Description
Edit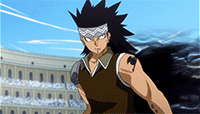 A Magic which allows the user to transform their physiology into that of a Shadow Dragon, turning their body into a shadow that cannot be touched by normal means.[1] With this Magic, the user is also able to fade themselves into shadows to move swiftly, dodging efficiently and making surprise attacks.[2] However, if the user is caught while in a tangible form, or by another person in shadow form, they are then vulnerable to attack.[3][4]
If a Shadow Dragon Slayer is somehow capable of successfully ingesting light, they will enter White Shadow Dragon Mode.[5]
Basic Spells
Edit
Offensive
Edit
Supportive
Edit
Unique Spells
Edit
Holy Shadow Dragon's Spells
Edit
References
Edit