Natsu Dragneel vs. Zeref
Talk

0
2,752pages on
this wiki
Natsu Dragneel vs. Zeref

| | |
| --- | --- |
| Outcome: | Zeref escapes, leaving Natsu Dragneel to continue the trial. |

Combatants
Powers & Abilities

Natsu Dragneel

Zeref

Damage Sustained/Casualties

Natsu Dragneel is uninjured.

Zeref is uninjured.
Natsu Dragneel vs. Zeref is a fight fought between S-Class Candidate Mage of Fairy Tail, Natsu Dragneel, and Dark Mage Zeref.
In order to become an S-Class Mage, Elfman and his partner, Evergreen, continue to participate in the second trial. However, they find it difficult due to the island's strange and aggressive creatures. As they are being chased by a wild beast, Elfman and Evergreen fall down a hill and finds a strange guy. Elfman and Evergreen are confused with the guy's appearance since only members of the guild are allowed in the island.[1]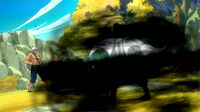 Elfman charges towards the guy who tells him to stop and promises to leave the island if they don't come near him. Suddenly, the guy feels something coming and calls it the
Death Preying
. He is then engulfed by a black wave that begins to expand, killing everything that it touches.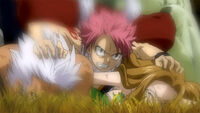 Natsu
suddenly arrives and pulls Evergreen and Elfman away from the orb. The guy notices Natsu and his eyes begins to be filled with tears while Natsu demands to know who he is.
[2]
While Elfman and Evergreen expresses their surprise with Natsu's arrival, Happy suddenly arrives and notices that the surrounding trees have withered. Seeing the effects of the mysterious guy's Magic, the group concludes that he is not an ordinary Mage. Irritated, Natsu tells the guy to not get in the way of their exam. However, the guy ignores what he is saying and looks at him, saying that he has been waiting for him.[3]

An angered Natsu charges to the guy and punches him, still asking who he is. Elfman and Evergreen are surprised to see Natsu's sudden actions but the punch seems to have no effect on the guy who stands up. His eyes are filled with tears again when he realizes that Natsu is still not capable of defeating him. Suddenly, he feels the Death Preying again and tells the group to run. Natsu realizes this and tells the others to run just as the black wave appears again. Natsu, however, is caught by the wave.[4]
Aftermath
Edit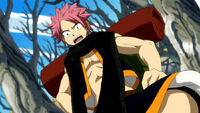 As the smoke clears, the guy is revealed to have disappeared and Natsu is revealed to be alive. However, his scarf has turned black and Natsu is enraged with the guy for ruining Igneel's gift while Happy concludes that Igneel's scarf protected Natsu. After seeing the mysterious guy, Evergreen tells the group that it might not be the time to continue the exam. However, Natsu and Elfman disagree with her and, with their rivalry with each other to be an S-Class Mage back, continue their search for the grave with their respective partners.[5][6]

References
Edit
Tenrou Island arc Fights

S-Class Promotional
Trial Fights
Lucy Heartfilia & Cana Alberona vs. Freed Justine & Bickslow • Natsu Dragneel vs. Gildarts Clive • Juvia Lockser & Lisanna vs. Erza Scarlet • Mirajane Strauss vs. Elfman Strauss & Evergreen • Gray Fullbuster & Loke vs. Mest Gryder & Wendy Marvell • Natsu Dragneel vs. Zeref
Beginning of
the War Fights
Gajeel Redfox & Levy McGarden vs. Kawazu & Yomazu • Pantherlily, Wendy Marvell & Mest Gryder vs. Azuma • Makarov Dreyar vs. Hades • Natsu Dragneel & Makarov Dreyar vs. Zancrow • Gray Fullbuster, Loke, Lucy Heartfilia & Cana Alberona vs. Caprico • Erza Scarlet & Juvia Lockser vs. Meredy • Elfman Strauss & Evergreen vs. Rustyrose • Mirajane Strauss & Lisanna Strauss vs. Azuma • Zeref vs. Ultear Milkovich • Loke vs. Caprico • Natsu Dragneel vs. Ultear Milkovich • Lucy Heartfilia vs. Kain Hikaru • Lucy Heartfilia, Natsu Dragneel & Happy vs. Kain Hikaru • Juvia Lockser vs. Meredy • Natsu Dragneel & Cana Alberona vs. Bluenote Stinger
Ending of the War Fights
Gildarts Clive vs. Bluenote Stinger • Erza Scarlet vs. Azuma • Freed Justine, Bickslow & Lisanna Strauss vs. Rustyrose • Gray Fullbuster vs. Ultear Milkovich • Lisanna Strauss, Levy McGarden & Cana Alberona vs. Kain Hikaru • Bickslow, Freed Justine & Elfman Strauss vs. Yomazu & Kawazu • Natsu Dragneel, Lucy Heartfilia, Gray Fullbuster, Erza Scarlet, Wendy Marvell & Laxus Dreyar vs. Hades • Pantherlily vs. Unnamed Grimoire Heart Mages
Post-War Fights
Fairy Tail vs. Acnologia