Natsu Dragneel vs. Laxus Dreyar (Key of the Starry Sky arc)
Talk

0
2,752pages on
this wiki
Natsu Dragneel vs. Laxus Dreyar (Key of the Starry Sky arc)

| | |
| --- | --- |
| Place: | Magnolia's South Gate Park |

| | |
| --- | --- |
| Outcome: | Laxus Dreyar is victorious. |

Combatants
Powers & Abilities

Natsu Dragneel

Laxus Dreyar

Damage Sustained/Casualties

Natsu Dragneel is slightly injured.

Laxus Dreyar is uninjured.
Natsu Dragneel vs. Laxus Dreyar (Key of the Starry Sky arc) is a fight fought between Mage of Fairy Tail, Natsu Dragneel and the independent Mage, Laxus Dreyar.
After defeating a Gorian without much effort, Laxus Dreyar attracts Natsu Dragneel, Gajeel Redfox and the Thunder God Tribe. While the Thunder God Tribe is happy to see their idol, Natsu and Gajeel challenge Laxus to a battle, which he accepts. Suddenly, Wendy Marvell intervenes, claiming that they must first prepare themselves before such an arduous fight. As a result, the battle is postponed to the following day.[1]
Hearing about this promising fight, the Fairy Tail Mages are excited and they decide to celebrate this by throwing a festival at night with Gajeel singing his "Best Friend" song as a substitute for Mirajane, who is unable to perform due to a sore throat.[1]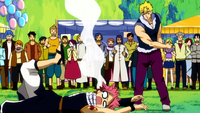 The following day, a surprised Laxus arrives at the crowded place of the showdown and waits for his opponents. With Gajeel and the Salamander's arrival, the battle is set to start with the cool reporter, Jason, present to comment on the match.
With Natsu and Laxus releasing a large amount of Magic Power, the tension is felt by the excited spectators and Pantherlily. The exceeds claim that whoever makes the first move will win. Lionhearted Natsu charges at Laxus with all his Magic mustered in order to punch his opponent. Laxus, still at his stand-point, defeats Natsu with a single powerful punch to Natsu's skull, to everyone's surprise. As expected, Laxus wins without much effort.[1]
Aftermath
Edit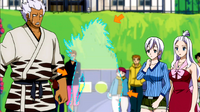 After defeating Natsu, it is Gajeel's turn to confront the now fearsome Laxus. As Laxus turns to fight his next opponent, he is astound to see that that he has fled. The spectators are bewildered, running in search of Gajeel in the hills.[1]
Wendy takes Makarov to the showdown location, where he finds his grandson with a defeated Natsu. They both stare at each other and Laxus turns away walking to his destination with the Thunder God Tribe telling Makarov to lift Laxus's expulsion, which he maintains silence upon.[1]
References
Edit
Key of the Starry Sky arc Fights

Pre-Arc Fights

Gray Fullbuster vs. Ice-Make Mage • Erza Scarlet & Natsu Dragneel vs. Velveno • Natsu Dragneel vs. Jiggle Butt Gang • Team Natsu vs. Bandits • Laxus Dreyar vs. Gorian • Gray Fullbuster vs. Vanish Brothers • Natsu Dragneel vs. Laxus Dreyar

Encounter Against

Legion Fights

Fairy Tail vs. Sugarboy (Earth Land), Mary Hughes & Coco (Earth Land) • Natsu Dragneel & Gray Fullbuster vs. Sugarboy (Earth Land) & Byro Cracy • Gildarts Clive & Erza Scarlet vs. Byro Cracy • Lucy Heartfilia vs. Mary Hughes • Wendy Marvell & Pantherlily vs. Coco (Earth Land) • Lahar & the Custody Enforcement Unit vs. Jackpot • Team Natsu & Wendy Marvell vs. Dan Straight & Samuel

Clock Part

Retrieval Fights

Erza Scarlet vs. Picnic Raiders • Gray Fullbuster, Lyon Vastia & Juvia Lockser vs. Labyrinth Guardian • Gray Fullbuster, Juvia Lockser & Lyon Vastia vs. Sugarboy (Earth Land) • Natsu Dragneel, Lucy Heartfilia & Romeo Conbolt vs. Dan Straight & Coco (Earth Land) • Natsu Dragneel & Romeo Conbolt vs. Dan Straight • Erza Scarlet vs. Jiggle Butt Gang • Pantherlily vs. Samuel • Gajeel Redfox & Shadow Gear vs. Clock Part Guardian • Mirajane Strauss, Elfman Strauss & Lisanna Strauss vs. Mary Hughes • Erza Scarlet vs. Jiggle Jugs Gang • Natsu Dragneel, Lucy Heartfilia & Romeo Conbolt vs. Byro Cracy & Kanaloa • Fairy Tail & Lyon Vastia vs. Byro Cracy

Assault For The

Clock Fights

Fairy Tail, Lyon Vastia, Byro Cracy & Dan Straight vs. Reborn Oración Seis • Reborn Oración Seis vs. Kingdom of Fiore's Guards • Natsu Dragneel, Lucy Heartfilia, Elfman Strauss & Byro Cracy vs. Jackpot • Bickslow & Wendy Marvell vs. Erigor • Gajeel Redfox & Juvia Lockser vs. Guttman Kubrick • Gray Fullbuster, Freed Justine & Dan Straight vs. Angel • Erza Scarlet, Evergreen & Max Alors vs. Cobra • Doranbolt & Katja vs. Racer • Pantherlily vs. Samuel (Rematch) • Alzack Connell & Bisca Connell vs. Midnight • Imitatia vs. Natsu Dragneel

The End At Its

Fullest Fights

Mirajane Strauss vs. Racer • Natsu Dragneel, Mary Hughes & Coco (Earth Land) vs. Guttman Kubrick • Gildarts Clive & Byro Cracy vs. Lapointe • Gildarts Clive vs. Byro Cracy (Rematch) • Samuel vs. Imitatia • Sugarboy (Earth Land) vs. Cobra • Gajeel Redfox vs. Midnight • Natsu Dragneel, Elfman Strauss, Coco (Earth Land) & Romeo Conbolt vs. Imitatia • Erza Scarlet vs. Cobra • Gray Fullbuster & Dan Straight vs. Angel • Natsu Dragneel vs. Midnight