Natsu Dragneel vs. Jellal Fernandes: Rematch
Talk

0
2,752pages on
this wiki
Natsu Dragneel vs. Jellal Fernandes: Rematch

| | |
| --- | --- |
| Outcome: | Jellal Fernandes is victorious. |

Combatants
Powers & Abilities
Damage Sustained/Casualties

Natsu Dragneel is slightly injured.

Jellal Fernandes is uninjured.
Natsu Dragneel vs. Jellal Fernandes: Rematch is a battle fought between Mage of Fairy Tail, Natsu Dragneel and Dark Mage, Jellal Fernandes.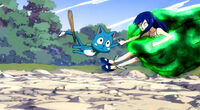 The Light Team splits into teams to search for Wendy Marvell, the Dragon Slayer of the Sky, who was kidnapped by Brain in an earlier confrontation. Erza Scarlet, having been bitten by Cobra's snake, Cubellios, needs Wendy's Healing Magic to remove the poison.[1]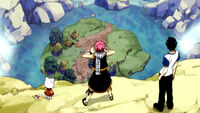 Natsu Dragneel's team, composed of himself, Gray Fullbuster and Carla, find the hideout where Wendy is hidden, but are opposed by Racer, who's preventing them from reaching Wendy. Gray Fullbuster stalls Racer and, by creating a slide of ice, lets Natsu and Carla head to retrieve Wendy and Happy.[2] As Natsu and Carla enter the Hideout, they are extremely shocked to see Wendy crying on the floor and Jellal Fernandes, who was presumed to be dead, alive and well.[3][4]
Natsu, remembering Jellal's actions against himself and his team in the Tower of Heaven, asks Jellal what is he doing here and then charges with full force to attack him with his fist engulfed in flames. However, Jellal easily defeats Natsu with one blast of his Heavenly Body Magic.[5]

Aftermath
Edit
Brain complements Jellal's power but, oddly, Jellal turns and attacks Brain as well and then leaves without a word.[6] Natsu tries to go after him, but Carla reminds him of Erza's condition. Natsu then leaves with Wendy, Happy and Carla in tow.[7]
References
Edit