| | | |
| --- | --- | --- |
| | A wiki dedicated to everything about the Manga and Anime Fairy Tail created by Hiro Mashima. This wiki aims to archive Fairy Tail and all related material. Please help us by creating or editing any of our articles! We are currently editing over 3,901 Articles on this wiki. | |
Featured Article
Maguilty Sense

---

Maguilty Sense (マギルティ=センス Magiruti Sensu) is a Caster-Type Lost Magic utilized by Meredy. While one of its uses involves creating weaponry capable of targetting the enemy's sense of pain to the point of nullyfing defense mechanisms such as Juvia's Water Body, Maguilty Sense's primary purpose is linking the senses of two targets so that they share pain and, in extreme cases, death as well.
Recent Manga Chapter
Chapter 528: Dragon of Magic
---
Spoiler Alert! Read at your own risk!

---
Acnologia, turning to Erza and Wendy after they catch his attention, goes to kill them only for Jellal to shield and thereafter engage Acnologia in battle until Ichiya rams Christina into the Black Dragon, delaying them time to be able to utilize their plan to defeat the latter, with a mysterious guest making her presence in agreement with the idea.
Read the full summary here.


Recent Anime Episode
Related Sites
Official Sites
JpnKodansha Japan

---

Official Fairy Tail manga site with the latest volume updates.

JpnFairy Tail TV

---

Anime's official Fairy Tail site with the latest anime updates.

JpnTV Tokyo: Fairy Tail

---

TV Tokyo's official website for the Fairy Tail Anime.

Kodansha Comic

---

Official English News site for the English release of Fairy Tail.
Affiliated Sites
If you would like to become an affiliate of the Fairy Tail Wiki contact us.
Recent Blogs
Featured Voting
Featured Article (Closed)


Featured Picture (Closed)


Featured Quote (Closed)
Featured Picture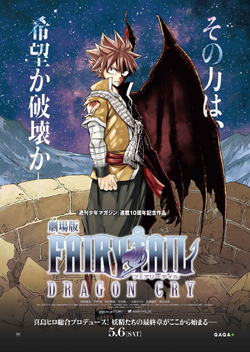 Fairy Tail: Dragon Cry!
Featured Quote
Featured Media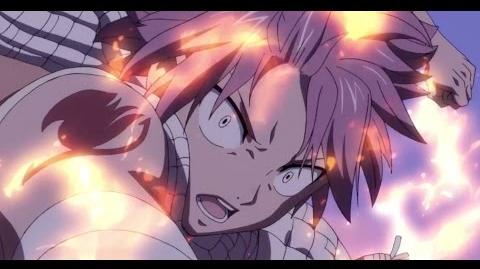 Did You Know...
...that Laxus was completely aware that Mystogan was the Jellal from Edolas?
...that Invel's name is actually recycled from the list of possible names for Zeref from the Tenrou Island arc?
...that Natsu's clothes are special-made by a tailor in Magnolia to be fire-proof?
...that Jacob Lessio was inspired by English actor Jason Statham?
...that Hades modeled the Devil's Heart after Fairy Heart?
Poll
A new arc and, of course, a new team of antagonists to rock Fiore and test our Fairy Tail protagonists. Our poll this time asks you the following: who is your favourite member of the Spriggan 12 so far??
Which member of the Spriggan 12 is your favourite?
Poll Results
You must all have a lot of free time huh, watching all that anime. We asked you what you like to do in your free time in our last poll, and here're the answers you gave:
| Position | Option | Votes | Percent |
| --- | --- | --- | --- |
| 1 | Watching some FT anime, duh? | 1136 | 44.97% |
| 2 | Generally procrastinating and doing nothing...because working takes too much effort | 500 | 19.79% |
| 3 | Following latest FT chapters, like a real man! | 467 | 18.49% |
| 4 | Avidly following everything FT-related!! | 192 | 7.60% |
| 5 | Other | 141 | 5.58% |
| 6 | Doing some Fairy Tail fanart....because art is awesome! | 41 | 1.62% |
| 7 | Cycling, jogging, recreation | 32 | 1.27% |
| 8 | Purchasing some Fairy Tail merchandise | 9 | 0.36% |
| 9 | Taking part in cool cosplays | 8 | 0.32% |
Ad blocker interference detected!
Wikia is a free-to-use site that makes money from advertising. We have a modified experience for viewers using ad blockers

Wikia is not accessible if you've made further modifications. Remove the custom ad blocker rule(s) and the page will load as expected.