| | | |
| --- | --- | --- |
| | A wiki dedicated to everything about the Manga and Anime Fairy Tail created by Hiro Mashima. This wiki aims to archive Fairy Tail and all related material. Please help us by creating or editing any of our articles! We are currently editing over 3,765 Articles on this wiki. | |
Featured Article
Bureau of Magical Development

---

The Bureau of Magical Development is a Magical institution located in the Land of Isvan. It was located in a rocky and dry plain, with no other buildings or signs of civilization in the immediate area. It served as a magical research laboratory where Ultear Milkovich was brought by her mother Ur, in hopes of saving her life. However, instead of curing Ultear, the laboratory's personnel experimented on her in order to further increase her Magic Power, at the same time telling Ur that her child had died, in order for her not to be an hindrance to whatever their plans might have been. The Bureau was led by Brain, who still had it under his control after the seeming creation of Oración Seis.
Recent Manga Chapter
Chapter 491: Mother and Child
---
Spoiler Alert! Read at your own risk!

---
Zera confirms to Gajeel he is alive and well, clarifying she wants all the members of Fairy Tail to return to the guild. Irene dispatches the Royal Family's army, seemingly recognizing Erza's presence, while on the war front, her underlings declare Mirajane to be their target to murder.
Read the full summary here.


Recent Anime Episode
Episode 277: Message of Fire

---

Reunited after a year, Natsu, Lucy and Happy catch up on what has happened since, with Lucy informing the duo that Fairy Tail has been disbanded. Aiming to gather all their comrades once again, the trio heads out on a new adventure after Natsu raises the beacon of Fairy Tail's revival.

The final episode of Fairy Tail (2014), Message of Fire, is up! Watch the story continue!
Related Sites
Official Sites
JpnKodansha Japan

---

Official Fairy Tail manga site with the latest volume updates.

JpnFairy Tail TV

---

Anime's official Fairy Tail site with the latest anime updates.

JpnTV Tokyo: Fairy Tail

---

TV Tokyo's official website for the Fairy Tail Anime.

Kodansha Comic

---

Official English News site for the English release of Fairy Tail.
Affiliated Sites
If you would like to become an affiliate of the Fairy Tail Wiki contact us.
Recent Blogs
Featured Voting
Featured Article (Closed)


Featured Picture (Closed)


Featured Quote (Closed)
Featured Picture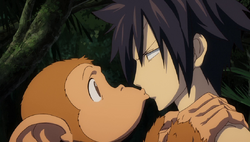 The one true love!
Featured Quote
"
Upon this land in which the white angel reigned supreme, a Black Dragon now descends… It's as if the malice of the black angel has been made manifest. But the one who will be laughing when all is said and done is I… The Scarlet Angel.
"
Featured Media
Did You Know?
...that Gray was originally planned to be the Ice Dragon Slayer, but that this idea was discarded and Mashima eventually settled with Ice Devil Slayer?
...that Minerva was returned to her human form by Porlyusica?
...that Gajeel has his own spin-off manga that is being published in the Fairy Tail Magazine Pocket app?
Poll
So a new year has begun and it's March already?...huh. Time sure flies by. Anyway, busyness is a common thing these days, but that doesn't mean we don't have free time to do some activities sometimes, right? So to get to know our community and fans a bit more, we ask you...
What do you do in your free time?
Poll Results
So it looks like most of you would like manga copies and anime DVDs for your Christmas presents. Hehe, can't say we blame you. Lots of other interesting choices as well. Anyway, here are the full results:
| Position | Option | Votes | Percent |
| --- | --- | --- | --- |
| 1 | Copies of the manga - I want to own them aaaaall! | 1007 | 42.56% |
| 2 | Blu-Ray/DVDs of the anime - *grabby hands* | 330 | 13.95% |
| 3 | Get me a flight to Japan so I can meet Mashima himself - Look, I know it's like impossible, but just do it! | 234 | 9.89% |
| 4 | An official art book by Hiro Mashima - His art is the best~ | 159 | 6.72% |
| 5 | Figurines of the characters - So I can ogle them every day~ | 156 | 6.59% |
| 6 | Fairy Tail cosplay - What? I like to dress up *shrugs* | 140 | 5.92% |
| 7 | Fairy Tail key chains or stationary - Accessorize me! | 138 | 5.83% |
| 8 | Anime OST CDs - So I can blast pure awesomeness into my ears. | 115 | 4.86% |
| 9 | Other | 87 | 3.68% |