Home
Talk

524
3,355pages on
this wiki
| | | |
| --- | --- | --- |
| | A Wiki dedicated to everything about the Manga and Anime Fairy Tail created by Hiro Mashima. This Wiki aims to archive Fairy Tail and all related material. Please help us by creating or editing any of our articles! We are currently editing over 3,355 Articles on this wiki. | |
Featured Article
Proper Grocer

---

Proper Grocer is a Magic shop which sells a small variety of Magic Items. It is owned by an unnamed shop owner. Because only 10% of the population of the town can use Magic, the shop's customers are mostly traveling Mages, which explains the rather poor range of items available in the store.
Recent Manga Chapter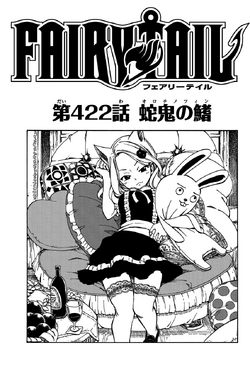 Chapter 422: Orochi's Fin
---
Spoiler alert! Read at your own risk!
Please do not assume that this is a correct translation until further notice.
---
Wendy and Chelia go to find the one controlling the monsters, while Natsu pursues them, angry that Happy was taken. The Sky Sisters soon locate Orochi's Fin and begin fighting them just as Lamia Scale and Lucy fight back in the town. Wendy, Chelia and Carla pressure them until Bluenote Stinger appears, now master of Orochi's Fin. He quickly defeats both of them and prepares to kill Chelia before she is rescued by Natsu.
Read the full summary here.


Recent Anime Episode
Episode 219: What a True Heart Weaves

---

Heading towards a job, Alzack and Bisca leave Natsu to take care of Asuka. As Natsu loses a bet with the young gunslinger he is stuck doing anything she wants for the entire day! Meanwhile, other Fairy Tail members decide to make the best cake of Fiore. What sort of crazy situations does Asuka bring? What's the meaning of the snow globe? Will Erza get her cake?

The latest episode What a True Heart Weaves is up! Watch the story continue!
Related Sites
Official Sites
JpnKodansha Japan

---

Official Fairy Tail site with the latest manga volume updates.

JpnFairy Tail TV

---

Anime's official Fairy Tail site with the latest anime updates.

JpnTV Tokyo: Fairy Tail

---

TV Tokyo's official website for the Fairy Tail Anime.

Kodansha Comic

---

Official English News site for the English release of Fairy Tail.
Affiliated Sites
If you would like to become an affiliate of the Fairy Tail Wiki contact us.
Recent Blogs
Featured Voting
Featured Article (Closed)


Featured Picture (Closed)


Featured Quote (Closed)
Featured Picture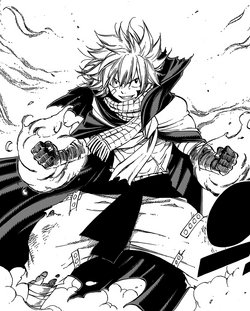 One year later...
Featured Quote
"
If a life is lost today, a life is born today, too. Every person feels the weight of each day differently. What's important is how you feel about today.
"
Featured Media
Did You Know?
...that Mirajane looks after a stray dog she calls Alexandria Strauss?
...that the language Minerva sometimes speaks when she uses her Magic is that of the Yakuma people?
...that Mavis Vermilion can use Illusion Magic?
Poll
I was told about Fairy Tail from a friend. At first, I told him that I was not going to watch such a girly show. But after watching the first episode, I was hooked and watched the entire series in a short amount of time. Then Reli forced me to read the Manga so I could work on Manga fights. I was introduced to the Anime and Manga by two different friends. How about YOU?!
How Were You Introduced To The Fairy Tail Series?
Poll Results
It would be awesome to watch Fairy Tail without having to look at subtitles: we would be able to pay more attention to Nalu and Gruvia (or whatever you ship) scenes. But it would also rock to be able to play the Fairy Tail video games that are not out in our language. But do you know what would be even more epic? A freaking tweet from Hiro!!!
| Position | Team | Votes | Percent |
| --- | --- | --- | --- |
| 1 | Watch Fairy Tail without subtitles | 1641 | 69.68% |
| 2 | Play The Fairy Tail Video Games | 282 | 11.97% |
| 3 | Tweet To Hiro (He Replies) | 182 | 7.73% |
| 4 | Translate All of the Fairy Tail Spin-offs (Future Chapters) | 126 | 5.35% |
| 5 | Speak To A Fairy Tail Voice Actor | 67 | 2.85% |
| 6 | Translate Fairy Tail Dōjinshi | 242 | 1.77% |