Home
Talk

524
3,333pages on
this wiki
| | | |
| --- | --- | --- |
| | A Wiki dedicated to everything about the Manga and Anime Fairy Tail created by Hiro Mashima. This Wiki aims to archive Fairy Tail and all related material. Please help us by creating or editing any of our articles! We are currently editing over 3,333 Articles on this wiki. | |
Featured Article
Skiadrum

---

Skiadrum was a Dragon known as the Shadow Dragon and was the foster parent of Rogue Cheney. In the past, Skiadrum's soul was reaped by Acnologia, which left it in a half-dead state for many years. To escape this fate and protect its son from becoming a Dragon like Acnologia, Skiadrum hid inside Rogue's body and created antibodies to stop this process from occurring.
Recent Manga Chapter
Chapter 428: When We Take Different Paths
---
Spoiler alert! Read at your own risk!
Please do not assume that this is a correct translation until further notice.
---
Read the full summary here.


Recent Anime Episode
Episode 228: Wizards vs. Hunters

---

As the Fairy Tail Mages arrive at the mysterious Sun Village, completely frozen, they get into a fight with the Hunters of Sylph Labyrinth. Meanwhile, a new threat, Succubus Eye, is also approaching the village, with Minerva as the new recruit. What is the mysterious item capable of saving the village that's in the possession of Hunters? And what happens to Erza that stays behind to investigate?

The latest episode Wizards vs. Hunters is up! Watch the story continue!
Related Sites
Official Sites
JpnKodansha Japan

---

Official Fairy Tail manga site with the latest volume updates.

JpnFairy Tail TV

---

Anime's official Fairy Tail site with the latest anime updates.

JpnTV Tokyo: Fairy Tail

---

TV Tokyo's official website for the Fairy Tail Anime.

Kodansha Comic

---

Official English News site for the English release of Fairy Tail.
Affiliated Sites
If you would like to become an affiliate of the Fairy Tail Wiki contact us.
Recent Blogs
Featured Picture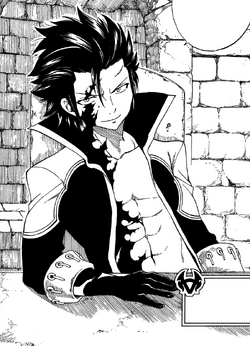 Gray: The Dark Mage
Featured Quote
"
One year from now. Make sure you tell me... One year from today, tell me that I must protect Frosch. Or Frosch will be killed by Gray.
"
Featured Media
Did You Know?
...that Mirajane looks after a stray dog she calls Alexandria Strauss?
...that the language Minerva sometimes speaks when she uses her Magic is that of the Yakuma people?
...that Mavis Vermilion can use Illusion Magic?
Poll
I was told about Fairy Tail from a friend. At first, I told him that I was not going to watch such a girly show. But after watching the first episode, I was hooked and watched the entire series in a short amount of time. Then Reli forced me to read the Manga so I could work on Manga fights. I was introduced to the Anime and Manga by two different friends. How about YOU?!
How Were You Introduced To The Fairy Tail Series?
Poll Results
It would be awesome to watch Fairy Tail without having to look at subtitles: we would be able to pay more attention to Nalu and Gruvia (or whatever you ship) scenes. But it would also rock to be able to play the Fairy Tail video games that are not out in our language. But do you know what would be even more epic? A freaking tweet from Hiro!!!
| Position | Team | Votes | Percent |
| --- | --- | --- | --- |
| 1 | Watch Fairy Tail without subtitles | 1641 | 69.68% |
| 2 | Play The Fairy Tail Video Games | 282 | 11.97% |
| 3 | Tweet To Hiro (He Replies) | 182 | 7.73% |
| 4 | Translate All of the Fairy Tail Spin-offs (Future Chapters) | 126 | 5.35% |
| 5 | Speak To A Fairy Tail Voice Actor | 67 | 2.85% |
| 6 | Translate Fairy Tail Dōjinshi | 242 | 1.77% |