| | | |
| --- | --- | --- |
| | A wiki dedicated to everything about the Manga and Anime Fairy Tail created by Hiro Mashima. This wiki aims to archive Fairy Tail and all related material. Please help us by creating or editing any of our articles! We are currently editing over 3,742 Articles on this wiki. | |
Featured Article
Gildarts Clive

---

Gildarts Clive is an S-Class Mage of Fairy Tail and its strongest Mage. He is also a father of one of the guild's members, Cana Alberona. His strength is well known through the land, to the point that Fairy Tail's hometown, Magnolia, has rebuilt its streets with Gildarts' powerful Crash Magic in mind. Gildarts isn't seen in the guild often because of his difficult jobs, previously disappearing for several years while on a 100-years quest, a job where he encountered Acnologia, the cause of his injuries. He is known to be a womanizer, having been with a lot of women, as well as carrying a bag full of indecent magazines while on his travels.
Recent Manga Chapter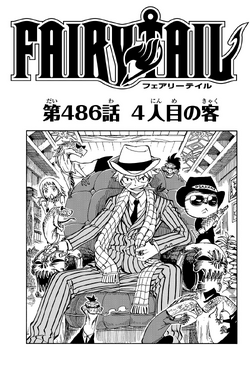 Chapter 486: The Fourth Guest
---
Spoiler Alert! Read at your own risk!

---
As the first and second guests are engaged in war, Irene begins to carry out her plan as the third arrives while the fourth is en route to Mt. Zonia. Meanwhile, as Brandish's group makes contact with August, Gajeel and Bradman's strife continues, with ominous forebodings of death recited by the Grim Reaper himself.
Read the full summary here.


Recent Anime Episode
Episode 277: Message of Fire

---

Reunited after a year, Natsu, Lucy and Happy catch up on what has happened since, with Lucy informing the duo that Fairy Tail has been disbanded. Aiming to gather all their comrades once again, the trio heads out on a new adventure after Natsu raises the beacon of Fairy Tail's revival.

The final episode of Fairy Tail (2014), Message of Fire, is up! Watch the story continue!
Related Sites
Official Sites
JpnKodansha Japan

---

Official Fairy Tail manga site with the latest volume updates.

JpnFairy Tail TV

---

Anime's official Fairy Tail site with the latest anime updates.

JpnTV Tokyo: Fairy Tail

---

TV Tokyo's official website for the Fairy Tail Anime.

Kodansha Comic

---

Official English News site for the English release of Fairy Tail.
Affiliated Sites
If you would like to become an affiliate of the Fairy Tail Wiki contact us.
Recent Blogs
Featured Voting
Featured Article (Closed)


Featured Picture (Closed)


Featured Quote (Closed)
Featured Picture
The past strikes again!
Featured Quote
"
The eight month approaches. August is the month of fear. This legend has been passed down for generations.
"
Featured Media
Did You Know?
...that Gray was originally planned to be the Ice Dragon Slayer, but that this idea was discarded and Mashima eventually settled with Ice Devil Slayer?
...that Minerva was returned to her human form by Porlyusica?
...that Gajeel has his own spin-off manga that is being published in the Fairy Tail Magazine Pocket app?
Poll
So a new year has begun and it's March already?...huh. Time sure flies by. Anyway, busyness is a common thing these days, but that doesn't mean we don't have free time to do some activities sometimes, right? So to get to know our community and fans a bit more, we ask you...
What do you do in your free time?
Poll Results
So it looks like most of you would like manga copies and anime DVDs for your Christmas presents. Hehe, can't say we blame you. Lots of other interesting choices as well. Anyway, here are the full results:
| Position | Option | Votes | Percent |
| --- | --- | --- | --- |
| 1 | Copies of the manga - I want to own them aaaaall! | 1007 | 42.56% |
| 2 | Blu-Ray/DVDs of the anime - *grabby hands* | 330 | 13.95% |
| 3 | Get me a flight to Japan so I can meet Mashima himself - Look, I know it's like impossible, but just do it! | 234 | 9.89% |
| 4 | An official art book by Hiro Mashima - His art is the best~ | 159 | 6.72% |
| 5 | Figurines of the characters - So I can ogle them every day~ | 156 | 6.59% |
| 6 | Fairy Tail cosplay - What? I like to dress up *shrugs* | 140 | 5.92% |
| 7 | Fairy Tail key chains or stationary - Accessorize me! | 138 | 5.83% |
| 8 | Anime OST CDs - So I can blast pure awesomeness into my ears. | 115 | 4.86% |
| 9 | Other | 87 | 3.68% |