Home
Talk

521
3,149pages on
this wiki
| | | |
| --- | --- | --- |
| | A Wiki dedicated to everything about the Manga and Anime Fairy Tail created by Hiro Mashima. This Wiki aims to archive Fairy Tail and all related material. Please help us by creating or editing any of our articles! We are currently editing over 3,149 Articles on this wiki. | |
Featured Article
Recent Manga Chapter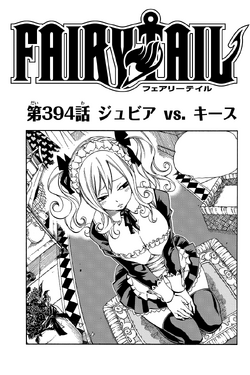 Chapter 394: Juvia vs. Keith
---
Spoiler alert! Read at your own risk!
Please do not assume that this is a correct translation until further notice.
---
Read the full summary here.


Recent Anime Episode
Episode 192: Live on for Her

---

As the Eclipse Gate opens, everyone freezes in shock as they witness Dragons coming out of the portal. Lucy and Yukino succeed in closing the portal using their combined Celestial Spirit Magic, stopping the Dragons from coming out of the Gate; but it is too early for the Mages to celebrate, for seven Dragons have already set foot into the present time. Who is the familiar face amongst the Dragon visitors? Just what has Future Rogue got up his sleeve?

The latest episode Live on for Her is up! Watch the story continue!
Related Sites
Official Sites
JpnKodansha Japan

---

Official Fairy Tail site with the latest manga volume updates.

JpnFairy Tail TV

---

Anime's official Fairy Tail site with the latest anime updates.

JpnTV Tokyo: Fairy Tail

---

TV Tokyo's official website for the Fairy Tail Anime.

Kodansha Comic

---

Official English News site for the English release of Fairy Tail.

JpnFairy Tail Movie

---

Official site for the first Fairy Tail Movie: Priestess of the Phoenix.
Affiliated Sites
If you would like to become an affiliate of the Fairy Tail Wiki contact us.
Recent Blogs
Featured Voting
Featured Article (Open)


Featured Picture (Open)


Featured Quote (Open)
Featured Picture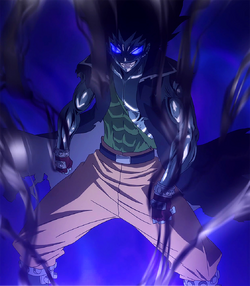 The Demon Awakens!
Featured Quote
"
I don't want to despair any more. I've decided that I'm going to go on living with you, Carla. I won't cry out like a weakling any longer, and I won't shed any more tears. Everyone is fighting, so I can't give up either!
"
Featured Media
Did You Know?
...that Warrod Sequen was supposed to be an Exceed?
...that all of the members of Tartarus are Demons?
...that the origin of Wendy's name came from "Wednesday"?
Poll
Did you guys enjoy this year's April Fools joke? I hope you guys did, but that's not what I'm here for. With the anime returning in April, it is now being handled by a different studio, Bridge. This lead me to wonder how much did you guys liked Satelight's production of Fairy Tail? Was the quality okay, could it have been done better? Why don't we find out?
Did you liked Satelight's production/portrayal of Fairy Tail?
Bonus Poll: Did you like this year's (2014) April Fool Joke?
Poll Results
And the results are in! It was yet another race between three characters in the beginning, but one has prevailed. Your female valentine, with 1145 votes out of 4175 is, you guessed it, Erza "Titania" Scarlet!!! With the favorite male valentine being Jellal, and female valentine being Erza, who would be out of their mind and think that Jerza will never happen?! Let us give a hand to the king and queen of the valentine poll!! The full results are as follows:
| Position | Team | Votes | Percent |
| --- | --- | --- | --- |
| 1 | Erza Scarlet | 1145 | 27.43% |
| 2 | Mirajane Strauss | 756 | 18.11% |
| 3 | Lucy Heartfilia | 663 | 15.88% |
| 4 | Juvia Lockser | 315 | 7.54% |
| 5 | Cana Alberona | 186 | 4.45% |
| 6 | Wendy Marvell | 179 | 4.29% |
| 7 | Lisanna Strauss | 170 | 4.07% |
| 8 | Why didn't you put <insert character name> on the poll?!! | 118 | 2.83% |
| 9 | Mavis Vermillion | 110 | 2.63% |
| 10 | Ultear Milkovich | 93 | 2.23% |
| 11 | Yukino Aguria | 71 | 1.70% |
| 12 | Meredy | 70 | 1.68% |
| 13 | Kagura Mikazuchi | 68 | 1.63% |
| 14 | Ooba Babasaama | 416 | 0.98% |
| 15 | Sayla | 37 | 0.89% |
| 16 | Éclair | 31 | 0.75% |
| 17 | Evergreen | 29 | 0.69% |
| 18 | Sorano Aguria (Angel) | 24 | 0.57% |
| 19 | Millianna | 22 | 0.53% |
| 20 | Minerva Orlando | 18 | 0.43% |
| 21 | Jenny Realight | 15 | 0.36% |
| 22 | Chelia Blendy | 14 | 0.34% |