| | | |
| --- | --- | --- |
| | A wiki dedicated to everything about the Manga and Anime Fairy Tail created by Hiro Mashima. This wiki aims to archive Fairy Tail and all related material. Please help us by creating or editing any of our articles! We are currently editing over 3,817 Articles on this wiki. | |
Featured Article
Square of Self-Destruction

---

Square of Self-Destruction (自律崩壊魔法陣 Jiritsu Hōkai Mahōjin) is a Caster Magic invented by Bureau of Magical Development's Brain. It works by attaching an array of Magic onto the target, with it exploding afterwards and thus causing a complete destruction of the object. The strength of this Magic varies depending on the size of the Magic, being able to destroy entire mountains and even the main body of Nirvana, with Jellal casting it on it in order to completely annihilate the weapon.
Recent Manga Chapter
Chapter 502: Mavis and Zera
---
Spoiler Alert! Read at your own risk!

---
Read the full summary here.


Recent Anime Episode
Episode 277: Message of Fire

---

Reunited after a year, Natsu, Lucy and Happy catch up on what has happened since, with Lucy informing the duo that Fairy Tail has been disbanded. Aiming to gather all their comrades once again, the trio heads out on a new adventure after Natsu raises the beacon of Fairy Tail's revival.

The final episode of Fairy Tail (2014), Message of Fire, is up! Watch the story continue!
Related Sites
Official Sites
JpnKodansha Japan

---

Official Fairy Tail manga site with the latest volume updates.

JpnFairy Tail TV

---

Anime's official Fairy Tail site with the latest anime updates.

JpnTV Tokyo: Fairy Tail

---

TV Tokyo's official website for the Fairy Tail Anime.

Kodansha Comic

---

Official English News site for the English release of Fairy Tail.
Affiliated Sites
If you would like to become an affiliate of the Fairy Tail Wiki contact us.
Recent Blogs
Featured Voting
Featured Article (Closed)


Featured Picture (Closed)


Featured Quote (Closed)
Featured Picture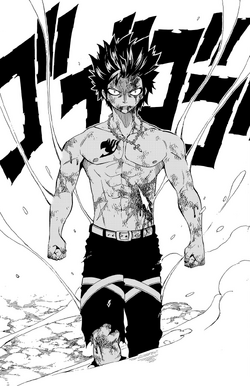 For his beloved..!
Featured Quote
"
Darkness is unrelated to the concepts of good and evil. It is a tremendous source of power, one that any human being can possess.
"

—Invel Yura in "Gray vs. Invel"
Featured Media
Did You Know...
...that Laxus was completely aware that Mystogan was the Jellal from Edolas?
...that Invel's name is actually recycled from the list of possible names for Zeref from the Tenrou Island arc?
...that Natsu's clothes are special-made by a tailor in Magnolia to be fire-proof?
...that Jacob Lessio was inspired by English actor Jason Statham?
...that Hades modeled the Devil's Heart after Fairy Heart?
Poll
A new arc and, of course, a new team of antagonists to rock Fiore and test our Fairy Tail protagonists. Our poll this time asks you the following: who is your favourite member of the Spriggan 12 so far??
Which member of the Spriggan 12 is your favourite?
Poll Results
You must all have a lot of free time huh, watching all that anime. We asked you what you like to do in your free time in our last poll, and here're the answers you gave:
| Position | Option | Votes | Percent |
| --- | --- | --- | --- |
| 1 | Watching some FT anime, duh? | 1136 | 44.97% |
| 2 | Generally procrastinating and doing nothing...because working takes too much effort | 500 | 19.79% |
| 3 | Following latest FT chapters, like a real man! | 467 | 18.49% |
| 4 | Avidly following everything FT-related!! | 192 | 7.60% |
| 5 | Other | 141 | 5.58% |
| 6 | Doing some Fairy Tail fanart....because art is awesome! | 41 | 1.62% |
| 7 | Cycling, jogging, recreation | 32 | 1.27% |
| 8 | Purchasing some Fairy Tail merchandise | 9 | 0.36% |
| 9 | Taking part in cool cosplays | 8 | 0.32% |