Home
Talk

521
3,210pages on
this wiki
| | | |
| --- | --- | --- |
| | A Wiki dedicated to everything about the Manga and Anime Fairy Tail created by Hiro Mashima. This Wiki aims to archive Fairy Tail and all related material. Please help us by creating or editing any of our articles! We are currently editing over 3,210 Articles on this wiki. | |
Featured Article
Recent Manga Chapter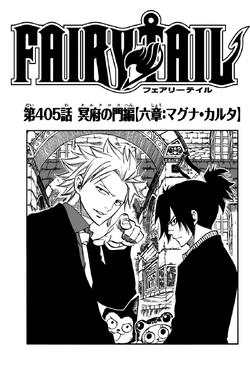 Chapter 405: Tartarus Arc, Part 6: Magna Carta
---
Spoiler alert! Read at your own risk!
Please do not assume that this is a correct translation until further notice.
---
Natsu and Igneel continue their battles against Mard Geer and Acnologia, with Natsu becoming overwhelmed by Mard Geer's incredible durability and attack power. Forced down into the ruins of Cube, Natsu is joined by Sting and Rogue, and together the trio begin a three-way attack on the Underworld King. Eventually pushed back due to their teamwork, a livid Mard Geer responds that he shall no longer hold back.




Read the full summary here.


Recent Anime Episode
Episode 204: Stake My Life on Hospitality

---

As a reward for their help during the Grand Magic Games and the subsequent Dragon invasion, Lucy and Yukino decide to grant a wish for each of their Zodiac Spirits. One by one, each spirit has his or her wish granted in some way or another until only Aquarius is left. Seeing her in a foul mood, Lucy is forced to make her laugh but finds this a more daunting task than she could have imagined.

The latest episode Stake My Life on Hospitality is up! Watch the story continue!
Related Sites
Official Sites
JpnKodansha Japan

---

Official Fairy Tail site with the latest manga volume updates.

JpnFairy Tail TV

---

Anime's official Fairy Tail site with the latest anime updates.

JpnTV Tokyo: Fairy Tail

---

TV Tokyo's official website for the Fairy Tail Anime.

Kodansha Comic

---

Official English News site for the English release of Fairy Tail.

JpnFairy Tail Movie

---

Official site for the first Fairy Tail Movie: Priestess of the Phoenix.
Affiliated Sites
If you would like to become an affiliate of the Fairy Tail Wiki contact us.
Recent Blogs
Featured Voting
Featured Article (Closed)


Featured Picture (Closed)


Featured Quote (Closed)
Featured Picture
I've always been right inside of you!
Featured Quote
"
I always cursed my own life. The anxiety, anger and hatred I couldn't suppress. However, when I stopped to look at the sky... I realized just how small I am. There is an endless world spreading before me.
"

—Ultear Milkovich to herself, Drops of Time
Featured Media
Did You Know?
...that Warrod Sequen was supposed to be an Exceed?
...that all of the members of Tartarus are Demons?
...that the origin of Wendy's name came from "Wednesday"?
Poll
Welps, since a few have asked me to update the poll once in a while, I thought I should do it for October, since I had an idea for a poll. Hopefully I can update the polls monthly and bimonthly. But anyway, the question for this month revolves around candy, a wild party, beautiful ladies and the lot! Which guild's door would you knock at for Halloween candy, ne~?
Which Guild Would You Visit For Halloween?
Poll Results
And after 7 months, we have the results! This time, however, we had one bonus poll. The question was if you enjoyed the April Fools' Joke...well, hell no! With 1,353 people voting against the Ichiya-centered theme, many had to bleach their brains and sue Chaos... As for the regular poll, the results go down like this: As long as we have the Fairy Tail Anime, we don't care who animates it!!!
| Position | Team | Votes | Percent |
| --- | --- | --- | --- |
| 1 | I don't really care who makes Fairy Tail anime, as long as it's still in production. | 3517 | 59.96% |
| 2 | I loved it, and I wished that they were the one still doing the anime for Fairy Tail. | 1708 | 29.12% |
| 3 | It was okay, but it's about time they have an art direction change. | 284 | 4.84% |
| 4 | I hate it, and I'm so glad another studio is producing it now. | 203 | 3.46% |
| 5 | I don't watch the anime. | 154 | 2.63% |