| | | |
| --- | --- | --- |
| | A wiki dedicated to everything about the Manga and Anime Fairy Tail created by Hiro Mashima. This wiki aims to archive Fairy Tail and all related material. Please help us by creating or editing any of our articles! We are currently editing over 3,774 Articles on this wiki. | |
Featured Article
Hiro Mashima

---

Hiro Mashima is a popular Japanese manga artist. His interest in manga and drawing started during his childhood, with his grandfather looking for discarded manga, so that he could use them as an example for his drawings. His work includes several longer or shorter series, one shots, collaborations with novel writers and games, however, his most notable achievements involve his first long running series, Rave Master, and later his most successful manga, Fairy Tail, which celebrates its 10 years birthday this month.
Recent Manga Chapter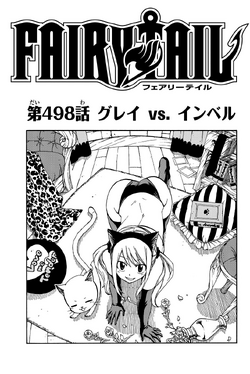 Chapter 498: Gray vs. Invel
---
Spoiler Alert! Read at your own risk!

---
The battle between Ice Mages ensues, with Invel foretelling Gray that he possesses the darkness that in turn can make him become their comrade, when it eventually consumes his body. With Gray denying this, Invel goes to place an Ice Lock on both Gray and Juvia, inciting a battle to death between the two in order to break the Magic.
Read the full summary here.


Recent Anime Episode
Episode 277: Message of Fire

---

Reunited after a year, Natsu, Lucy and Happy catch up on what has happened since, with Lucy informing the duo that Fairy Tail has been disbanded. Aiming to gather all their comrades once again, the trio heads out on a new adventure after Natsu raises the beacon of Fairy Tail's revival.

The final episode of Fairy Tail (2014), Message of Fire, is up! Watch the story continue!
Related Sites
Official Sites
JpnKodansha Japan

---

Official Fairy Tail manga site with the latest volume updates.

JpnFairy Tail TV

---

Anime's official Fairy Tail site with the latest anime updates.

JpnTV Tokyo: Fairy Tail

---

TV Tokyo's official website for the Fairy Tail Anime.

Kodansha Comic

---

Official English News site for the English release of Fairy Tail.
Affiliated Sites
If you would like to become an affiliate of the Fairy Tail Wiki contact us.
Recent Blogs
Featured Voting
Featured Article (Closed)


Featured Picture (Closed)


Featured Quote (Closed)
Featured Picture
Happy 10th Birthday, Fairy Tail!
Featured Quote
"
Sleep well for now, my dear friends. This may well be the last dawn we ever see. So you must rest while you still can.
"
Featured Media
Did You Know?
...that Gray was originally planned to be the Ice Dragon Slayer, but that this idea was discarded and Mashima eventually settled with Ice Devil Slayer?
...that Minerva was returned to her human form by Porlyusica?
...that Laxus has his own spin-off manga that is being published in the Fairy Tail Magazine Pocket app?
Poll
A new arc and, of course, a new team of antagonists to rock Fiore and test our Fairy Tail protagonists. Our poll this time asks you the following: who is your favourite member of the Spriggan 12 so far??
Which member of the Spriggan 12 is your favourite?
Poll Results
You must all have a lot of free time huh, watching all that anime. We asked you what you like to do in your free time in our last poll, and here're the answers you gave:
| Position | Option | Votes | Percent |
| --- | --- | --- | --- |
| 1 | Watching some FT anime, duh? | 1136 | 44.97% |
| 2 | Generally procrastinating and doing nothing...because working takes too much effort | 500 | 19.79% |
| 3 | Following latest FT chapters, like a real man! | 467 | 18.49% |
| 4 | Avidly following everything FT-related!! | 192 | 7.60% |
| 5 | Other | 141 | 5.58% |
| 6 | Doing some Fairy Tail fanart....because art is awesome! | 41 | 1.62% |
| 7 | Cycling, jogging, recreation | 32 | 1.27% |
| 8 | Purchasing some Fairy Tail merchandise | 9 | 0.36% |
| 9 | Taking part in cool cosplays | 8 | 0.32% |