Home
Talk

505
2,977pages on
this wiki
| | | |
| --- | --- | --- |
| | A Wiki dedicated to everything about the Manga and Anime Fairy Tail created by Hiro Mashima. This Wiki aims to archive Fairy Tail and all related material. Please help us by creating or editing any of our articles! We are currently editing over 2,977 Articles on this wiki. | |
Featured Article
Recent Manga Chapter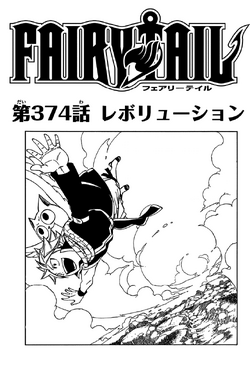 Chapter 374: Revolution
---
Spoiler alert! Read at your own risk!
Please do not assume that this is a correct translation until further notice.
---
With only 40 minutes left until Face activates, Franmalth joins Keith to delay Lucy, Wendy, Happy, and Carla from deactivating Face manually. The four Fairy Tail Mages try to escape and are assisted by Gray and Natsu, challenging Keith and Franmalth respectively as Wendy and Carla go to deactivate Face.
Read the full summary here.
Featured Episode
Related Sites
Official Sites
JpnKodansha Japan

---

Official Fairy Tail site with the latest manga volume updates.

JpnFairy Tail TV

---

Official Fairy Tail site with the latest anime updates.

Kodansha Comic

---

Official English News site for the English release of Fairy Tail.

JpnFairy Tail Movie

---

Official site for the first Fairy Tail Movie: Priestess of the Phoenix.

JpnTV Tokyo: Fairy Tail

---

TV Tokyo's previously official website for the Fairy Tail Anime.
Affiliated Sites
If you would like to become an affiliate of the Fairy Tail Wiki contact us.
Recent Blogs
Featured Voting
Featured Article (Closed)


Featured Picture (Closed)


Featured Quote (Closed)
Featured Picture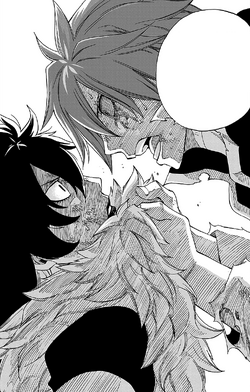 "Together, we must defeat Zeref!"
Featured Quote
Did You Know?
...that Walrod was supposed to be an Exceed?
...that all of the members of Tartarus are Demons?
...that the origin of Wendy's name came from "Wednesday"?
Poll
Happy Valentine's day, and hope that you are spending/have spent time with your significant other if you have one. If not, good luck. Anyways, now that the voting for Fairy Tail Male Valentine has concluded, let's continue with the females, shall we? Who is your Female Valentine from the Fairy Tail Series?!!
Who's Your Valentine (Female)?
Poll Results
And the results are in! It was really a race between three characters, but one has prevailed. Your male valentine, with 548 votes out of 1961 (and confirming that Carrot has 548 sockpuppets), is none other than Jellal Fernandes!!! The full results are as follows:
| Position | Team | Votes | Percent |
| --- | --- | --- | --- |
| 1 | Jellal Fernandes | 548 | 27.95% |
| 2 | Gray Fullbuster | 375 | 16.52% |
| 3 | Natsu Dragneel | 324 | 16.52% |
| 4 | Laxus Dreyar | 127 | 6.48% |
| 5 | Zeref | 97 | 4.95% |
| 6 | Loke | 77 | 3.93% |
| 7 | Sting Eucliffe | 73 | 3.72% |
| 8 | Gajeel Redfox | 73 | 3.67% |
| 9 | Rogue Cheney | 72 | 3.01% |
| 10 | Other | 52 | 2.65% |
| 11 | Ichiya Vandalay Kotobuki | 41 | 2.09% |
| 12 | Hibiki Lates | 22 | 1.12% |
| 13 | Cobra | 20 | 1.02% |
| 14 | Lyon Vastia | 17 | 0.87% |
| 15 | Haru Glory (RAVE) | 13 | 0.66% |
| 16 | Bickslow | 11 | 0.56% |
| 17 | Silver | 10 | 0.51% |
| 18 | Azuma | 6 | 0.31% |
| 19 | Bacchus | 4 | 0.20% |
| 20 | Dyst | 3 | 0.15% |