Key of the Starry Heavens is a picture book written and illustrated by Will Neville and is known to be one of the Two Great Myths.[1]
Description
Edit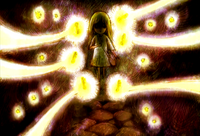 Said to be magical, the Key of the Starry Heavens book is one of the two books known collectively as the Two Great Myths. The book tells the story of a little girl who is looking for six special keys in the hope that they would bring her happiness. However, her quest only caused those around her to suffer. It is said that the locations wherein the girl found the keys were modeled on real locations and that these locations later became the hiding place of the five clock parts that, if brought together, can cause chaos to descend upon the world.[2] The book has a hidden message behind it saying that the parts of the Infinity Clock were not meant to be found.
References
Edit
↑

Fairy Tail Anime: Episode 132

↑

Fairy Tail Anime: Episode 133
Ad blocker interference detected!
Wikia is a free-to-use site that makes money from advertising. We have a modified experience for viewers using ad blockers

Wikia is not accessible if you've made further modifications. Remove the custom ad blocker rule(s) and the page will load as expected.