Gajeel Redfox vs. Laxus Dreyar
Talk

2
2,751pages on
this wiki
Gajeel Redfox vs. Laxus Dreyar

| | |
| --- | --- |
| Outcome: | Laxus Dreyar is victorious. |

Combatants
Powers & Abilities

Gajeel Redfox

Laxus Dreyar

Damage Sustained/Casualties

Gajeel Redfox is moderately injured.

Laxus Dreyar is uninjured.
Gajeel Redfox vs. Laxus Dreyar is a fight fought between Mage of Fairy Tail, Gajeel Redfox and S-Class Mage of Fairy Tail, Laxus Dreyar.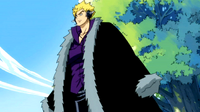 Jet and Droy called out Gajeel to Magnolia's South Gate Park for a battle to avenge their guild and Levy McGarden from the atrocities he has done in the past. They bombard him with attacks but he doesn't retaliate. Laxus steps in and intervenes with the battle.[1]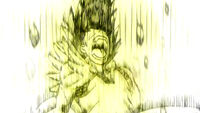 Laxus hits Gajeel with a strong lightning bolt while he angrily yells at him, saying it's his fault that the guild is looked down upon. He states that he heard some things in bars here and there that pissed him off. Laxus punches the ground and lightning emerges from it, cracks the ground and blows Gajeel away. Jet tells Laxus to stop because he's going too far. Gajeel collapses on the ground from the blast of Laxus' Magic. Levy realizes that Gajeel wanted to be recognized as an ally, that's why he's not fighting back. Laxus kicks Gajeel, tells him that he's the reason why Fairy Tail's being made fun of and that he'll kill anyone who goes against the guild. Jet tells him to stop once more. This irritates Laxus, orders them to shut up and sends a lightning bolt to their way.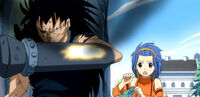 The bolt heads for Levy and she covers her face in preparation for the impact. However, Gajeel stands up turns his arm into iron as an iron rod and takes the blow for Levy, much to everyone's surprise.
[2]
Gajeel, steaming from Laxus' electricity, asks if they're satisfied because he still has a job to do. As he wobbles away, Levy tries to talk to him but he tells her to leave him alone.[3]
Aftermath
Edit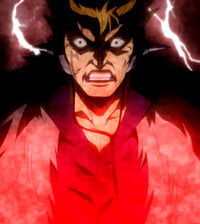 Laxus also walks away from the fight. He thinks to himself that Fairy Tail is useless as it is now and that it isn't the guild he wants. His tolerance reaches its limit as he vows that Fairy Tail will be his.[4]
References
Edit