Fleuve d'étoiles
Talk

0
2,753pages on
this wiki
Fleuve d'étoiles
Kanji

星の大河 (エトワールフルーグ)

Rōmaji

Etowāru Furūgu

Information

Type
Users
Fleuve d'étoiles (星の大河, エトワールフルーグ, Etowāru Furūgu) is an extending whip used by Lucy Heartfilia after obtaining it from Virgo.
Description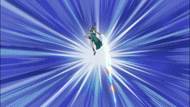 It is an extending whip coming from the Celestial Spirit World. After losing her standard whip during her imprisonment in Edolas, Lucy was given this weapon by Virgo to fight Byro, in order to avoid depleting all of her Magic Power by summoning her Spirits. While not in use, only the whip's handle is visible, this possessing a simple, cylindrical form, with a dark central part and lighter edges; the lower one is covered in stud-like ornaments and has a small rope hanging from it, to which a star-shaped pendant is attached. When the weapon is being used, a jet of flowing water is created from the handle, which remains compact, and twists as if it were a whip's rope part. The water seems to have material properties, with Lucy being capable of grabbing foes or objects with it, as well as to perform attacks. The Fleuve d'étoiles is Lucy's current weapon, with her carrying it around in the very same spot which her old whip used to have, attached to her belt, in correspondence to her left hip.
The full name of the whip is "River of Stars of the Eridanus Constellation" (エリダヌス座の星の大河 Eridanusu-za no Hoshi no Taiga).[1]
Trivia
Fleuve d'étoiles is French for River of Stars.
References
↑

Fairy Tail Manga: Chapter 184, Pages 10-13