Erza Scarlet vs. Picnic Raiders
Talk

0
2,752pages on
this wiki
Erza Scarlet vs. Picnic Raiders

| | |
| --- | --- |
| Outcome: | Erza Scarlet is victorious. |

Combatants
Powers & Abilities

Erza Scarlet

Picnic Raiders

Damage Sustained/Casualties

Erza Scarlet is uninjured.

Picnic Raiders are moderately injured.
Erza Scarlet vs. Picnic Raiders is a battle fought between Fairy Tail S-Class Mage Erza Scarlet and a group of Picnic Raiders.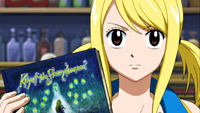 After their fight with Dan Straight and Samuel, Natsu and company return to the guild where Lucy explains the meaning behind the book Key of the Starry Heavens. She explains that her father's memento is one of six parts of a clock that, if put together, would cause chaos to descend upon the world. She concludes that the five other parts are hidden in the places where the book was based on and says that she is going to go look for them. Makarov agrees with her, saying that chaos descending should be avoided. Erza agrees and says that they should split up.[1]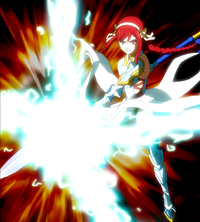 Erza is grouped with Wendy, Carla and Cana and the four hikes across a grassy area. As Wendy, Carla and Cana talk about the girl in the book, Erza lays out a blanket and some food and invites them to a picnic. Carla says that they cannot afford to waste time since the Legion may get the key part before them. Erza, however, insists that they have a picnic and begins to eat but is interrupted when a group of men arrives, asking them if they have permission to have a picnic in their land. The group of men then notices that they belong to Fairy Tail and, knowing about their mission, asks them to hand over the "treasure". The group then begins to eat Erza's food and a furious Erza requips into her Lightning Empress Armor.[1]
Erza unleashes her Lightning Magic on the group, attacking them with multiple bolts of lightning. She then charges her spear with lightning and creates a powerful explosion, causing the group to be blown away.[1]
Aftermath
Edit
The group the continues their journey and manages to find its way to the Magical Library, the location of one of the missing key parts. As she examines the books, Erza finds herself face to face with a member of the Jiggle Butt Gang.[2]

References
Edit
↑

Fairy Tail Anime: Episode 135
Key of the Starry Sky arc Fights

Pre-Arc Fights

Gray Fullbuster vs. Ice-Make Mage • Erza Scarlet & Natsu Dragneel vs. Velveno • Natsu Dragneel vs. Jiggle Butt Gang • Team Natsu vs. Bandits • Laxus Dreyar vs. Gorian • Gray Fullbuster vs. Vanish Brothers • Natsu Dragneel vs. Laxus Dreyar

Encounter Against

Legion Fights

Fairy Tail vs. Sugarboy (Earth Land), Mary Hughes & Coco (Earth Land) • Natsu Dragneel & Gray Fullbuster vs. Sugarboy (Earth Land) & Byro Cracy • Gildarts Clive & Erza Scarlet vs. Byro Cracy • Lucy Heartfilia vs. Mary Hughes • Wendy Marvell & Pantherlily vs. Coco (Earth Land) • Lahar & the Custody Enforcement Unit vs. Jackpot • Team Natsu & Wendy Marvell vs. Dan Straight & Samuel

Clock Part

Retrieval Fights

Erza Scarlet vs. Picnic Raiders • Gray Fullbuster, Lyon Vastia & Juvia Lockser vs. Labyrinth Guardian • Gray Fullbuster, Juvia Lockser & Lyon Vastia vs. Sugarboy (Earth Land) • Natsu Dragneel, Lucy Heartfilia & Romeo Conbolt vs. Dan Straight & Coco (Earth Land) • Natsu Dragneel & Romeo Conbolt vs. Dan Straight • Erza Scarlet vs. Jiggle Butt Gang • Pantherlily vs. Samuel • Gajeel Redfox & Shadow Gear vs. Clock Part Guardian • Mirajane Strauss, Elfman Strauss & Lisanna Strauss vs. Mary Hughes • Erza Scarlet vs. Jiggle Jugs Gang • Natsu Dragneel, Lucy Heartfilia & Romeo Conbolt vs. Byro Cracy & Kanaloa • Fairy Tail & Lyon Vastia vs. Byro Cracy

Assault For The

Clock Fights

Fairy Tail, Lyon Vastia, Byro Cracy & Dan Straight vs. Reborn Oración Seis • Reborn Oración Seis vs. Kingdom of Fiore's Guards • Natsu Dragneel, Lucy Heartfilia, Elfman Strauss & Byro Cracy vs. Jackpot • Bickslow & Wendy Marvell vs. Erigor • Gajeel Redfox & Juvia Lockser vs. Guttman Kubrick • Gray Fullbuster, Freed Justine & Dan Straight vs. Angel • Erza Scarlet, Evergreen & Max Alors vs. Cobra • Doranbolt & Katja vs. Racer • Pantherlily vs. Samuel (Rematch) • Alzack Connell & Bisca Connell vs. Midnight • Imitatia vs. Natsu Dragneel

The End At Its

Fullest Fights

Mirajane Strauss vs. Racer • Natsu Dragneel, Mary Hughes & Coco (Earth Land) vs. Guttman Kubrick • Gildarts Clive & Byro Cracy vs. Lapointe • Gildarts Clive vs. Byro Cracy (Rematch) • Samuel vs. Imitatia • Sugarboy (Earth Land) vs. Cobra • Gajeel Redfox vs. Midnight • Natsu Dragneel, Elfman Strauss, Coco (Earth Land) & Romeo Conbolt vs. Imitatia • Erza Scarlet vs. Cobra • Gray Fullbuster & Dan Straight vs. Angel • Natsu Dragneel vs. Midnight