Voice is the 507th chapter of Hiro Mashima's Fairy Tail.
Erza tearfully reminds her two comrades that they are who she deeply loves, invoking memories of both of them never wanting to see her cry. While Jellal and Crime Sorcière struggle against the might of August, Lucy and company corral by the trio, only to be met by Irene, who claims her and Erza are one of the same.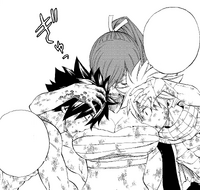 Erza interferes with Natsu and Gray's battle, blocking their attacks bare-handed and injuring both arms. The knight goes to question her comrades' idiocy, breaking down into tears as a result. Natsu recalls his words at the Tower of Heaven, stating he never wanted to see Erza shed tears, while Gray recollects saying his friend needed Fairy Tail more than anyone, otherwise she'd fall apart. Erza shouts at the duo, asking them what they saw in each other, and reminding them of the times they spent together. The trio hear the late Makarov's voice, telling them what a family is, causing Erza to pull her friends into an embrace and tell them that she loves them. Suddenly, Gray hears a voice call his name, belonging to Juvia escorted by Wendy and Carla. Shocked, Gray passes out and is caught by an exhausted Juvia, who does the same shortly thereafter. Watching the scene, Natsu collapses and is hugged by Lucy from behind while Happy proceeds to cry into Natsu's chest. Relieved that his comrades were alive, Natsu falls asleep as well. Wendy questions Erza on the light that had enveloped the battlefield earlier on, however, the redhead remains silent as she wipes a tear from her face.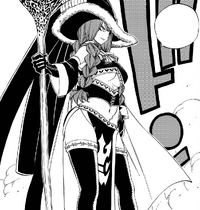 Elsewhere, near the guild, the five male members of Crime Sorciere face off against August, overwhelmed by his monstrous strength. Exhausted, Jellal finds himself unable to devise a way to defeat the Spriggan 12, as Erik, Sawyer, and Macbeth attempt to attack the elder individually. However, August evades their assaults effortlessly as Jellal realizes in alarm that they are out of options. While the independent guild continues their struggle, Lucy, Wendy, and the exceeds decide to take their injured comrades to Porlyusica for treating, preparing to depart before Erza shouts for them to get down. The group is attacked with an enormous explosion, much to their surprise as a voice greets Erza, saying it has been far too long. Irene appears, causing Lucy and Erza to question her identity. However, Wendy shockingly notices that the woman standing before them greatly resembles Erza. Irene confirms this, claiming that she and the knight are the same being.
Characters in Order of Appearance
Edit
Battles & Events
Edit
Magic, Spells, and Abilities used
Edit
Magic used
Edit
Spells used
Edit
Abilities used
Edit
Armors used
Edit
Weapons used
Edit