Chapter 264
Talk

2
2,902pages on
this wiki
Only the Amount of Time Lost is the 264th chapter of Hiro Mashima's Fairy Tail.
Ultear uses her Magic to release the Mage's of the Tenrou Team's Second Origin, drawing out their full potential. Meanwhile, Erza and Jellal discuss what he has done and what he'll do, but the two of them accidentally fall on each other, and wonder what they should do.
Natsu is undergoing Ultear's special method for awakening second origin. His body is covered in Magic lines and he experiences excruciating pain. Gray, Juvia, Wendy, Levy and Lucy watch the scene in horror of the pain they will have to face, declining Meredy's offer of a sense link to experience what Natsu is experiencing. When Carla asks where Erza is, Happy states she went off with Jellal.
On the beach, Jellal is asked by Erza if he has recovered all of his memories. He states that they are all truly back and he remembers everything from Nirvana to killing Simon. When Erza asks if she can still treat him the same, in response, he states that it'd be nice if she could, but that he has also prepared himself for death if she wishes to take revenge for Simon. Erza declines, saying that Simon wouldn't want it and that Jellal has attempted to atone for his sins by eliminating Dark Guilds. Jellal responds that he's not sure about that, though he tried to atone, he felt that no matter what he did, he could never make up for his actions and that he may be better off dead, which Erza slaps him for.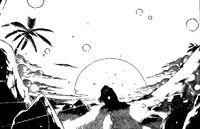 Angrily, she states that he is a coward; in which he responds by saying that he isn't as strong as she is. She asks if he wants to die for not being strong enough, but states that being alive is a sign of strength. He's not the same Jellal as before, she states, which he agrees with, causing her to grab him and accidentally push both of them backwards off the rocks Jellal happened to be sitting upon. They end up on top of one another, Jellal tells her that she's right as always, she responds that she's not trying to be right. Tears start to well in her eyes, and she states that she didn't think she'd ever be able to see him again. The two of them lean in and remember all their past events together from childhood to the Nirvana incident. The two kiss, but Jellal pushes Erza away, claiming he has a fiancee. Erza reacts in embarrassment and Jellal looks away, causing Erza to notice that he was really lying. She says that he should live for the person he loves as well.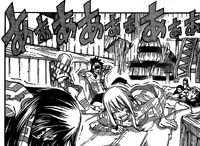 Later, those who went through Ultear's spell, with the exception of Erza, are unable to move. Strangely, Erza does not feel any pain caused by Ultear's Magic. Crime Sorciere takes their leave as it's not safe for them to be in one place too long. Meredy instructs Erza to send word if she finds anything on the strange Magic at the Tournament Games. The three of them take their leave and camp out in a cave where they discuss whether Fairy Tail can handle the mission, though all three agree Fairy Tail can do so. Meredy surprises Jellal by asking why he lied to Erza about having a fiancée. Ultear asks if it'd have been better to tell the truth.
Jellal states that he can't fall in love with someone who walks in the light and he only wishes for Erza to be happy. Meredy and Ultear then criticize him for not being able to choose a more convincing lie. Elsewhere, Erza already knows that Jellal was lying about his fiancée. She is happy that the two of them have finally found the answer to their complicated relationship and smiles. Happy attracts Erza's attention and draws a broken heart in the dirt while stifling his laughter, causing her to kick him into the sky.

Characters in Order of Appearance
Edit
Battles & Events
Edit
Magic, Spells & Abilities used
Edit
Magic used
Edit
Spells used
Edit
Items used
Edit