Chain Magic (連鎖魔法 Rensa Mahō) is a Caster Magic involving the use of chains.
Description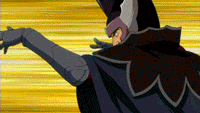 This Magic allows the user to shoot long chains from their hands, complete with grappling hooks at the ends. They can be used in combat by launching the grappling hooks through enemies. After they have been caught, enemies can also be slammed into objects (such as trees, the ground, boulders, etc.).[3][4] However, these chains are breakable as seen when Erza broke them using her sword to free Natsu.[5] Hades can use this Magic in conjunction with his Amaterasu Seals and Bullet Magic.[6]

References
Ad blocker interference detected!
Wikia is a free-to-use site that makes money from advertising. We have a modified experience for viewers using ad blockers

Wikia is not accessible if you've made further modifications. Remove the custom ad blocker rule(s) and the page will load as expected.