Alzack Connell & Bisca Connell vs. Midnight
Talk

0
Share
Ad blocker interference detected!
Wikia is a free-to-use site that makes money from advertising. We have a modified experience for viewers using ad blockers

Wikia is not accessible if you've made further modifications. Remove the custom ad blocker rule(s) and the page will load as expected.
Alzack Connell & Bisca Connell vs. Midnight is a fight fought between Fairy Tail Mages Alzack Connell and Bisca Connell, and Guild Master of the Reborn Oración Seis: Midnight.
While some of the Fairy Tail members are waiting at the guild to hear news about the fights with the Dark Guild Reborn Oración Seis, Warren receives a call from Gildarts and Laki telling him that the Michelle Lobster they know is an impostor and they have the real one with them. While this is happening, Vijeeter comes running in saying that one of the six generals is attacking the Kardia Cathedral. Alzack volunteers himself and Bisca to take care of it and the two of them head off to the church.[1]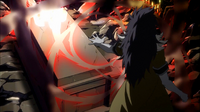 Midnight appears standing over Will Neville's coffin trying to break it open, but is unsuccessful. Then out of nowhere, a voice comes from behind Midnight telling him to stop what he's doing. Midnight turns around and finds Alzack standing in the distance. Meanwhile, Bisca gets into position atop a stone horse, preparing for the right moment to attack Midnight.
Back where Alzack and Midnight are, Alzack proclaims to Midnight that he will not let him accomplish his goal and proceeds to attack with Guns Magic, but it is easily deflected by Midnight's Reflector Magic. Alzack continues with Omnidirectional Expansion but Midnight counters with his Magic, which switches his place with Alzack, causing him to be hit by his own attack. With Alzack down, Bisca fires a shot directly at Midnight, but it is reflected back at her, destroying the stone horse and sending her flying.[1]
Aftermath
Edit
With Alzack and Bisca defeated, Midnight walks over to Will Neville's coffin. With the Anti-Link completed, Midnight is finally able to destroy the coffin. Afterwards, he proceeds to take the skull within the coffin and destroys it, which in turn unleashes the Infinity Clock's true form.[1]
References
Edit
Key of the Starry Sky arc Fights

Pre-Arc Fights

Gray Fullbuster vs. Unnamed Ice-Make Mage • Erza Scarlet & Natsu Dragneel vs. Velveno • Natsu Dragneel vs. Jiggle Butt Gang • Team Natsu vs. Bandits • Gray Fullbuster vs. Vanish Brothers

Encounter Against

Legion Fights

Fairy Tail vs. Sugarboy (Earth Land), Mary Hughes & Coco (Earth Land) • Natsu Dragneel & Gray Fullbuster vs. Sugarboy (Earth Land) & Byro Cracy • Gildarts Clive & Erza Scarlet vs. Byro Cracy • Lucy Heartfilia vs. Mary Hughes • Wendy Marvell & Panther Lily vs. Coco (Earth Land) • Lahar & the Custody Enforcement Unit vs. Jackpot • Team Natsu & Wendy Marvell vs. Dan Straight & Samuel

Clock Part

Retrieval Fights

Gray Fullbuster, Lyon Vastia & Juvia Lockser vs. Labyrinth Guardian • Gray Fullbuster, Juvia Lockser & Lyon Vastia vs. Sugarboy (Earth Land) • Natsu Dragneel, Lucy Heartfilia & Romeo Conbolt vs. Dan Straight & Coco (Earth Land) • Natsu Dragneel & Romeo Conbolt vs. Dan Straight • Erza Scarlet vs. Jiggle Butt Gang • Panther Lily vs. Samuel • Gajeel Redfox & Shadow Gear vs. Clock Part Guardian • Mirajane Strauss, Elfman Strauss & Lisanna Strauss vs. Mary Hughes • Erza Scarlet vs. Jiggle Jugs Gang • Natsu Dragneel, Lucy Heartfilia & Romeo Conbolt vs. Byro Cracy & Kanaloa • Fairy Tail & Lyon Vastia vs. Byro Cracy

Assault For The

Clock Fights

Fairy Tail, Lyon Vastia, Byro Cracy & Dan Straight vs. Reborn Oración Seis • Reborn Oración Seis vs. Kingdom of Fiore's Guards • Natsu Dragneel, Lucy Heartfilia, Elfman Strauss & Byro Cracy vs. Jackpot • Bickslow & Wendy Marvell vs. Erigor • Gajeel Redfox & Juvia Lockser vs. Guttman Kubrick • Gray Fullbuster, Freed Justine & Dan Straight vs. Angel • Erza Scarlet, Evergreen & Max Alors vs. Cobra • Doranbolt & Katja vs. Racer • Panther Lily vs. Samuel: Rematch • Alzack Connell & Bisca Connell vs. Midnight • Imitatia vs. Natsu Dragneel

The End At Its

Fullest Fights

Mirajane Strauss vs. Racer • Natsu Dragneel, Mary Hughes & Coco (Earth Land) vs. Guttman Kubrick • Gildarts Clive & Byro Cracy vs. Lapointe • Gildarts Clive vs. Byro Cracy • Gajeel Redfox vs. Midnight • Natsu Dragneel, Elfman Strauss, Coco (Earth Land) & Romeo Conbolt vs. Imitatia • Erza Scarlet vs. Cobra • Gray Fullbuster & Dan Straight vs. Angel • Natsu Dragneel vs. Midnight