Home
Talk

524
3,278pages on
this wiki
| | | |
| --- | --- | --- |
| | A Wiki dedicated to everything about the Manga and Anime Fairy Tail created by Hiro Mashima. This Wiki aims to archive Fairy Tail and all related material. Please help us by creating or editing any of our articles! We are currently editing over 3,278 Articles on this wiki. | |
Featured Article
Declaration of War

---

Declaration of War is an event that occurred in the Phantom Lord arc, following Phantom Lord's provoking of the Fairy Tail Guild. With Gajeel Redfox having destroyed most of the upper floors of the guild hall with his Magic, Fairy Tail was forced to move into their guild basement, and began fearing for the members' safety in light of the increased activity of the rival guild. Makarov, despite the attacks to the guild hall, commanded that the guild not respond in any way; however, this all changed when Shadow Gear members Levy, Jet and Droy were brutally attacked and nailed to a tree in Magnolia, the act angering Makarov to the point of declaring full-out war on the Phantom Lord Guild.
Recent Manga Chapter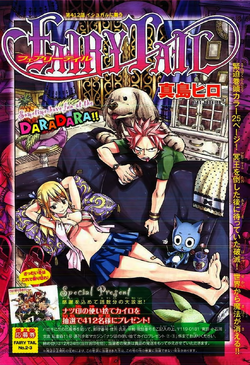 Chapter 412: Soaring in Ishgar
---
Spoiler alert! Read at your own risk!
Please do not assume that this is a correct translation until further notice.
---
Read the full summary here.


Recent Anime Episode
Related Sites
Official Sites
JpnKodansha Japan

---

Official Fairy Tail site with the latest manga volume updates.

JpnFairy Tail TV

---

Anime's official Fairy Tail site with the latest anime updates.

JpnTV Tokyo: Fairy Tail

---

TV Tokyo's official website for the Fairy Tail Anime.

Kodansha Comic

---

Official English News site for the English release of Fairy Tail.

JpnFairy Tail Movie

---

Official site for the first Fairy Tail Movie: Priestess of the Phoenix.
Affiliated Sites
If you would like to become an affiliate of the Fairy Tail Wiki contact us.
Recent Blogs
Featured Voting
Featured Article (Closed)


Featured Picture (Closed)


Featured Quote (Closed)
Featured Picture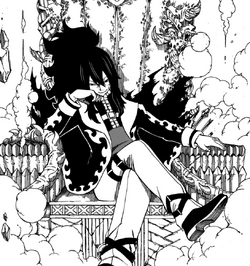 The smugness of villainy
Featured Quote
"
In order to kill Zeref the immortal, I must destroy all concept of life and death. Those effected by this Curse are neither living nor dead. They are simply gone. Erased. Eradicated. Eternally... become "nothing".
"

—Mard Geer Tartarus to Natsu and Gray, Memento Mori
Featured Media
Did You Know?
...that Mirajane looks after a stray dog she calls Alexandria Strauss?
...that the language Minerva sometimes speaks when she uses her Magic is that of the Yakuma people?
...that Mavis Vermilion can use Illusion Magic?
Poll
I really wanted to get the new poll out on the 1st, so that I can have it until January 2015. The last poll was something specific to the month of October, but this one is just a curious, fun question. Imagine that...waking up and knowing Japanese! Do you know the amount of Manga I would be reading?! And who would not enjoy watching Anime with all of their attention on the animation rather than the subtitles?
You Suddenly Wake Up Knowing Japanese: What Would You Do First?
Poll Results
Like promised, a new poll is up! The last one was Halloween-centered, and wow, a lot of votes. The question was which Guild would you visit for Halloween...and the most visited Guild was: Fairy Tail; with a total of 1199 visitors!!! Who wouldn't want to party with that crazy guild?
| Position | Team | Votes | Percent |
| --- | --- | --- | --- |
| 1 | Fairy Tail | 1199 | 75.74% |
| 2 | Crime Sorcière | 109 | 6.89% |
| 3 | Sabertooth | 88 | 5.56% |
| 4 | Tartarus | 62 | 3.92% |
| 5 | Mermaid Heel | 33 | 2.08% |
| 6 | Oración Seis | 28 | 1.77% |
| 7 | Quatro Cerberus | 19 | 1.2% |
| 8 | Blue Pegasus | 17 | 1.07% |
| 9 | Grimoire Heart | 12 | 0.76% |
| 10 | Lamia Scale | 10 | 0.63% |
| 11 | Twilight Ogre | 3 | 0.19% |
| 11 | Sylph Labyrinth | 3 | 0.19% |