| | | |
| --- | --- | --- |
| | A wiki dedicated to everything about the Manga and Anime Fairy Tail created by Hiro Mashima. This wiki aims to archive Fairy Tail and all related material. Please help us by creating or editing any of our articles! We are currently editing over 3,450 Articles on this wiki. | |
Featured Article
Bobo

---

Bobo is the son of Moka and a resident of Galuna Island. During the Galuna Island arc, he ferried Natsu Dragneel, Lucy Heartfilia, and Gray Fullbuster to the island so that they could break the "curse" that was afflicting the island's residents. As it turns out, however, there was no curse, but years ago, Bobo and the other villagers began to forget that they were Demons due to the veil covering Galuna Island. However, Bobo regained his memories, and he tried to explain the circumstances to the other villagers, but his father, Moka, stabbed him, as he thought Bobo had lost his soul and had become a real Demon. Bobo survived and managed to escape Galuna Island.
Recent Manga Chapter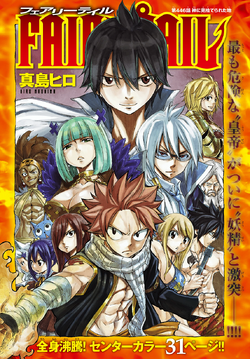 Chapter 446: The Land the Gods Abandoned
---
Spoiler alert! Read at your own risk!

---
After securing Makarov and realizing that Emperor Spriggan is none other than Zeref, the rescue team try to escape aboard a Magical Vehicle, but are pursued relentlessly by Azeal. He manages to destroy their transport, forcing the Fairy Tail Mages to face him in battle.
Read the full summary here.


Recent Anime Episode
Related Sites
Official Sites
JpnKodansha Japan

---

Official Fairy Tail manga site with the latest volume updates.

JpnFairy Tail TV

---

Anime's official Fairy Tail site with the latest anime updates.

JpnTV Tokyo: Fairy Tail

---

TV Tokyo's official website for the Fairy Tail Anime.

Kodansha Comic

---

Official English News site for the English release of Fairy Tail.
Affiliated Sites
If you would like to become an affiliate of the Fairy Tail Wiki contact us.
Recent Blogs
Featured Voting
Featured Article (Closed)


Featured Picture (Closed)


Featured Quote (Closed)
Featured Picture
Go home, Fairy Tail!
Featured Quote
"
The Black Wizard, the Dragon King, and you humans... the time has come to decide who survives and who doesn't.
"
Featured Media
Did You Know?
...that Lucy's birthday, which is known to English readers as July 1st, is actually not considered her birthday in Japan, as this information was only printed on the magazine cover of chapter 85 (not the official volume cover) and Mashima can't remember confirming it?
...that Juvia was originally meant to win in her fight against Meredy on Tenrou Island; however, a tsunami that occurred in Japan caused Mashima to rethink the ending of the fight and change it from Juvia dominating with the use of water to a tie with a message about hope and love?
...that Lucy, Jude, Layla and Michelle are all named after song titles?
Poll
I was told about Fairy Tail from a friend. At first, I told him that I was not going to watch such a girly show. But after watching the first episode, I was hooked and watched the entire series in a short amount of time. Then Reli forced me to read the Manga so I could work on Manga fights. I was introduced to the Anime and Manga by two different friends. How about YOU?!
How Were You Introduced To The Fairy Tail Series?
Poll Results
It would be awesome to watch Fairy Tail without having to look at subtitles: we would be able to pay more attention to Nalu and Gruvia (or whatever you ship) scenes. But it would also rock to be able to play the Fairy Tail video games that are not out in our language. But do you know what would be even more epic? A freaking tweet from Hiro!!!
| Position | Team | Votes | Percent |
| --- | --- | --- | --- |
| 1 | Watch Fairy Tail without subtitles | 1641 | 69.68% |
| 2 | Play The Fairy Tail Video Games | 282 | 11.97% |
| 3 | Tweet To Hiro (He Replies) | 182 | 7.73% |
| 4 | Translate All of the Fairy Tail Spin-offs (Future Chapters) | 126 | 5.35% |
| 5 | Speak To A Fairy Tail Voice Actor | 67 | 2.85% |
| 6 | Translate Fairy Tail Dōjinshi | 242 | 1.77% |