| | | |
| --- | --- | --- |
| | A wiki dedicated to everything about the Manga and Anime Fairy Tail created by Hiro Mashima. This wiki aims to archive Fairy Tail and all related material. Please help us by creating or editing any of our articles! We are currently editing over 3,643 Articles on this wiki. | |
Featured Article
Recent Manga Chapter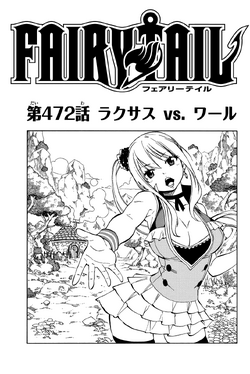 Chapter 472: Laxus vs. Wahl
---
Spoiler Alert! Read at your own risk!

---
While the Sky Sisters stand against Dimaria and Kagura and Erza head for the harbor to take on Neinhart, Laxus squares off against Wahl, the two seeming evenly matched despite the decaying state of the former's body. However, the Dragon Slayer suddenly begins to suffer from the adverse effects of his condition just as his opponent transforms into his serious personality.
Read the full summary here.


Recent Anime Episode
Episode 270: Fairy Tail Zerø: A Moonlit Lake

---

On their journey to Magnolia the group decides to camp out for the night while Precht tells the two girls of one of their previous treasure-hunting adventures. After the young girls bond in a nearby lake, they along with the guys arrive to Magnolia, where they're greeted by a skeletal Dragon.

The latest episode, Fairy Tail Zerø: A Moonlit Lake, is up! Watch the story continue!
Related Sites
Official Sites
JpnKodansha Japan

---

Official Fairy Tail manga site with the latest volume updates.

JpnFairy Tail TV

---

Anime's official Fairy Tail site with the latest anime updates.

JpnTV Tokyo: Fairy Tail

---

TV Tokyo's official website for the Fairy Tail Anime.

Kodansha Comic

---

Official English News site for the English release of Fairy Tail.
Affiliated Sites
If you would like to become an affiliate of the Fairy Tail Wiki contact us.
Recent Blogs
Featured Voting
Featured Article (Closed)


Featured Picture (Closed)


Featured Quote (Closed)
Featured Picture
The Black Dragon in the Book of Apocalypse appears!
Featured Quote
"
And that's what makes you naive. You only see the world through rose-tinted glasses. You only believe what you choose to believe.
"
Featured Media
Did You Know?
...that Gray was originally planned to be the Ice Dragon Slayer, but that this idea was discarded and Mashima eventually settled with Ice Devil Slayer?
...that Minerva was returned to her human form by Porlyusica?
...that Gajeel has his own spin-off manga that is being published in the Fairy Tail Magazine Pocket app?
Poll
With Christmas coming in swiftly, it's probably time you started planning gifts for all of your relatives and friends. But as you panic, we here on the FT Wiki will be thinking about you~ So, our poll now asks: If you were able to get any Fairy Tail-related gift for Christmas, what would you want??
What would be your ultimate Fairy Tail Christmas present?
Poll Results
A very long time ago we asked you how you discovered the Fairy Tail series, and finally the results are in! It seems many of you found it yourself or got help from a friend, but there was also a lot of "other" votes. Hmmm... other, huh? Well, either way, the full results are below:
| Position | Option | Votes | Percent |
| --- | --- | --- | --- |
| 1 | Found it Myself | 7341 | 53.74% |
| 2 | A Friend | 4614 | 33.78% |
| 3 | Other | 828 | 6.06% |
| 4 | Manga/Episode Review | 305 | 2.23% |
| 5 | Random/Advance Search on a Manga Site | 173 | 1.27% |
| 6 | Google | 150 | 1.1% |
| 7 | Hiro Mashima Fanatic | 91 | 0.67% |
| 8 | A Cross-Over From Another Series | 86 | 0.63% |
| 9 | Tumblr | 71 | 0.52% |