Home
Talk

524
3,315pages on
this wiki
| | | |
| --- | --- | --- |
| | A Wiki dedicated to everything about the Manga and Anime Fairy Tail created by Hiro Mashima. This Wiki aims to archive Fairy Tail and all related material. Please help us by creating or editing any of our articles! We are currently editing over 3,315 Articles on this wiki. | |
Featured Article
Erza Knightwalker

---

Erza Knightwalker (エルザ・ナイトウォーカー Eruza Naitowōkā) is part of the Edolas Kingdom and is the Royal Army Captain of the 2nd Magic War Division. She is the Edolas counterpart of Erza Scarlet. She served under King Faust and was deemed the "Fairy Hunter" for her involvement in the killing of over half of the Edolas Fairy Tail Guild's members, and helped in the capture and imprisonment of Natsu Dragneel and Wendy Marvell for the purpose of extracting their Magic for Faust's malicious purposes.

Knightwalker fights via the use of her Ten Commandments spear, a weapon with the ability to change form. Despite her later losing the use of this weapon when Magic is drained from Edolas, she vows to live on under the rule of Mystogan and restore the kingdom.
Recent Manga Chapter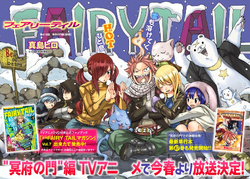 Chapter 416: Drops of Fire
---
Spoiler alert! Read at your own risk!
Please do not assume that this is a correct translation until further notice.
---
A week after the Tartarus fiasco, everybody from Fairy Tail is dealing with the scars from the incident, while Minerva returns to Sabertooth amidst hearty cheers. Standing together in front of the Fairy Tail ruins with only Doranbolt, Makarov informs him that he had always been a member of Fairy Tail, having forgotten about it due to his own Memory Control. The Guild Master subsequently announces the dissolution of the Guild. Simultaneously, Natsu and Happy decide to head off alone for a year to train while the other members also look towards their own future, Gray stating his resolve to take down E.N.D. Alone in a dark room, Zeref reveals that E.N.D. is the acronym for Etherious Natsu Dragneel.



Read the full summary here.


Recent Anime Episode
Episode 218: Believe

---

As Natsu and Happy enter the inner world of the Eclipsed Celestial Spirit King, they are attacked by the objects inside it. At the same time, Lucy, Erza, Gray and Gajeel continue their attempts at destroying the beast from outside. Eventually, Natsu destroys the inner core and everyone returns to normal, albeit with no memories about the incident. After the Celestial Spirit King's speech, Lucy and Yukino are happy to get their golden keys back.

The latest episode Believe is up! Watch the story continue!
Related Sites
Official Sites
JpnKodansha Japan

---

Official Fairy Tail site with the latest manga volume updates.

JpnFairy Tail TV

---

Anime's official Fairy Tail site with the latest anime updates.

JpnTV Tokyo: Fairy Tail

---

TV Tokyo's official website for the Fairy Tail Anime.

Kodansha Comic

---

Official English News site for the English release of Fairy Tail.
Affiliated Sites
If you would like to become an affiliate of the Fairy Tail Wiki contact us.
Recent Blogs
Featured Voting
Featured Article (Open)


Featured Picture (Open)


Featured Quote (Open)
Featured Picture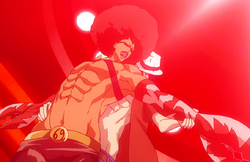 The intense dance battle!!
Featured Quote
"
What were you doing inside of me?! I don't ever remember eating you!
"
Featured Media
Did You Know?
...that Mirajane looks after a stray dog she calls Alexandria Strauss?
...that the language Minerva sometimes speaks when she uses her Magic is that of the Yakuma people?
...that Mavis Vermilion can use Illusion Magic?
Poll
I was told about Fairy Tail from a friend. At first, I told him that I was not going to watch such a girly show. But after watching the first episode, I was hooked and watched the entire series in a short amount of time. Then Reli forced me to read the Manga so I could work on Manga fights. I was introduced to the Anime and Manga by two different friends. How about YOU?!
How Were You Introduced To The Fairy Tail Series?
Poll Results
It would be awesome to watch Fairy Tail without having to look at subtitles: we would be able to pay more attention to Nalu and Gruvia (or whatever you ship) scenes. But it would also rock to be able to play the Fairy Tail video games that are not out in our language. But do you know what would be even more epic? A freaking tweet from Hiro!!!
| Position | Team | Votes | Percent |
| --- | --- | --- | --- |
| 1 | Watch Fairy Tail without subtitles | 1641 | 69.68% |
| 2 | Play The Fairy Tail Video Games | 282 | 11.97% |
| 3 | Tweet To Hiro (He Replies) | 182 | 7.73% |
| 4 | Translate All of the Fairy Tail Spin-offs (Future Chapters) | 126 | 5.35% |
| 5 | Speak To A Fairy Tail Voice Actor | 67 | 2.85% |
| 6 | Translate Fairy Tail Dōjinshi | 242 | 1.77% |